I trot out a bar snack now and again.  And again.  Umm, and again.   This one's so easy, knocking off what we had with friends D&J at David Burke Kitchen on the bare edge of SoHo. Served at the bar while our table was getting ready.  A good night, the evening devolved into karaoke at BiNY where SoHo meets TriBeCa at Canal.  Note this, friends: AC/DC is not a good karaoke choice.  It's just way too high and sustained.   But we did kill it with Every Rose Has Its Thorn.   
The Goods: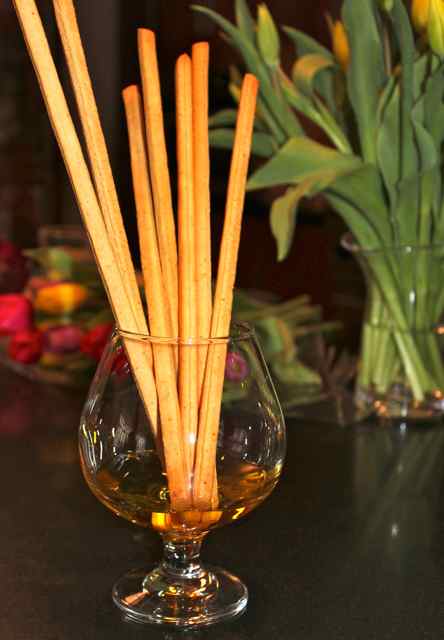 Grissini – the fancy word for skinny breadsticks.

Mustard oil.

Canola oil.

A glass that will hold the breadsticks up.
The Execution:
Pour equal parts of the oils into the glass. Stand up the breadsticks in the glass.   And there you have it.  I cut the mustard oil with the canola oil because the straight mustard oil will burn your face off.  
The Takeaway:
It's good to have little riffs like this in your back pocket.  For the unexpected cocktail party (it happens).  Or a nosh for dinner party arrivals.  The first guests are announced, and during their elevator ride up this little ditty appears.  In 37 seconds.
p.s. – Awesome time at Camp Blogaway last weekend – met lots of good people with blogs that are just crazy good.