5 Things to do with Beets
The beet.  What to do…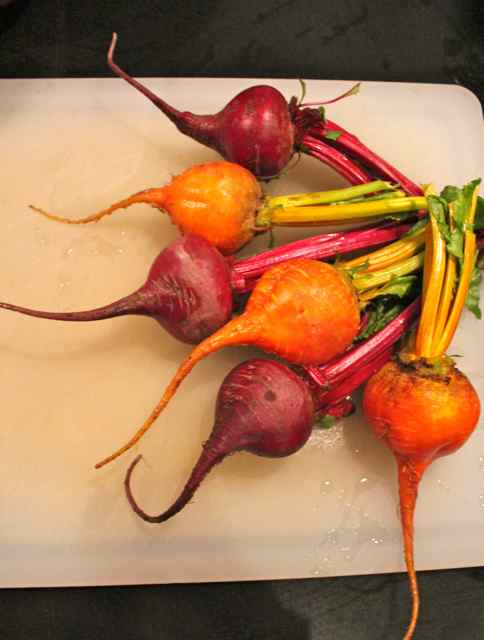 Slice off thin root, chop off tops (wash and save for other use).  Drizzle of olive oil, wrap in foil with a few sprigs of fresh thyme and/or rosemary.  Roast a good hour at 425º.  Let cool, unwrap and peel off outer skin.  Now what?
1 – The Stack: Here's a pretty presentation.  Slice beets and stack with alternating slices of goat cheese.  Drizzle with champagne vinegar, olive oil.   A throw of sea salt and cracked pepper.  Garnish with some chopped fresh herbs and toasted pistachios.  Click here for a past post and pic on this one.
2- In a Salad: Beets add a nice sweetness to a bitter greens salad.  Cut into small cubes, if using red beets add right before service (too soon and they'll stain the salad).
3- A Solo Performance:  Serve alone as a side dish.  Cut into cubes or slices, heat and toss with melted butter and S&P.  Garnish with chopped fresh dill.
4- Lightly Pickled – Chop and toss with apple cider vinegar and sliced red onions, let sit overnight at least.   Serve cold in place of (or beside) a potato salad.  
5- In a Bloody – Cut into large cubes, let sit overnight covered in vodka.  Use the vodka for the Bloodies, garnish with the cubes.  
Still steamin' …