Accidental Kale Soup
I didn't intend to make kale soup.  Rather, it was to be lightly wilted with butter, shallots and a bit of garlic.  But my trimming of the stems was a bit lazy, and they just weren't cooking through.  So I dropped it all into the blender, added chicken stock and let it fly.   This was a few months ago, and now the accidental kale soup is firmly in the soup rotation.  
Here's the version from Thanksgiving, garnished with goat cheese and soy nuts: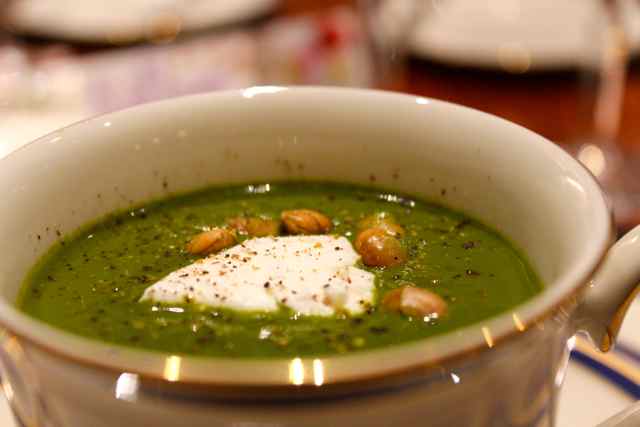 The Goods:
2 bunches kale, stems trimmed, washed well, roughly chopped

1 big or 2 small shallots, chopped fine

2 cloves garlic, chopped fine

2 T butter

1 box chicken stock

S&P, ground nutmeg

Optional – bacon fat and heavy cream.
The Execution:
In a pot, cook shallots and garlic in butter until fragrant.  (Optional – add a spoonful of bacon fat with the butter.) Add kale and about a quarter of the box of chicken stock.  Sprinkle with a dash of nutmeg and S&P.  Cover and let steam until the kale is wilted.   Carefully transfer everything into a blender and hit it a few times.  Add chicken stock in parts until soup reaches your desired consistency.  If it ends up too loose, you can reduce it on the stovetop before service.  Just before service, reheat soup and if it moves you add a little pour of heavy cream.   Garnish with something crunchy and/or some soft cheese or crème fraîche. 
p.s. – the comments on last week's post lit up for the kale soup, so I bumped the turkey pics to next week….