Brussels Sprouts (Raw!!) and Candied Pecans
We spent this Thanksgiving with family at my cousin's house (thanks S&E!), and my assignment was bringing brussels sprouts.   The thing about brussels sprouts — great just out of the oven, but on a re-heat the luster is lost.   And not wanting to crowd E's kitchen on the biggest/busiest food day of the year, here's the solution — raw: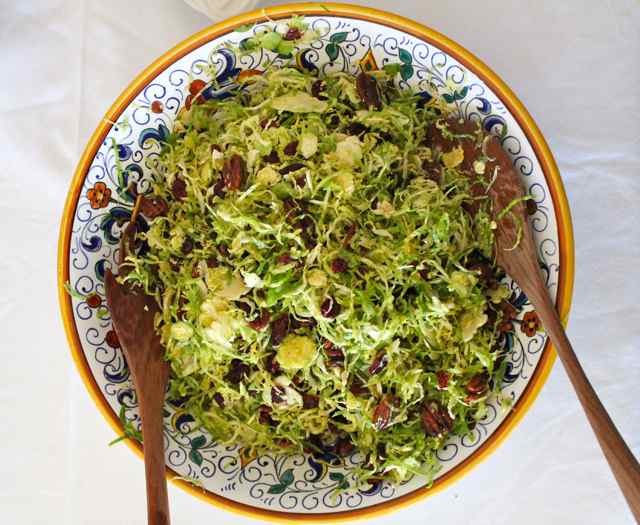 Shred the sprouts super-thin on a mandoline (not the stringed instrument).   Toss with a mustard vinaigrette, candied spicy pecans and dried sweetened cranberries.  Easy, festive-looking, and a pleasing result.  Recipes for the dressing and pecans are below…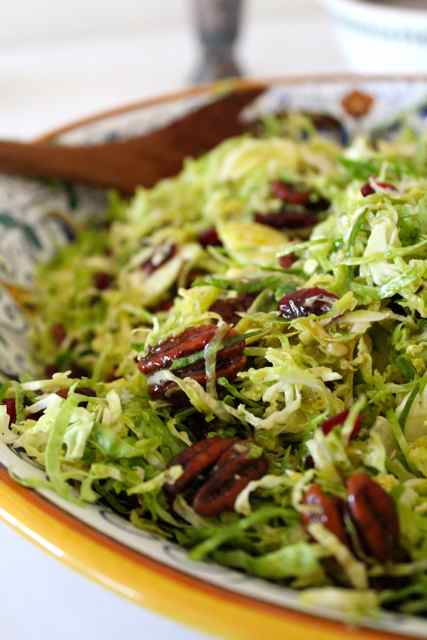 Vinaigrette:  Three parts extra virgin olive oil, one part red wine vinegar.  A squeeze of dijon mustard, a little squirt of agave nectar.  Salt and pepper.   Mix until thick and emulsified.  Taste.  Adjust.   Toss with shredded sprouts and dried cranberries just before service.
Candied Spicy Pecans:  Melt a couple tablespoons of butter with a good squeeze of agave nectar.  Add kosher salt and a generous amount of cayenne pepper.  Toss with pecans, roast on a cookie sheet lined with parchment at 250º for a couple hours.  Let cool completely and toss with just-dressed sprouts.