Caesar Salad – still rockin' the 80's here at GHT
The 80's Steaks Diane post was so much fun that I felt compelled to once again crank up the Whitesnake, pull on the parachute pants and pop-lock/robot my way into the kitchen to trot out another 80's favorite — the Caesar salad.  Alright alright.
The Prep:
Ok let's start with the scut work: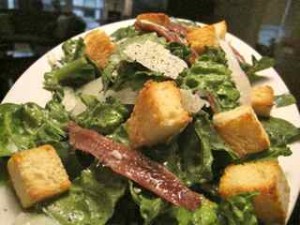 Oven on, romaine washed and chopped.
Brioche cubed, toasted in the oven 10 mins or so until dried through and crisp.  Try one, if it's not crisp all the way through pop it back in the oven.  Nobody likes the mushy crouton.
Now the fun stuff – mixin' up the dressing:
Egg yolk into the bowl.
Grate all sorts of parm right into the bowl.
A dollop of Dijon, a few hits of Worcestershire.
One clove garlic, smashed to a paste with the side of a knife.  Kosher salt helps here as an abrasive.
Fresh squeezed lemon juice, now whisk everything up while drizzling in good olive oil.  It should get all thick on you now (emulsify).
Cracked pepper to finish, taste and adjust.  If it needs a bit of zing you can whisk in a touch of red wine vinegar.  What with all the parm, you probably don't need salt, but if so go for it.
All together now:
Toss each serving of lettuce individually with a few spoons of dressing.  Not too much, your guests can add more to their liking.
Plate the dressed lettuce, top with croutons, anchovies, and then shave leaves of parmesan over the top with a vegetable peeler.
A couple turns of black pepper, and that's it people.
The Pros:
There's raw egg yolk involved.  Awesome.
The Cons:
There's raw egg yolk involved.  So don't get the 'manager's special' eggs.  And be careful separating the egg, don't get the shell all in it.  I crack it with one hand on a flat surface (when you crack on an edge, shell bits get driven into the egg) and release the egg into the other (washed) hand.  Then let the white slip through your fingers and you are left with a nice yolk.
The Takeaway:
A bad Caesar is just sad and depressing.  But a good Caesar?  Hey now.  So get the fresh fresh ingredients and don't skip the anchovy.
Is GHT done with the 80's food kick?  Hmmm.  Stay tuned.