Make the 1980's middle school cafeteria your dinner party….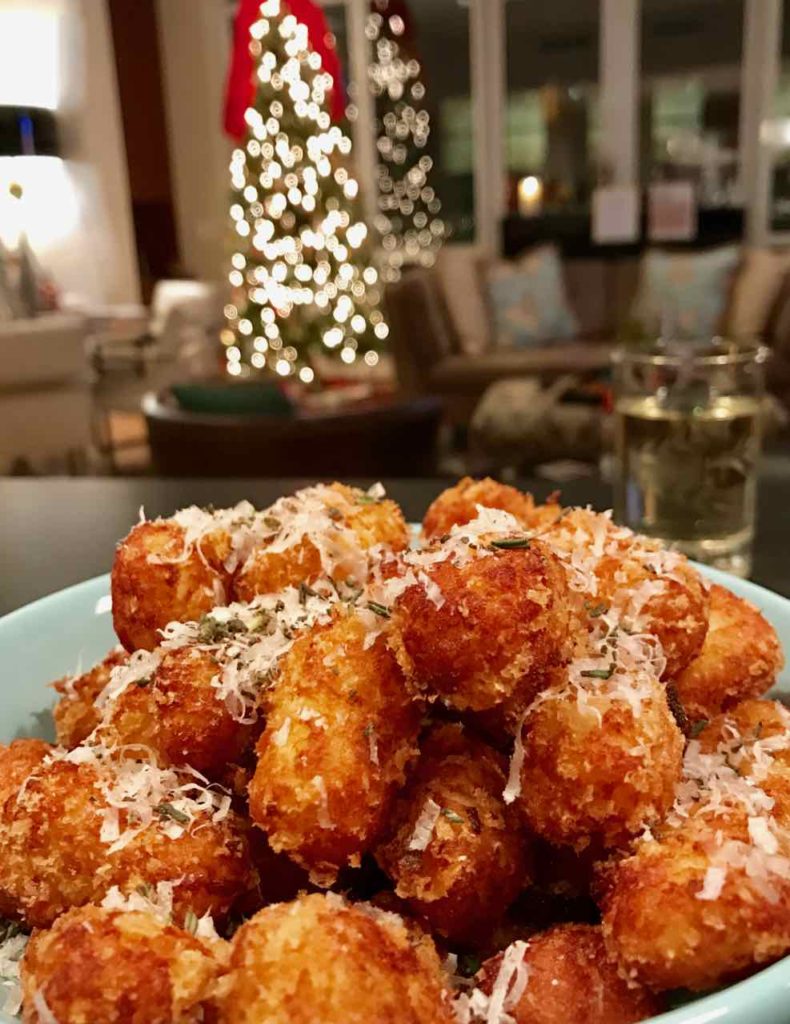 Leftover mashed from T-Day.  Beat up with a few eggs, S&P and a whole lot of grated parm.  A spoonful or so flour.   Roll into tot-shape, you know the one.   Toss in some breadcrumbs, chill for a bit in the fridge.  Then into 350º lard — LARD I TELL YOU!  Evacuate when nicely browned and crisp. Throw on some parm and chopped fresh rosemary, serve with a nice Sriracha mayo or ketchup.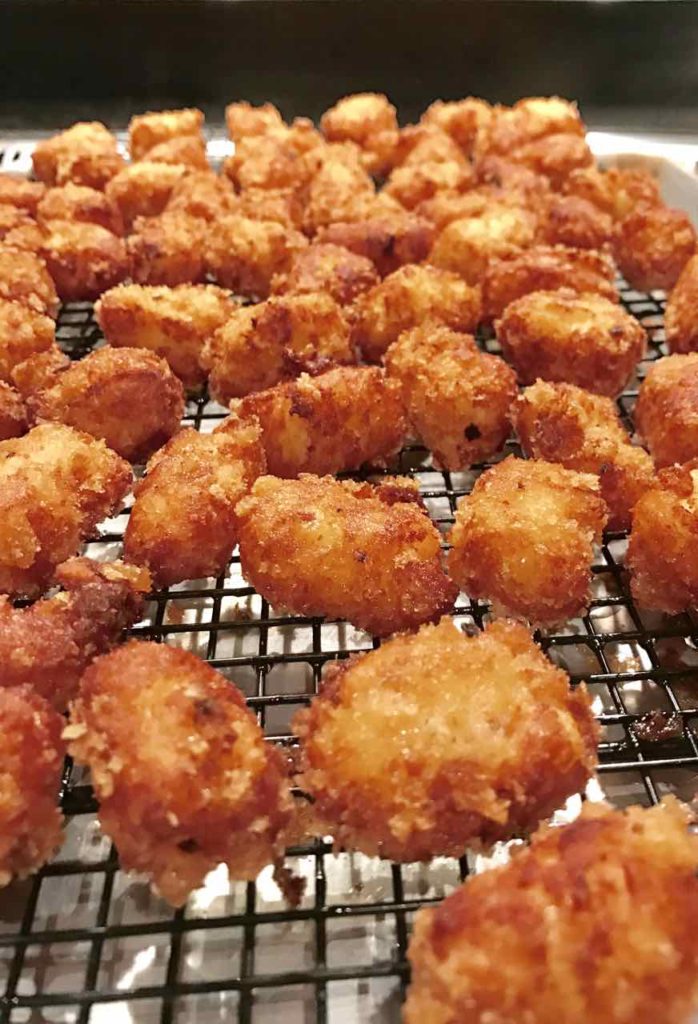 T-day appie course — Fresh Shucked Montauk Pearls with Mignonette, Deviled Eggs, Crunchy Peanut Butter Stuffed Medjool Dates….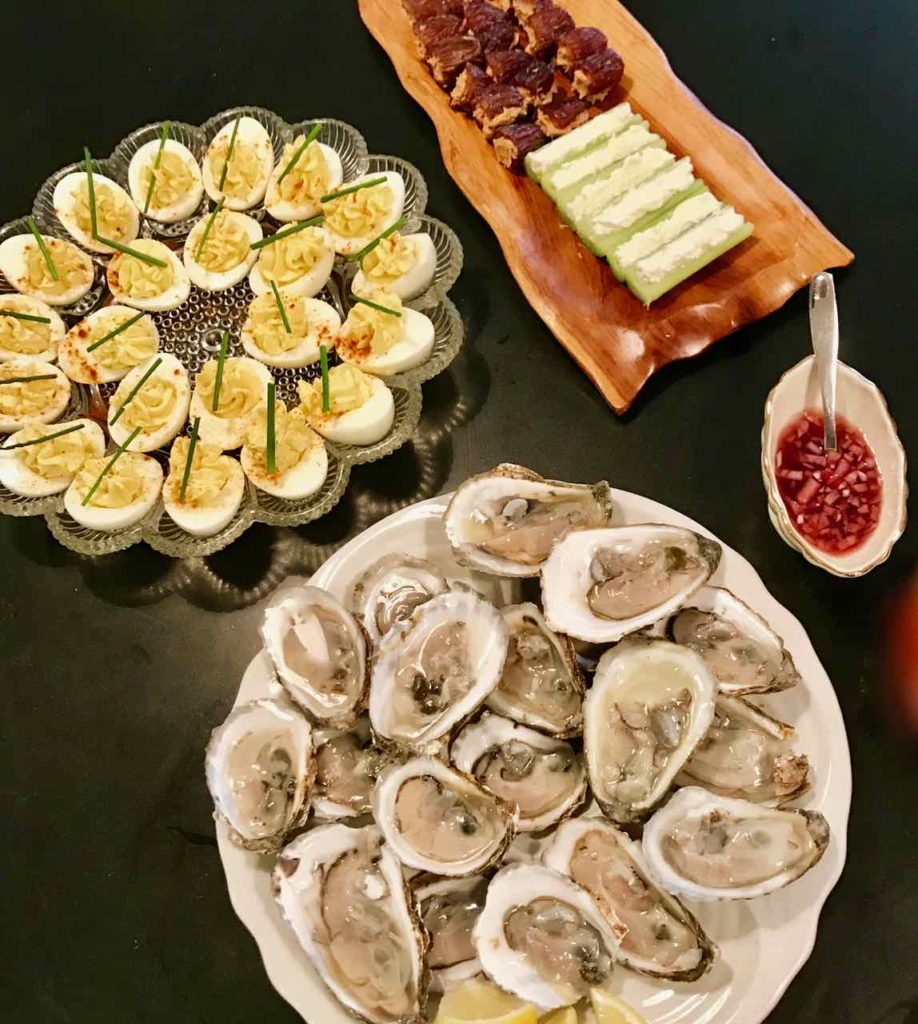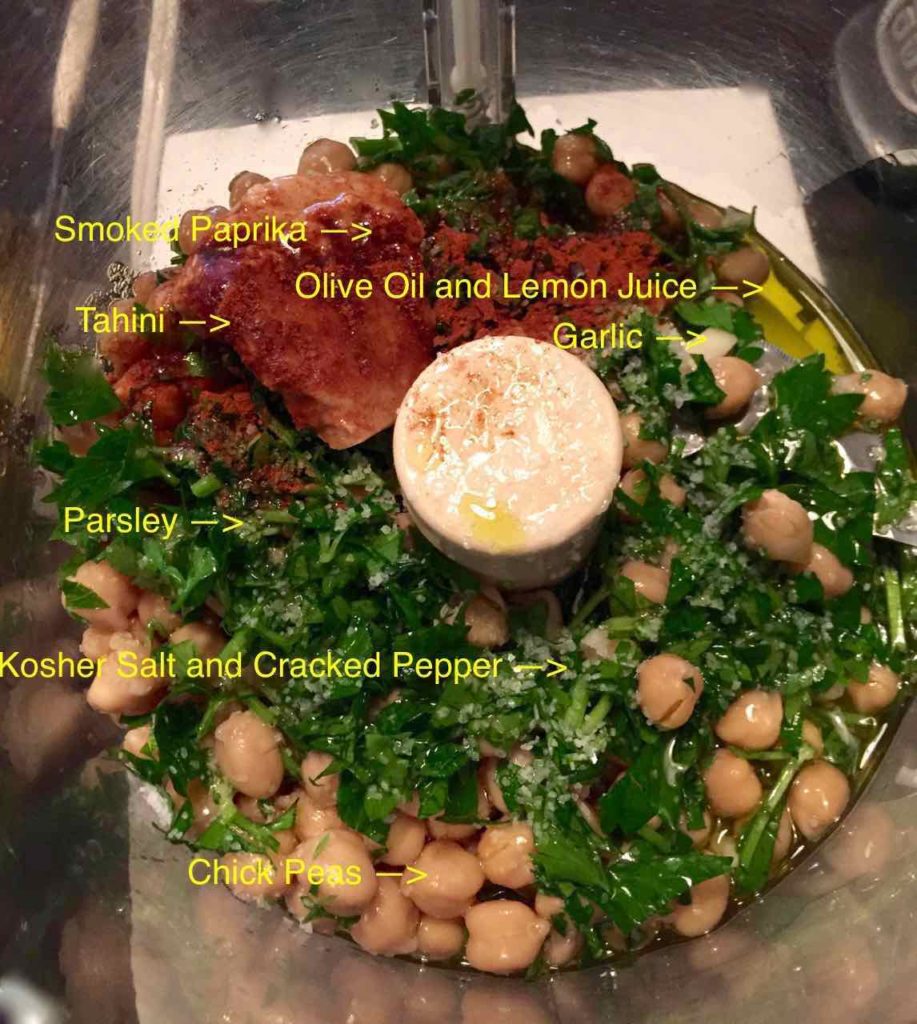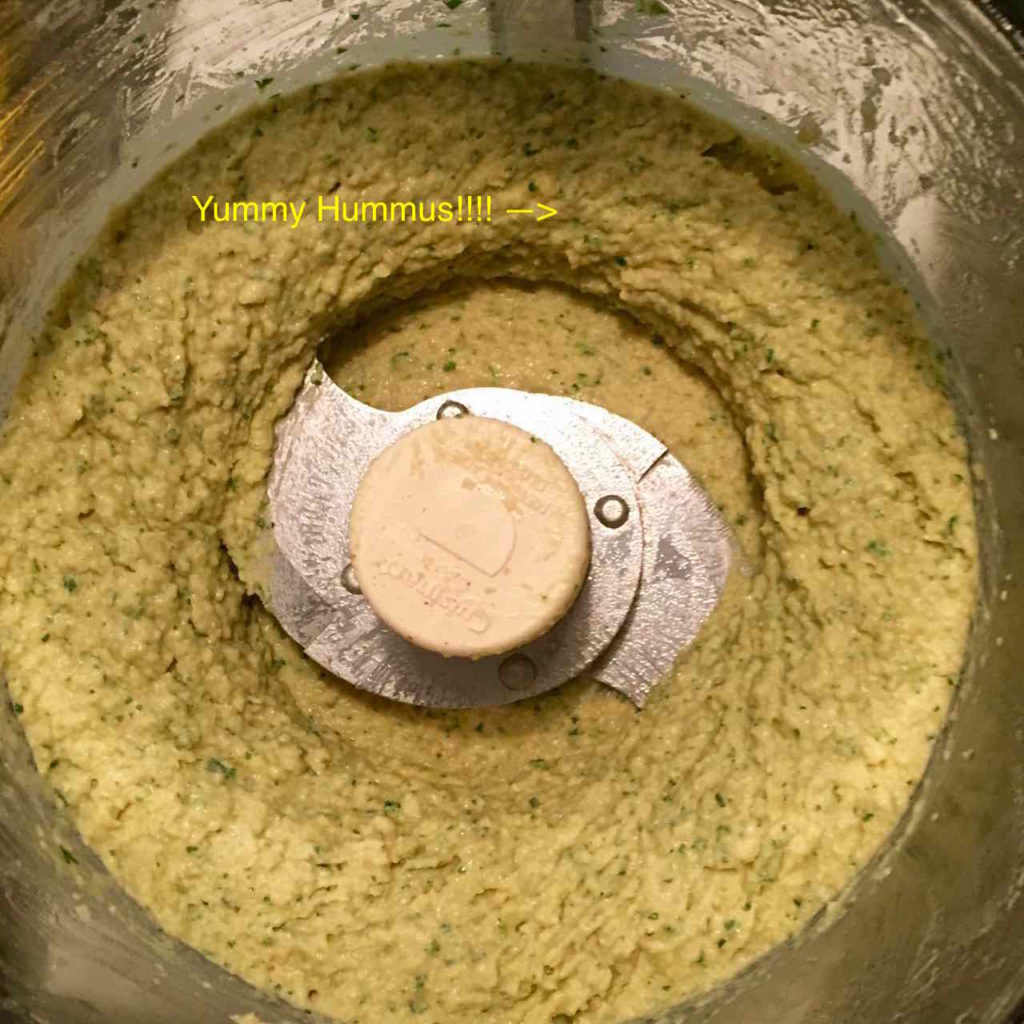 Here's an appy course to rock your New Year.  Pour a nice glass of cold Sancerre.  Fire up some blistered shishitos, tossed with some S&P and a bit of garlic powder.  Shuck a fat icy plate of chilled oysters — maybe some Bluepoints and Montauk Pearls.   And however gauche, I'll still own me a touch of spicy cocktail sauce….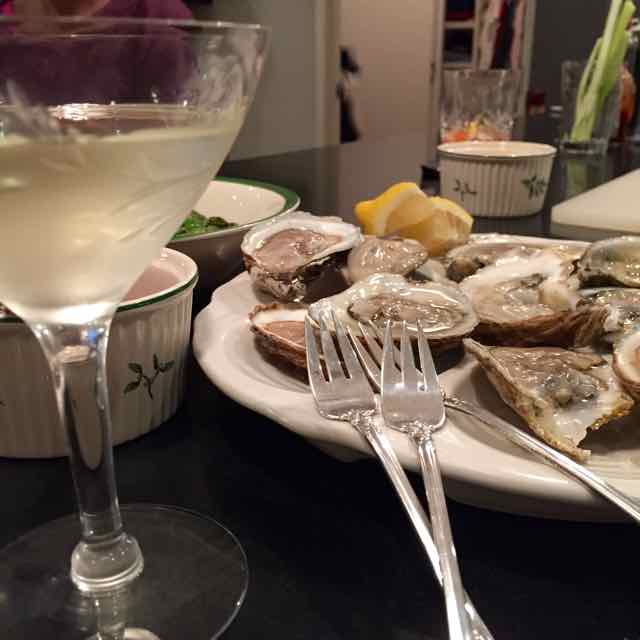 The perfect cocktail sauce- you don't buy it.  Two good squeezes of ketchup.  Juice from a quarter lemon.  Spoonful or two of hot horseradish. A few drops of Worcestershire, and a couple three shakes of Tabasco. Taste and adjust to your liking.  
Blistered shishitos go surprisingly well alongside oysters.  If you don't recall the shishito gig, click here.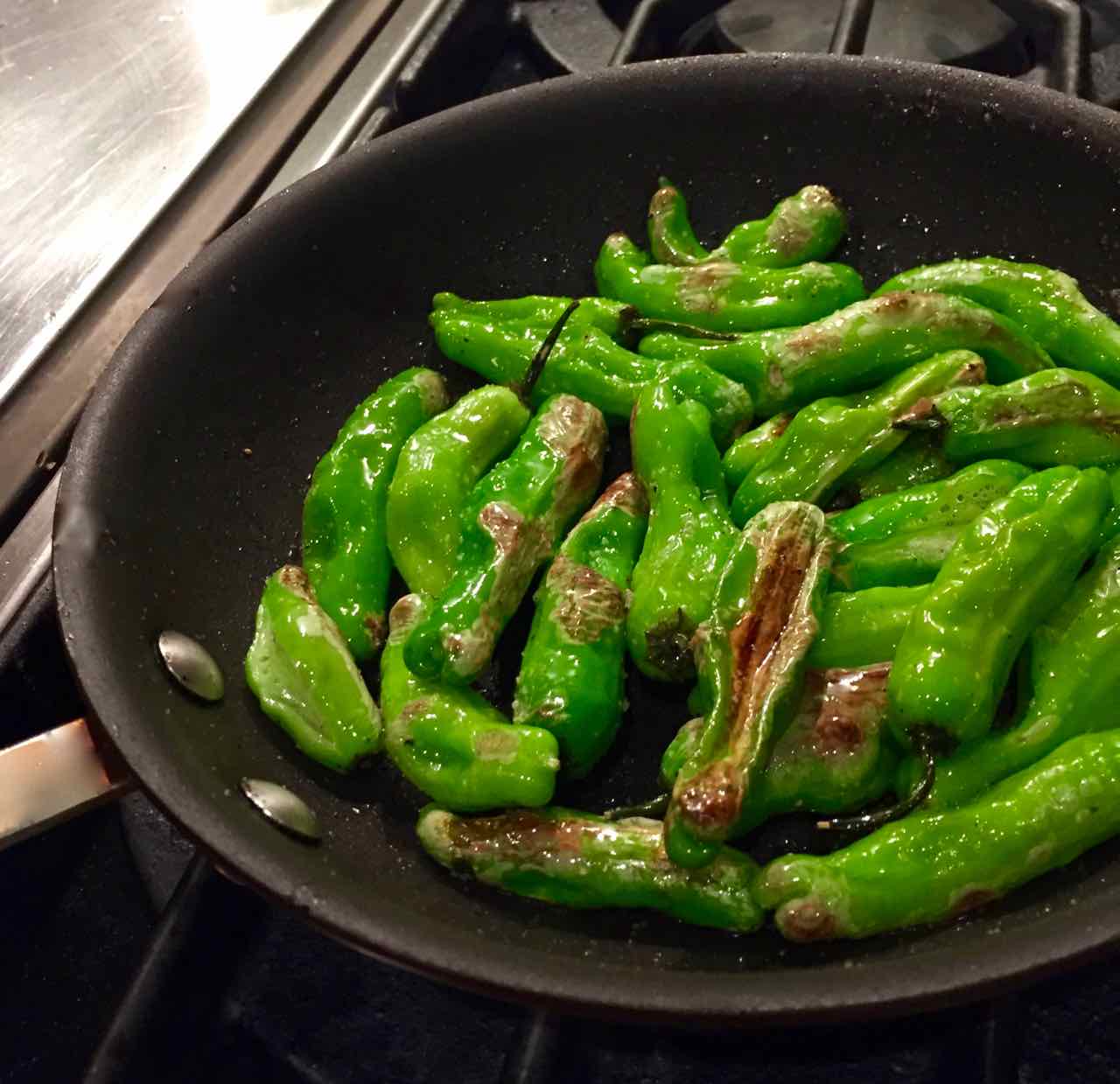 Happy New Year, all.  Hope your 2106 is filled with good food, fun and family.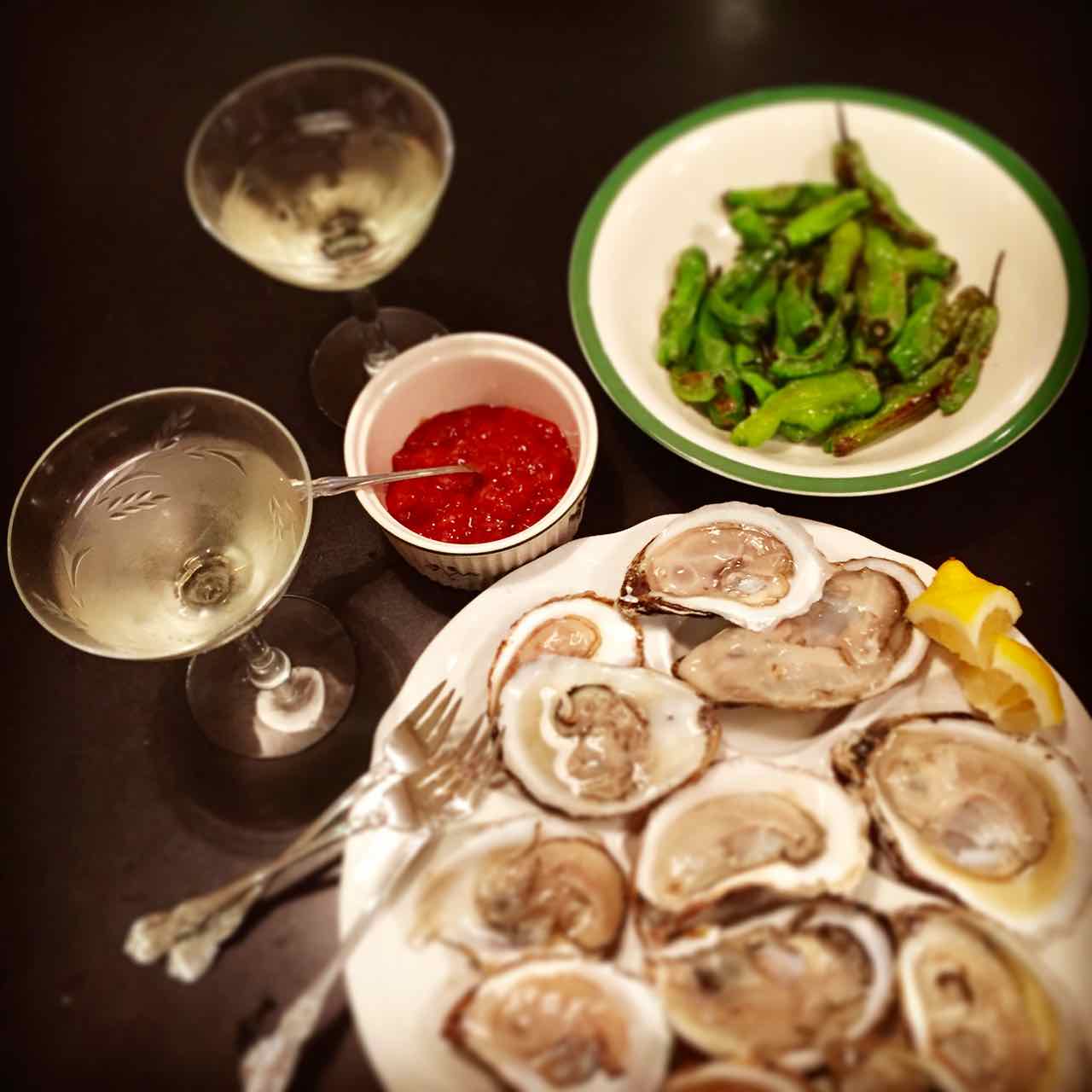 Ok, mostly daughter dumplings. But I did add value in an advisory capacity.  A nice project together: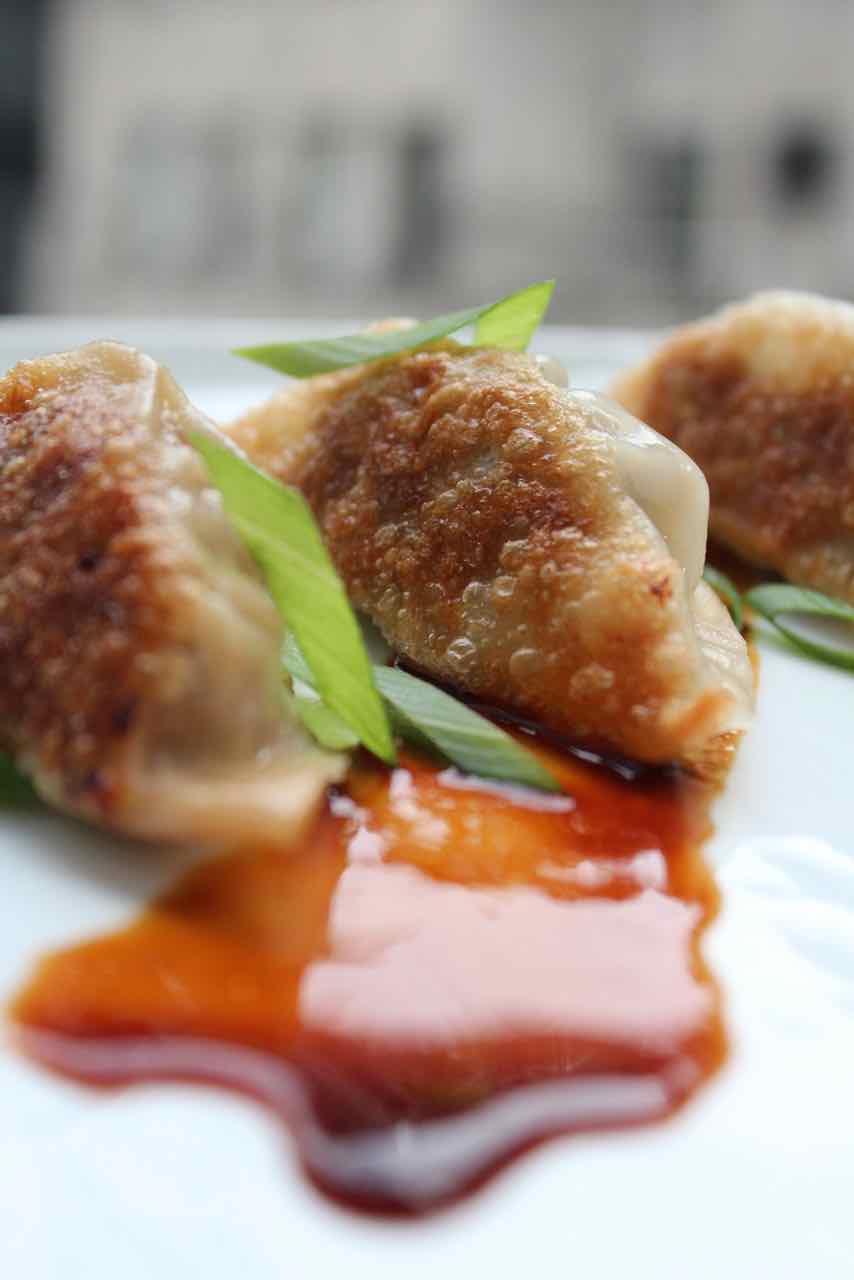 She riffed off a Cooking Channel recipe you can find here.  Briefly sauté minced ginger, scallions and garlic in sesame oil.  Mix into ground pork with an egg, a bit of 5 spice powder, salt and pepper.   Spoonfuls into dumpling wrappers, wet edge and seal.  Into hot pan with a bit of oil, let it go until the bottoms brown, 2-4 mins.  Add enough water to come halfway up the sides of the dumplings, cover and let steam 5-6 mins.  Water should cook off.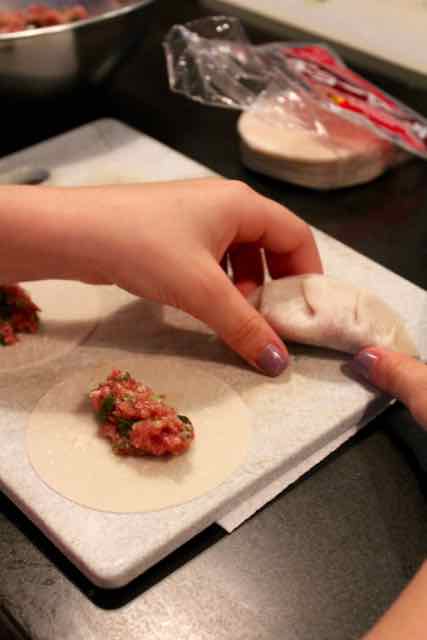 Dip in a mix of hoisin, soy sauce and Sriracha.  These were really amazing.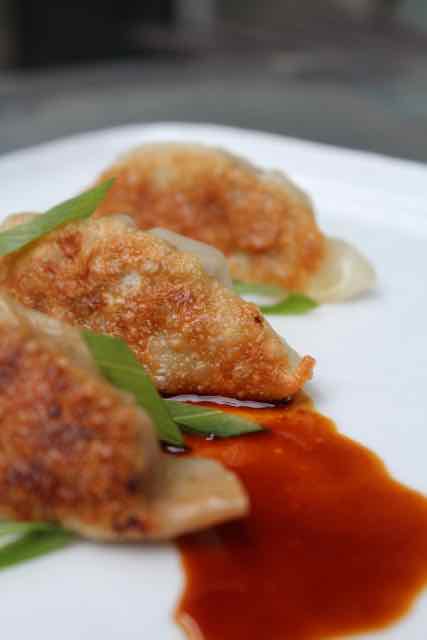 We are totally doing these for company.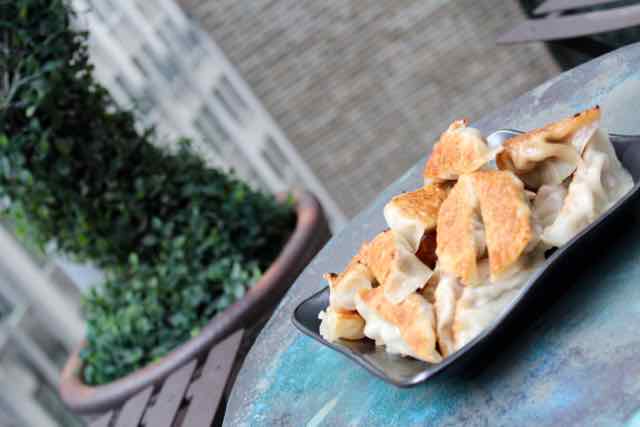 Edamame.  With earthy funky truffles.  In dip format…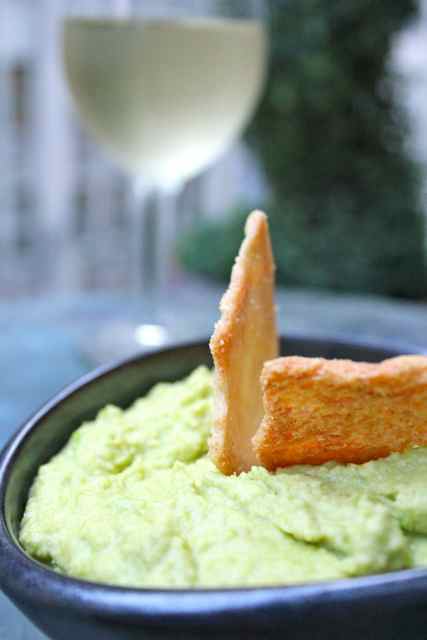 Edamame steamed in an half inch of boiling water.  Shelled, into processor with a splash of the steaming water, S&P.  While processor is running, drizzle in some olive oil until it's a nice consistency.  Then a bit of fresh squeezed lemon juice and a pour of truffle oil.   Taste- add more salt/lemon/truffle oil as needed.  
Pita chips, chilled Grüner Veltliner.  Hey now. 
Oh – riding a saltine right into my mouth.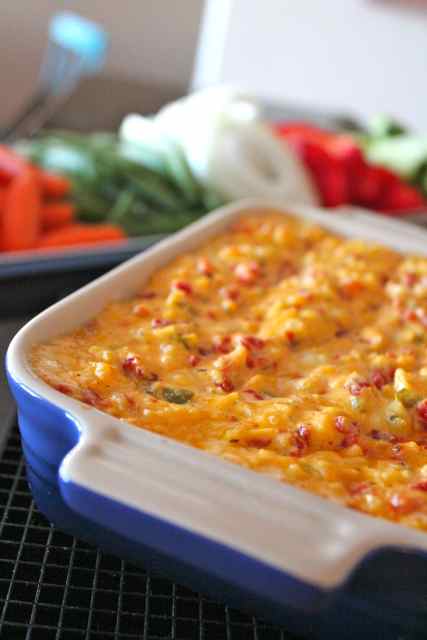 Shredded sharp cheddar and pepper jack, mayo, chopped pimentos (or piquillo, as here), pickled jalapeño, chopped white onion.  Into 325º oven until bubbly, like 20 or 30 mins.  Let cool a bit – it'll sear your face off right out of the oven.
Served this on Kentucky Derby day. 
Profiteroles and Gougeres: same start, different end.  A choux paste base, unique as twice cooked – once on stovetop and again in oven. First the gougeres –the base dough plus finely grated Gruyère cheese mixed in, and topped with grated Romano.  Perfect cheesy puffs, served warm alongside chilled Champs: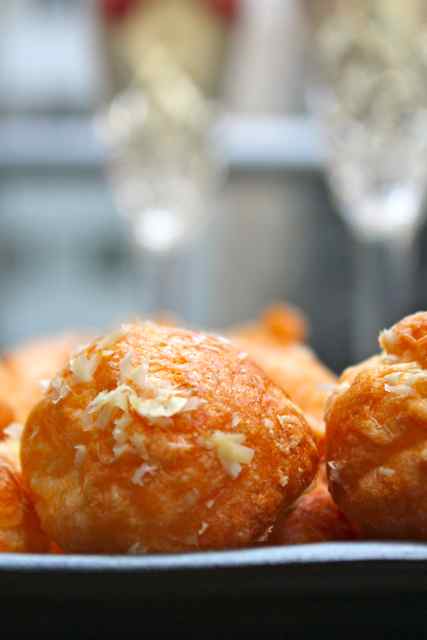 One for you? Get in there, the Tot's tearing through them…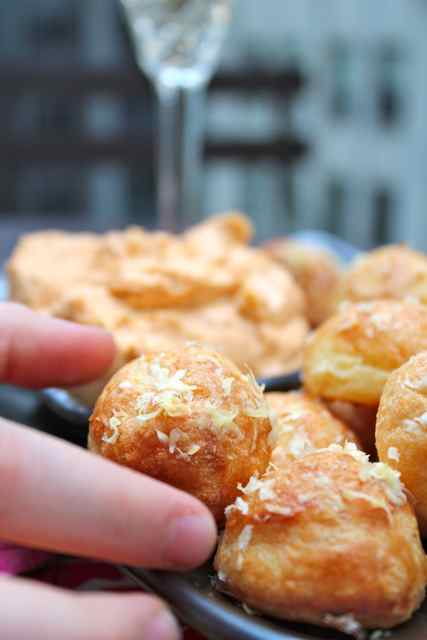 Profiteroles – basic dough plus an extra good pinch of sugar.  After piped and baked, filled with pasty cream or sliced and sandwiched with a small scoop of ice cream.  The tops dipped in melted chocolate: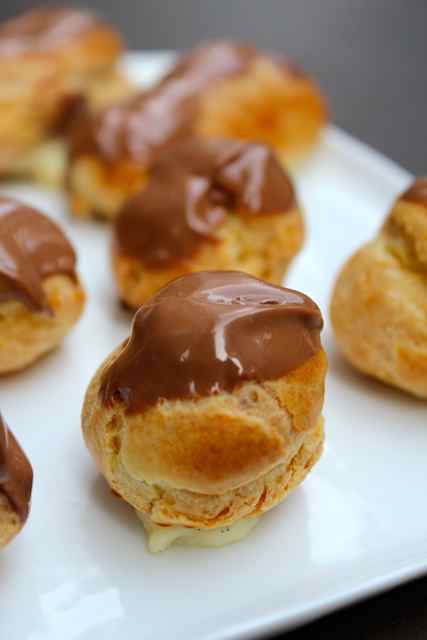 The Tot piping in the pastry cream…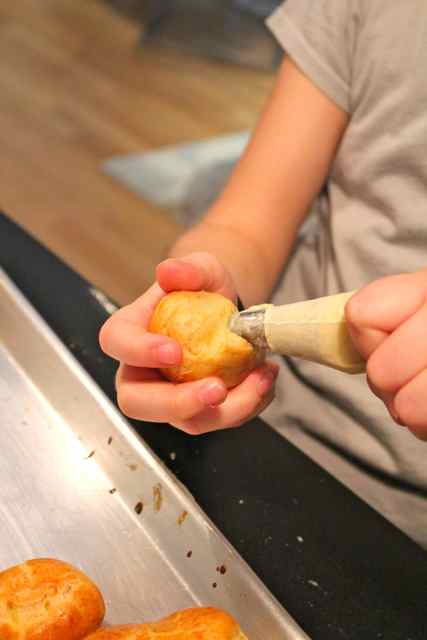 p.s. email me if you want the recipes…  
Like a lot of miniature things, quail eggs are fun.  Served these as an appetizer during a family visit over the Thanksgiving weekend:
<a href="http://www preis viagra 100.gothamhometable.com/wp-content/uploads/2013/12/eggs1.jpg">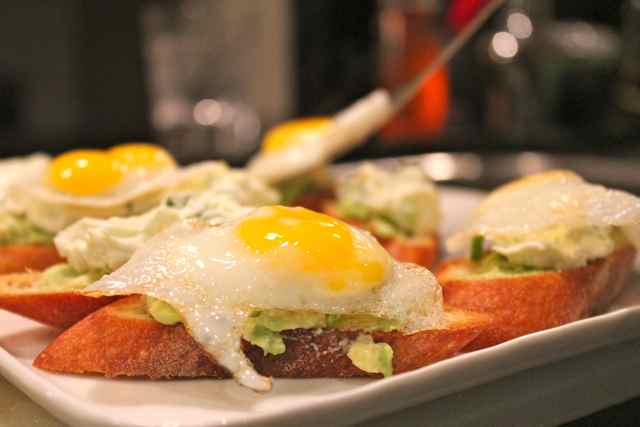 Slice a baguette thinly, brush with olive oil, sprinkle with salt, pepper and garlic powder.  Into a 350º oven until lightly toasted and crisp.   Smash up an avocado, add a bit of lemon juice and S&P.  Smear onto baguette crisps.  Top with a small dollop of cream cheese beat with scallions and fresh dill.  Fry up your quail eggs in a touch of butter and slide one atop each canapé.  Crack a little pepper over and serve.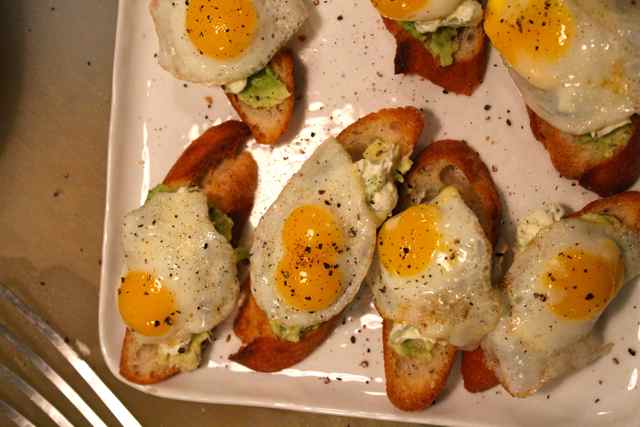 p.s. – loving the double-yolk quail egg, good luck for whoever gets it (in this case, the tot).  
Who doesn't love a soup course, especially when it's this easy…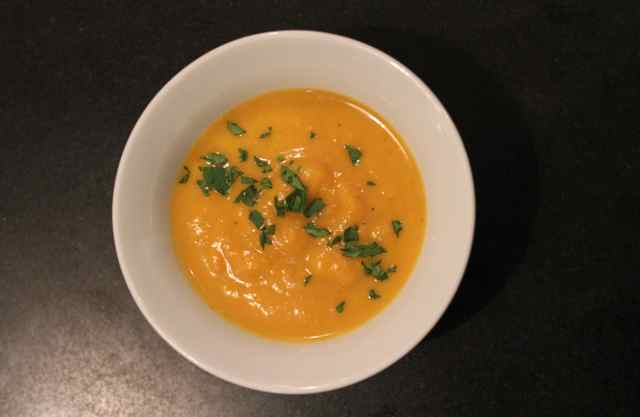 Rough chop a leek, sauté in butter a little while.  Add one peeled chopped Granny Smith apple, let that go for a while.  Drop in a can of pumpkin flesh, cover with chicken stock.  Nail it with the curry powder, and don't be shy. Hit it all with a stick blender until smooth.  If too tight, add more stock.  If loose, let it reduce a while.  Add a little pour of heavy cream before service. Taste, add salt if needed.    
p.s. this is Granny Smith