Smear this hot smokiness on your bagel and call it a spicy Sunday.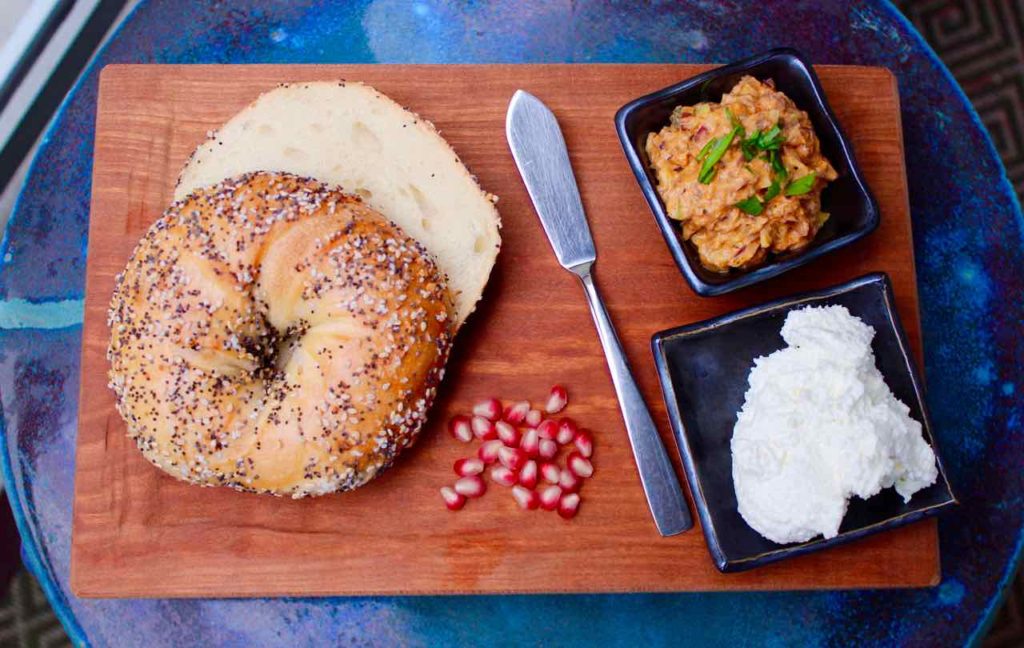 Smash up your smoked fish – here, smoked sardines, but whatever- with a touch of mayo.  Chopped celery and red onion, some fresh parsley or dill if you have it.  A good squeeze of lemon juice and a fat dollop of Harissa. Gently fold in some capers, S&P to taste.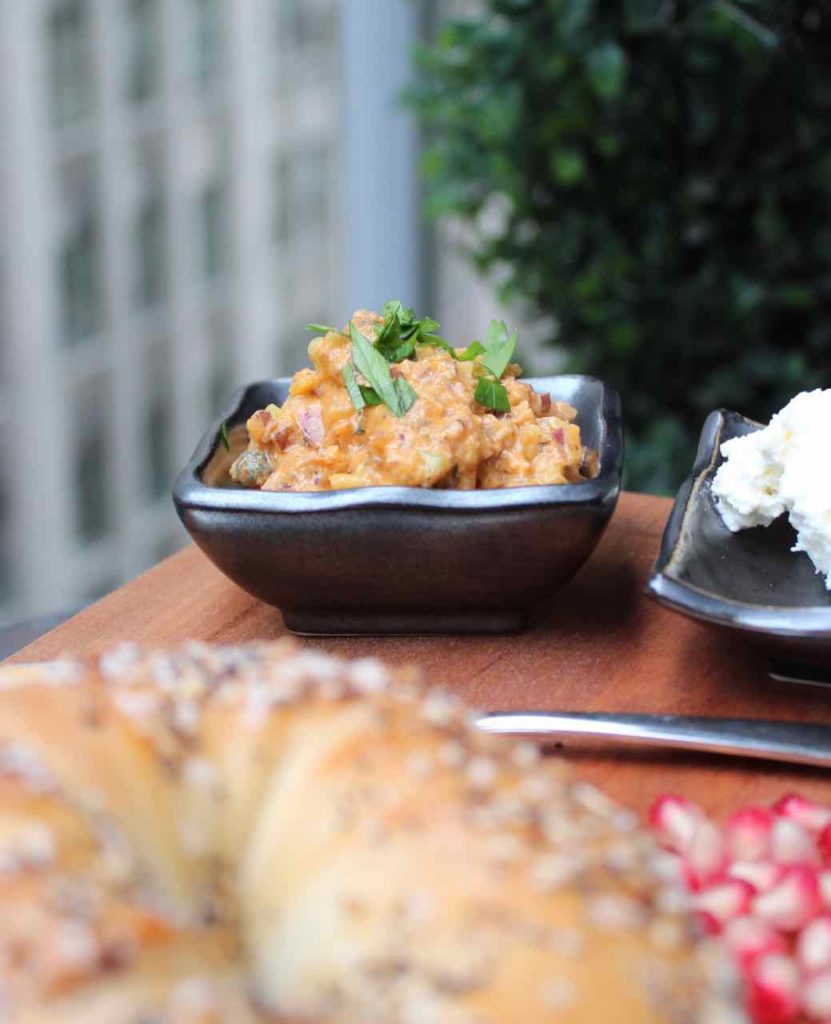 p.s. yes  I know I'm on a brunch kick.  More dinners shortly…
Make this happen to your Sunday morning.  Basic blueberry pancake recipe, but substitute in stone-ground cornmeal for about 1/3d of the flour. A nice little bite, a sweet little crunch…  Oh and we had figs.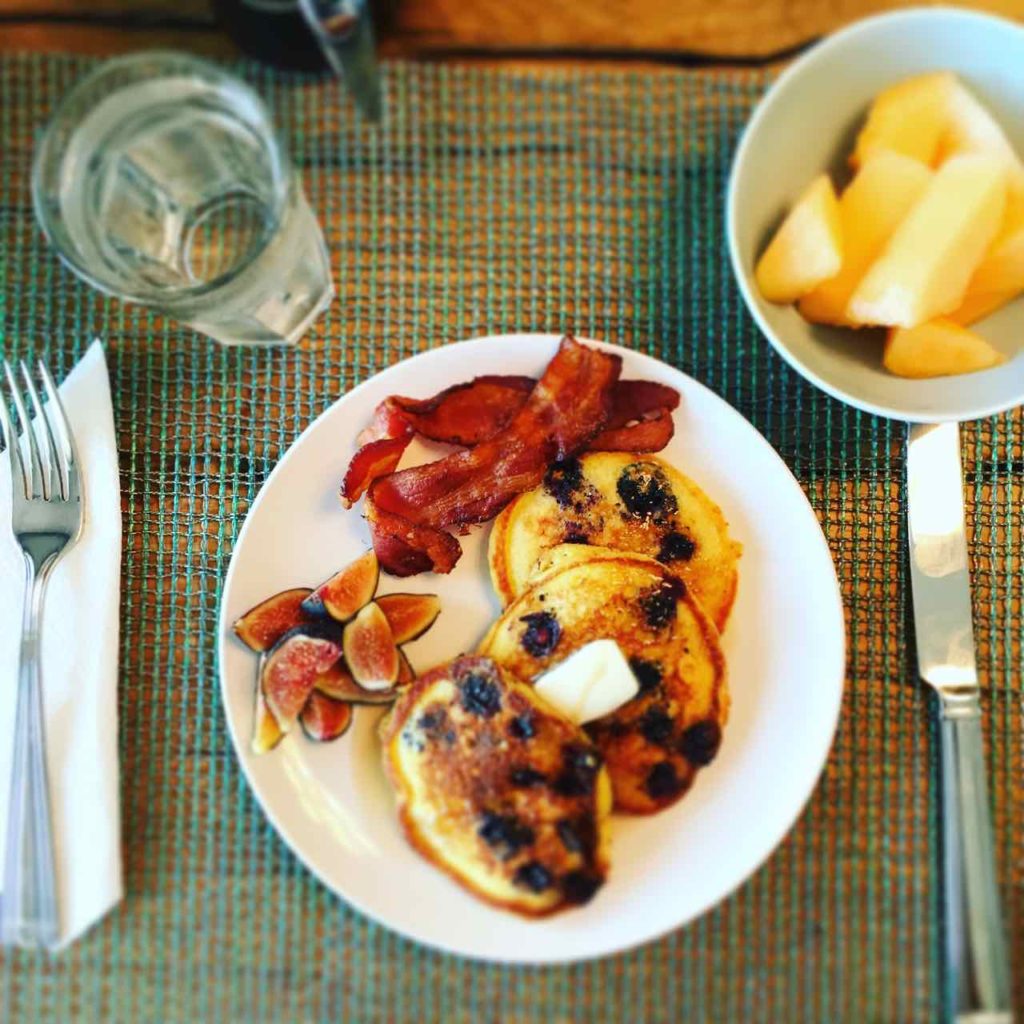 Hot latte.  Limed ripe melon.  And a little treat from #purpleglazedonuts…..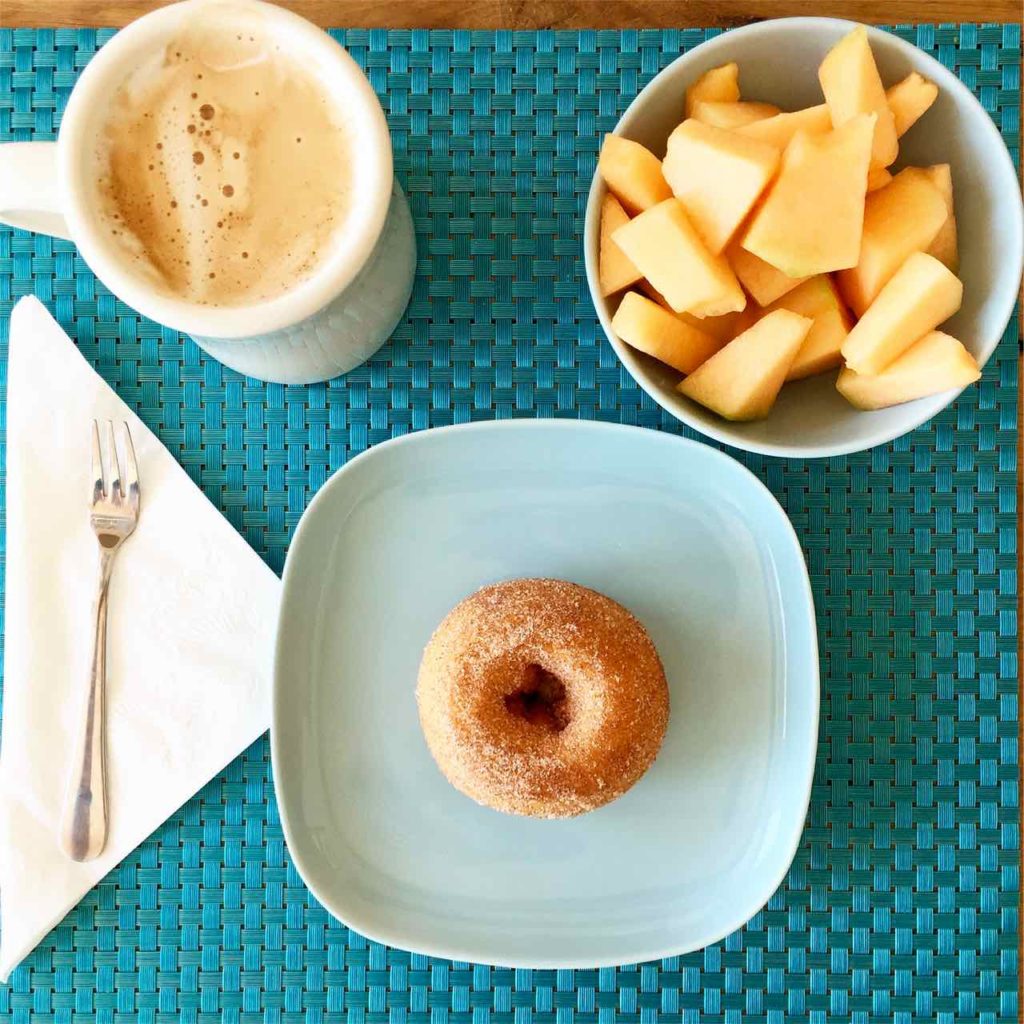 Avocado love transcends chips and guac, people.
Sunny ups, cracked pepper and a bit of fresh thyme.  Crispy bacon, baby. Country bread, slathered with some salty European butter.  Topped with a little something-something to make your day –  ripe avocado, smashed with some lemon juice, kosher salt and cayenne pepper.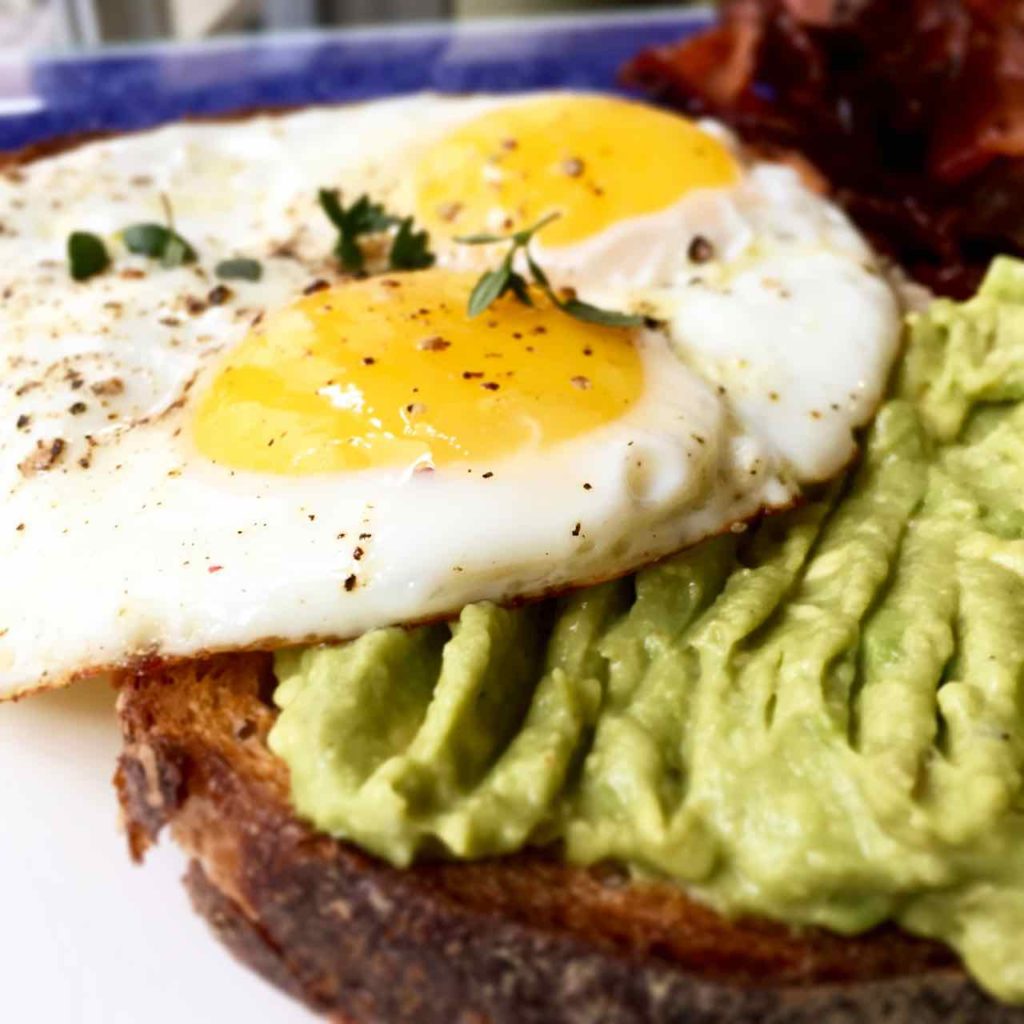 Boom!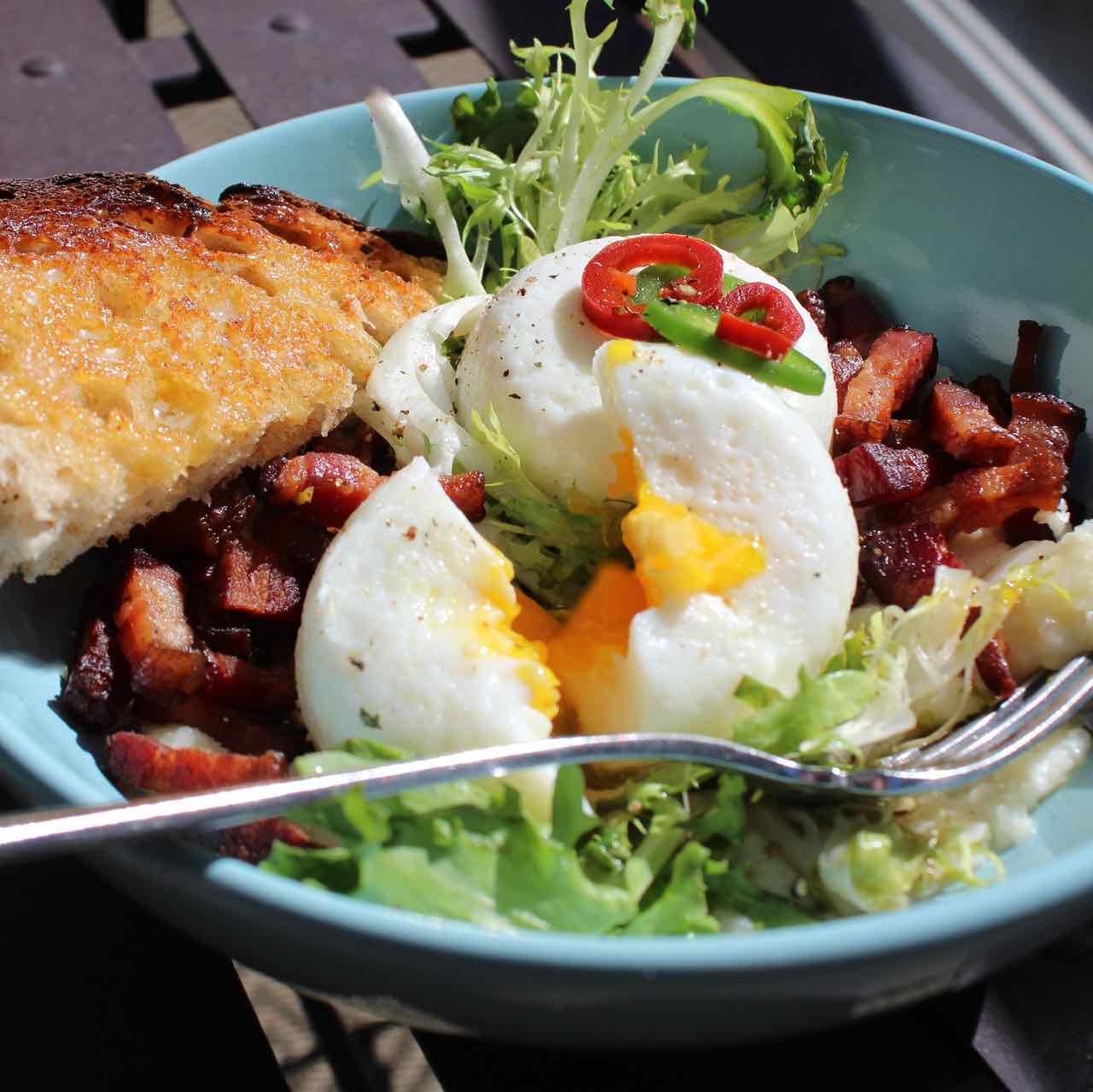 A little riff from BA's great brunch idea (click here).  One of those recipes you read and need to make immediately.  Cheesy grits with wilted greens, oozy soft poached eggs and crispy bacon lardons.  A few pickled jalapeños for some heat and color.  Crusty country bread, toasted and smeared with salted European butter.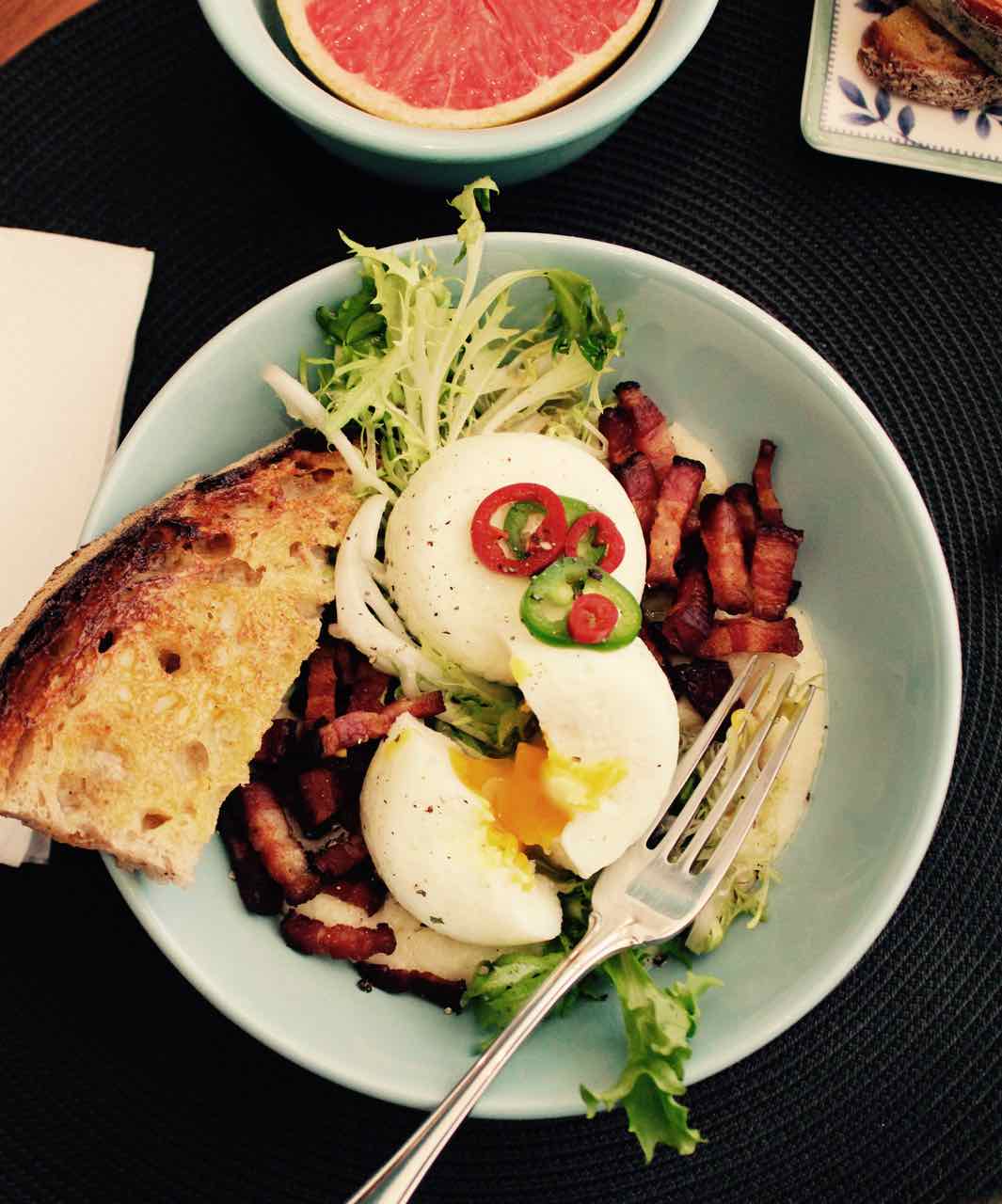 Shake up a nice spicy bloody and call this a lazy Saturday afternoon…
Here's an appy course to rock your New Year.  Pour a nice glass of cold Sancerre.  Fire up some blistered shishitos, tossed with some S&P and a bit of garlic powder.  Shuck a fat icy plate of chilled oysters — maybe some Bluepoints and Montauk Pearls.   And however gauche, I'll still own me a touch of spicy cocktail sauce….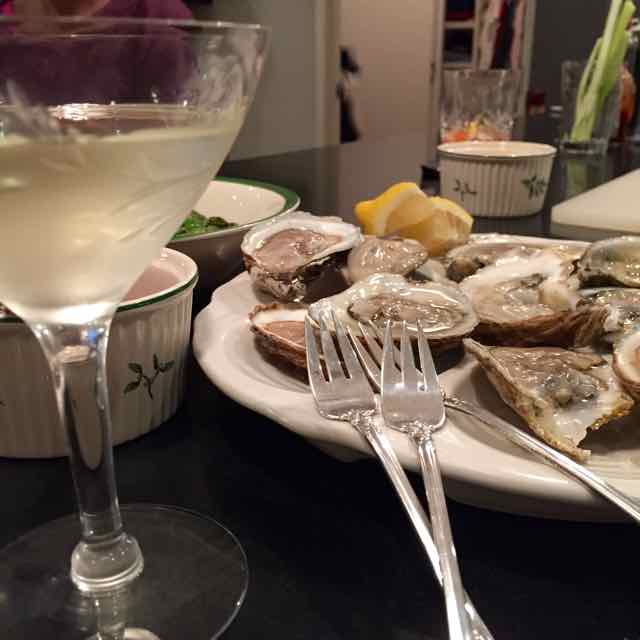 The perfect cocktail sauce- you don't buy it.  Two good squeezes of ketchup.  Juice from a quarter lemon.  Spoonful or two of hot horseradish. A few drops of Worcestershire, and a couple three shakes of Tabasco. Taste and adjust to your liking.  
Blistered shishitos go surprisingly well alongside oysters.  If you don't recall the shishito gig, click here.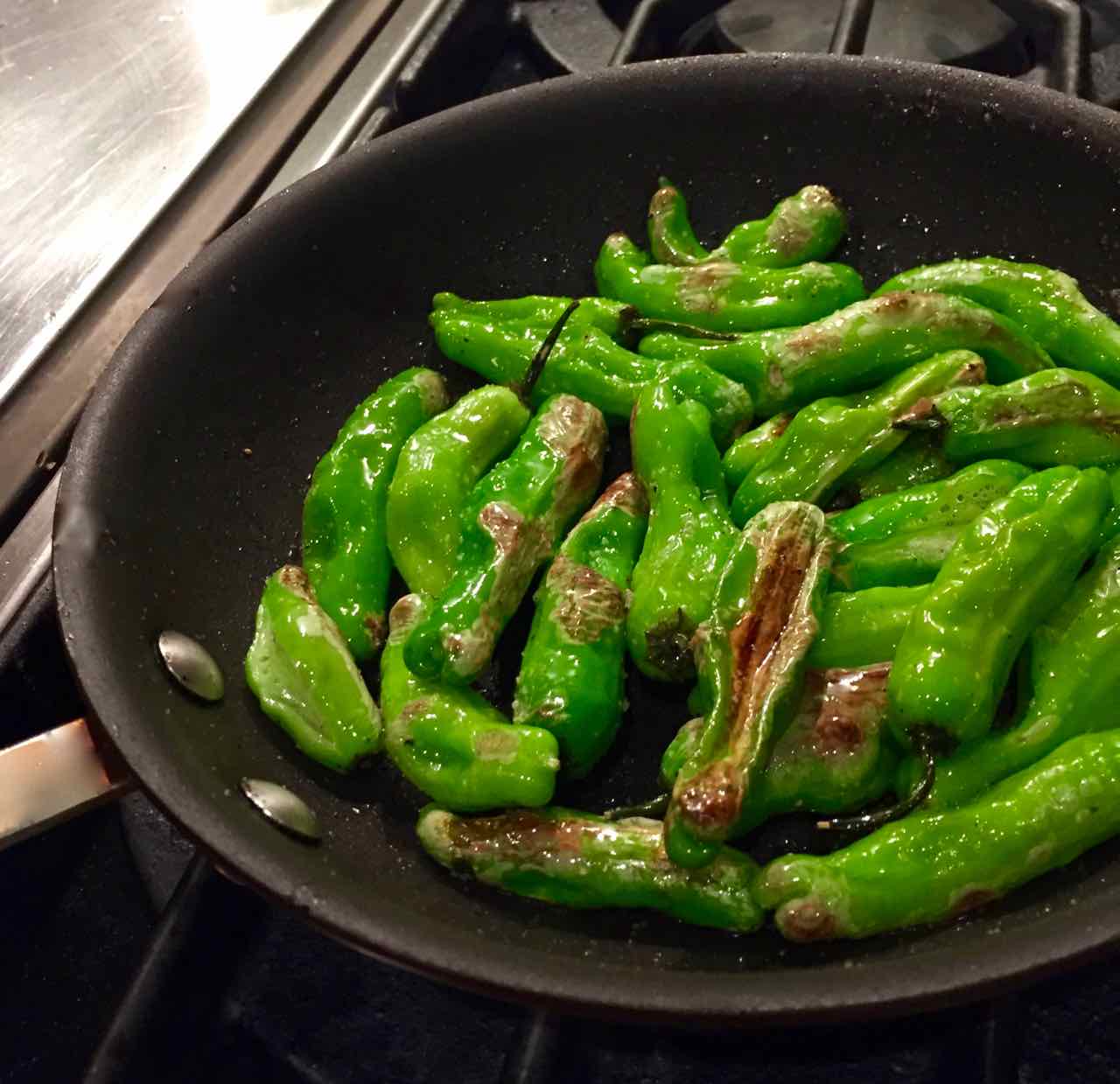 Happy New Year, all.  Hope your 2106 is filled with good food, fun and family.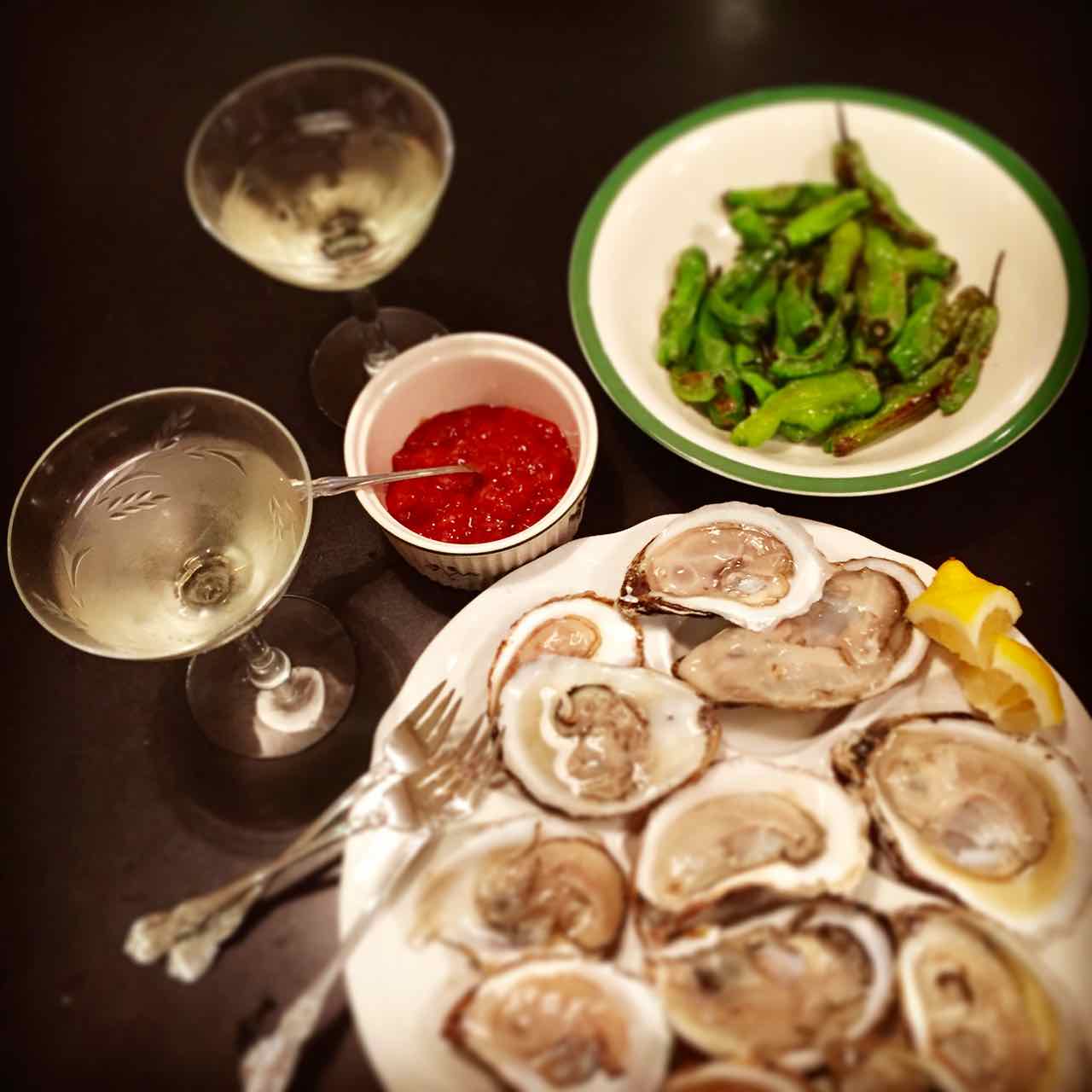 Seared sliced steak.  Crisp romaine, crunchy baguette croutons, shaved parm.  Anchovies.  Maybe some red onion.  And bringing it all together- the classic dressing.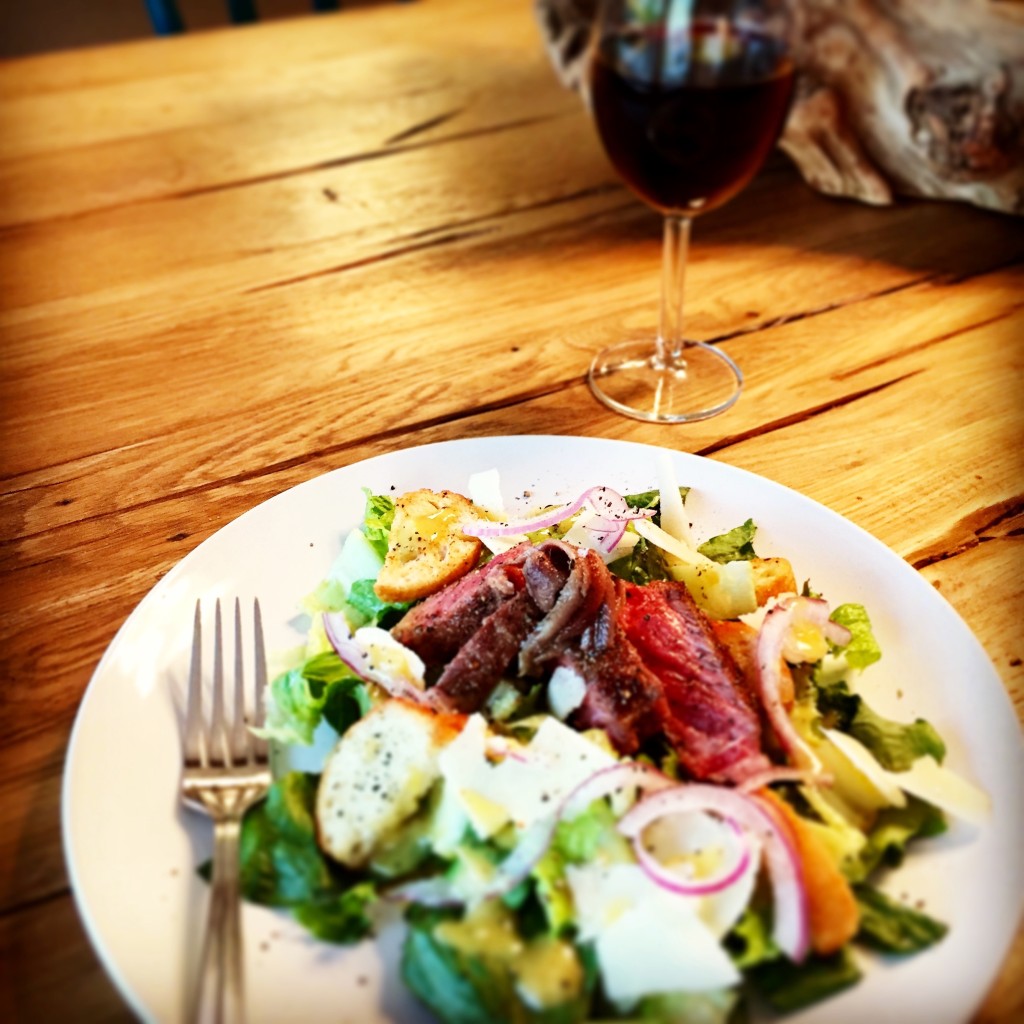 Olive oil, raw egg yolk a bit of Dijon.  Worcestershire and lemon juice. Garlic smashed to a paste, grated parm, cracked pepper.   Whisk it up with a fork until everyone comes together.    Lightly toss with the romaine, serve the rest on the side.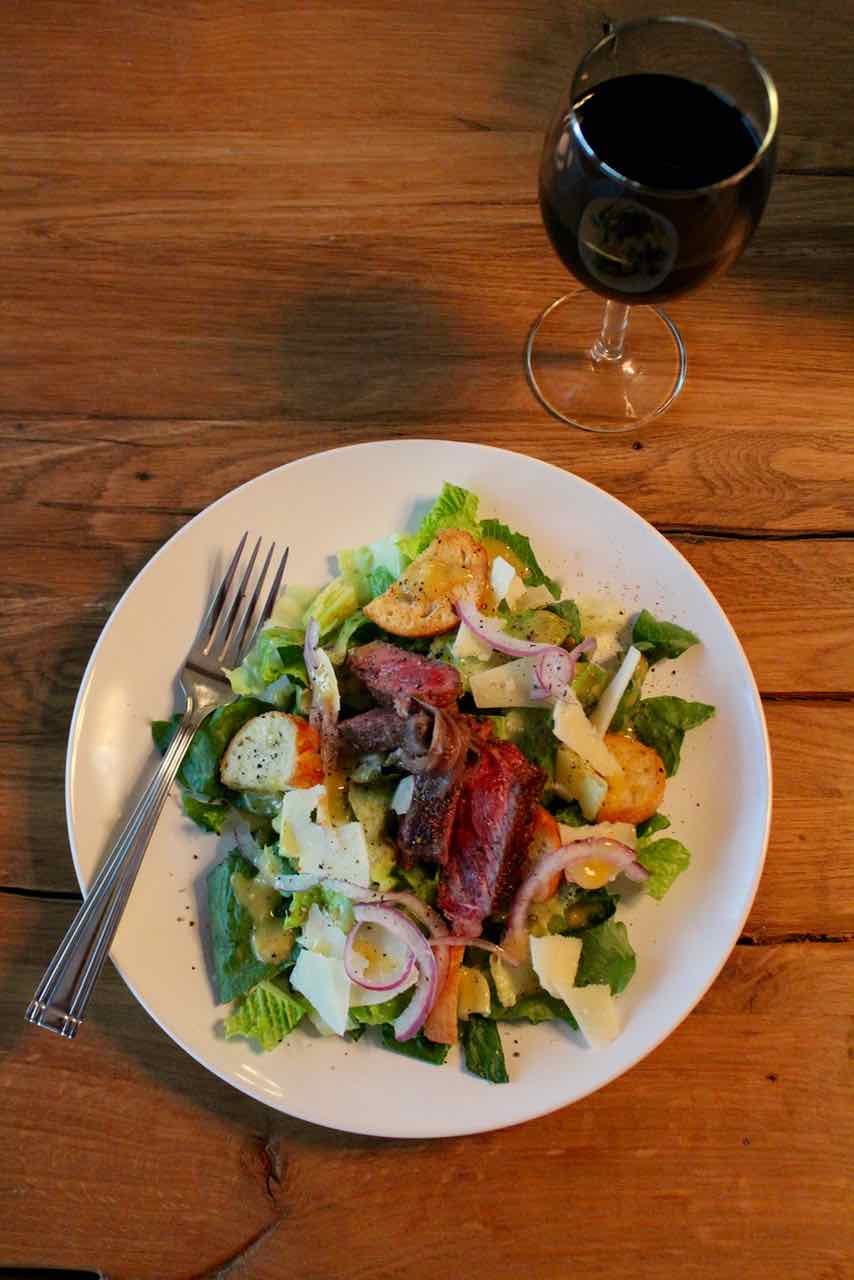 If you remember the Audition Plate from last year, you may also recall I didn't make the final cut for the FN show.  But I got asked back to try again for this season, and here's what I served them today: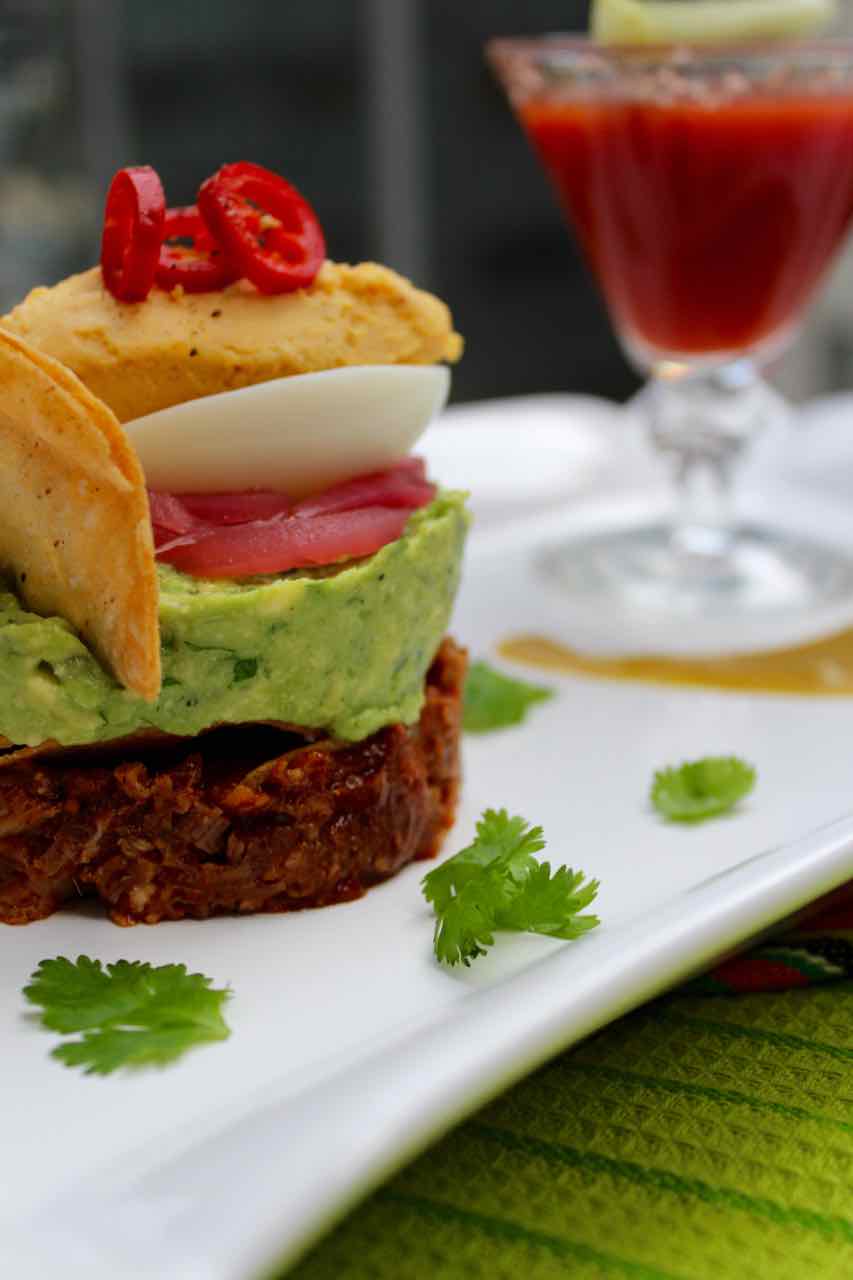 A huevos rancheros tower — bbq rib base, fried tortilla chip, guac.  Then some pickled red onion and a chipotle deviled egg. Garnished with pickled jalapeño and another fried tortilla crisp.   A spicy green chili sauce on the side.  And a home-made Bloody Mary with a chili-salt rim.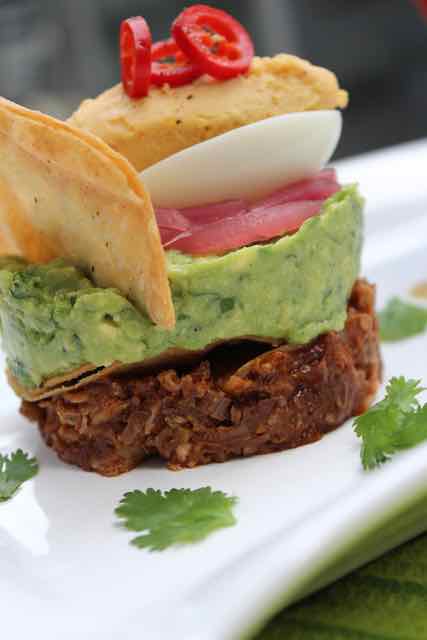 Shamelessly wooing producers with brunch and booze….
A breakfast treat for sure.  Crispy polenta cakes- a little crunch outside, a little creamy inside…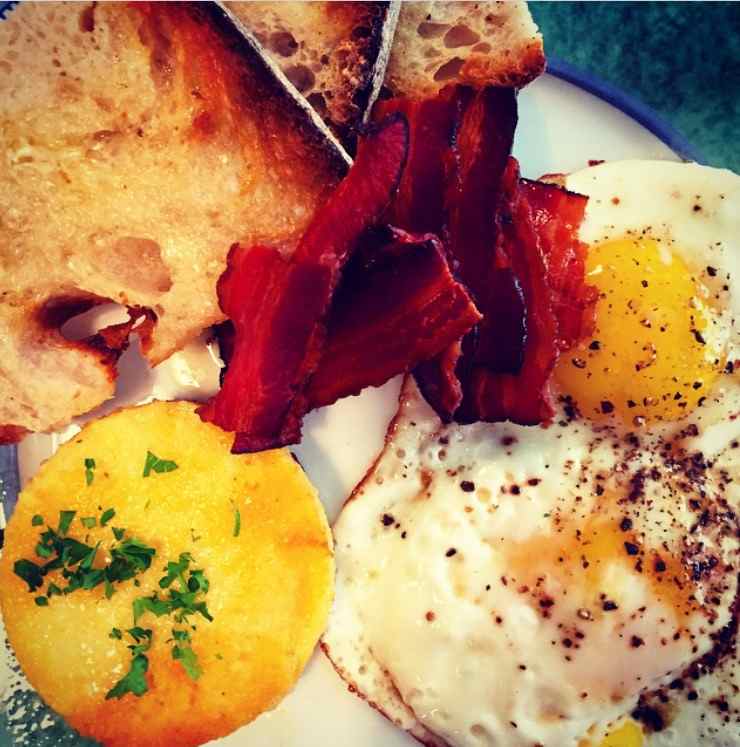 Three parts milk to one part coarsely ground cornmeal.  Milk heated with a knob of butter, some white pepper and sea salt.  Cornmeal poured in, lots of stirring.  Let go for a good 20 mins.  Beat in some heavy cream.  Maybe some grated cheese if you are feeling that.  Pour into a casserole dish and let chill.
When ready for your awesome fantastic brunch, cut up the chilled polenta into squares, circles or unicorns.  Into hot non-stick with a pour of olive oil.  Crisp and flip, crisp and serve.  Hey polenta.  How you doin'
Here's a New Year's Day brunch for you.  Soft poached eggs, bacon lardons and toasted brioche croutons.  Over bitter greens tossed with fresh chopped herbs and lightly dressed in a shallot, red wine and bacon-fat vinaigrette…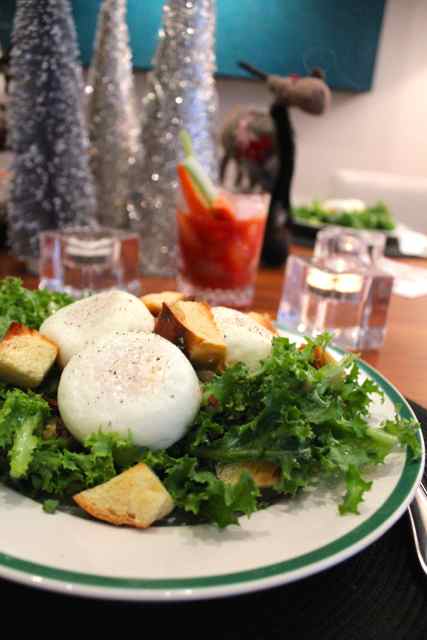 This is a knock-off from Balthazar's fantastic version.  Frisée for whatever reason was notoriously absent from NYC these last few weeks.  So I went with chicory, which worked just fine.   For the fresh herbs in the salad, tarragon and chives.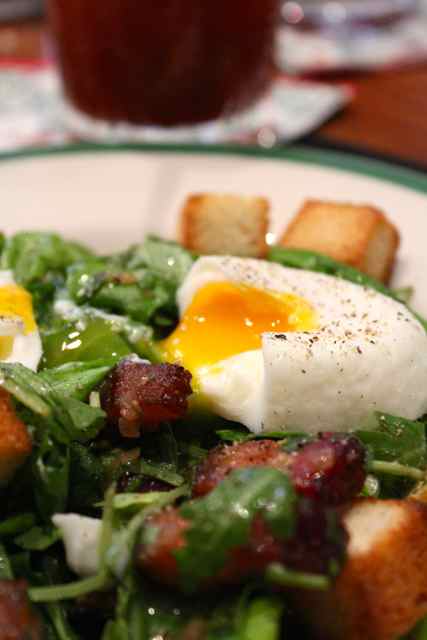 Yes, the vinaigrette sounds ridiculous, but really the bacon fat is more of an accent, with olive oil making up the larger portion.  Let this salad happen to you.  
Shake up a spicy bloody and let's call it 2015!