The Tot and I headed up Harlem way today to the Urban Garden Center. Garden stuff was plentiful and fun to explore.  Even better was the unexpected sweet sounds of 70's music – vinyl spinning on a real turntable.  And ice cold beer with wood fired Korean pork bbq, all nestled in the open air right under the Metro North mid-Park Ave at 116th-117th.   Could have stayed all the day long.  The stated purpose of the trip, however, was to populate the patio with a small urban herb garden.   So here is day 1 of the effort: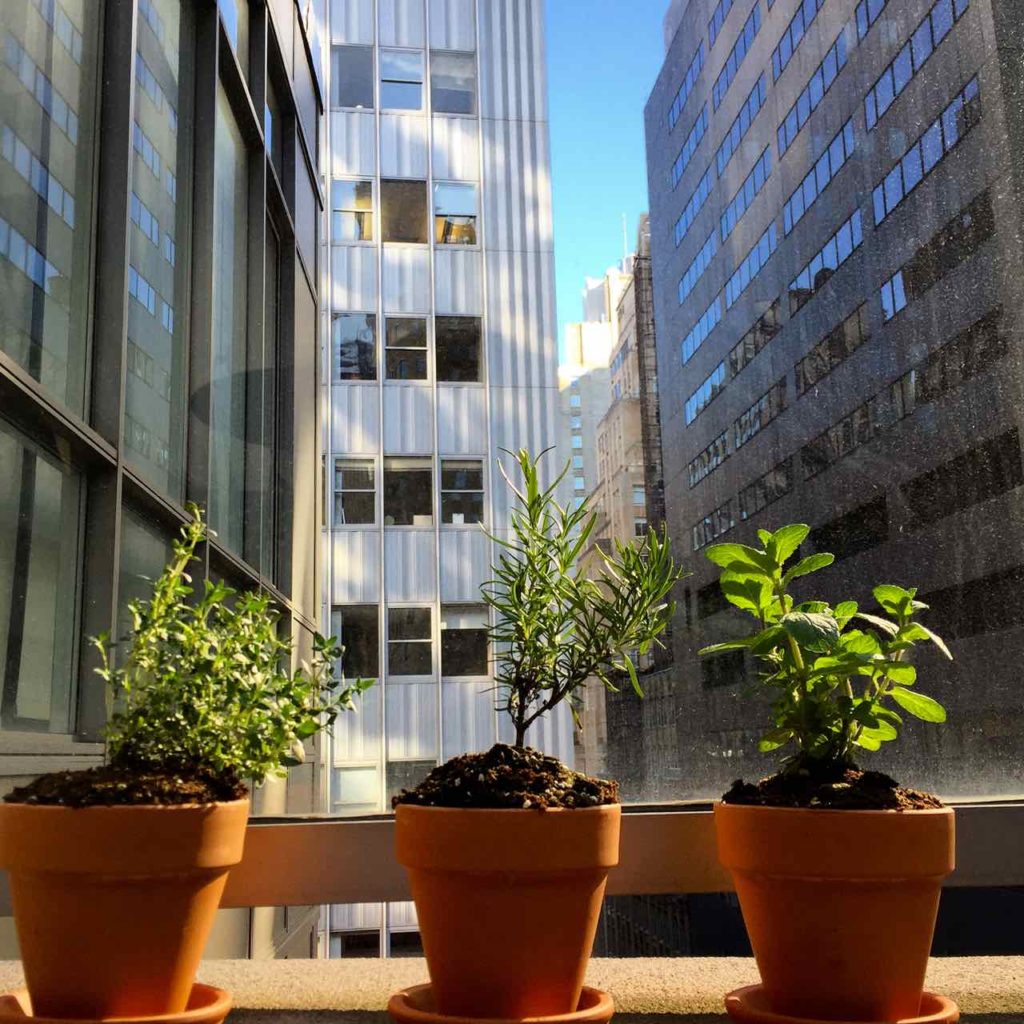 Thyme, rosemary and mint.   And here's a pork kebab from the Urban Garden Center hot off the fire, with some homemade pickles and spicy slaw: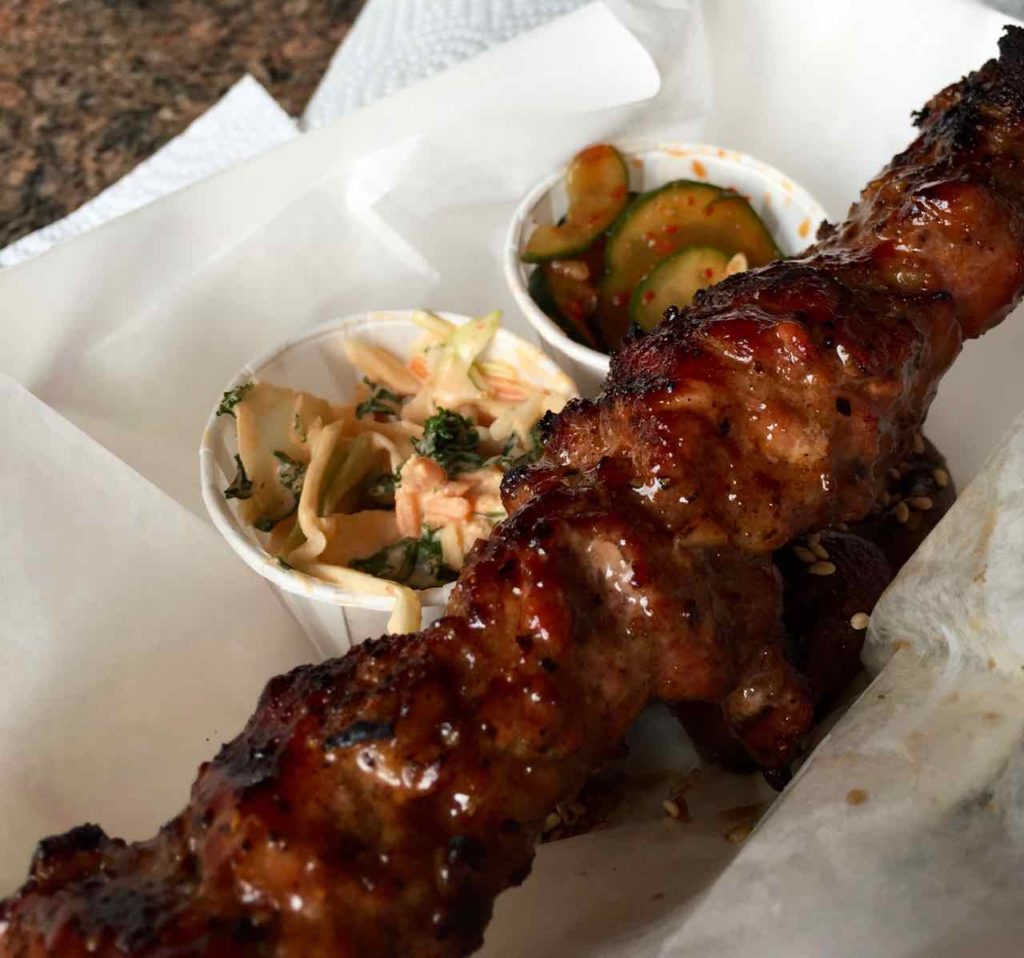 Can I get a fish taco and a cold Modelo please.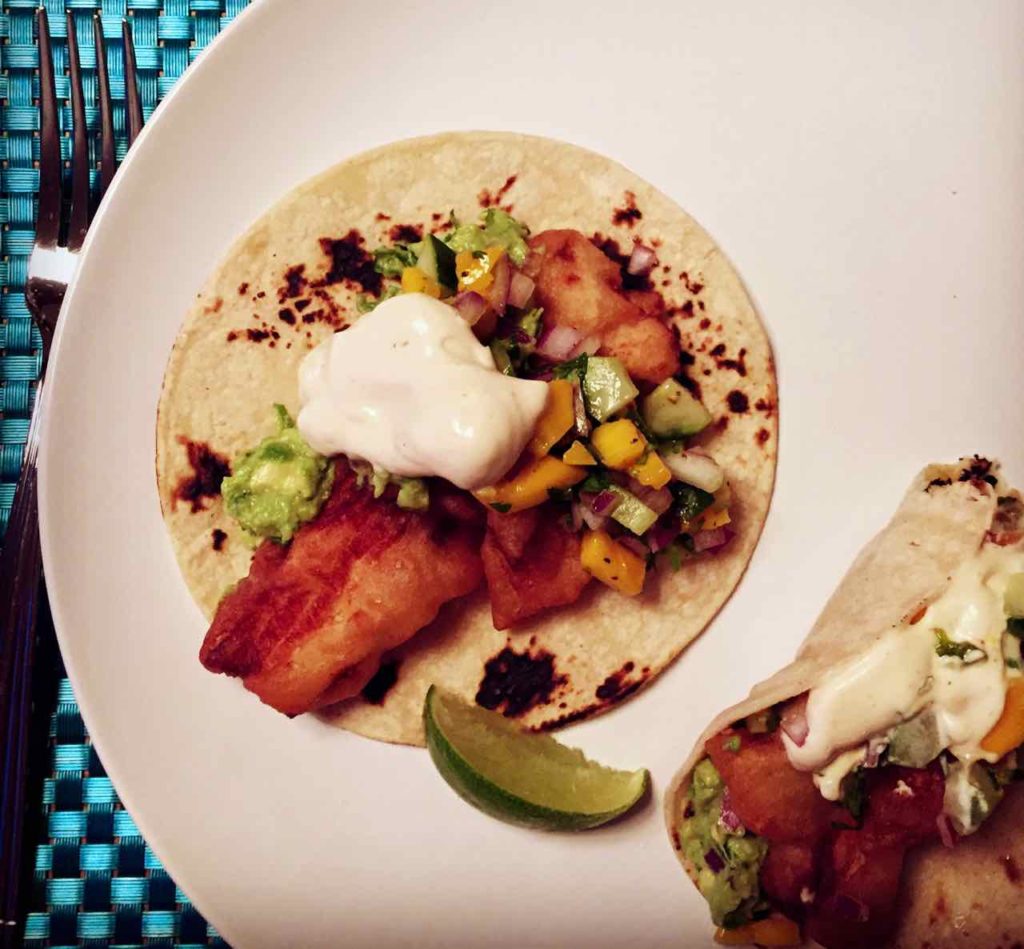 These tacos should happen to you.  The challenge: executing simple things well.  A good quick beer batter fish fry.  Balanced fixins' – spicy guac, rough chopped ripe mango salsa.  Chili citrus crema and a lime slice.  Now hear this – toast your soft tacos directly on the flame. Directly on the flame!  
p.s. You could do some shredded cabbage here too.  But then you are left with 9/10ths of a cabbage that will sit in your fridge guilting you until someone else in the house throws it out.
Comments Off on Audition Plate 2015 – 2d Time's a Charm??
If you remember the Audition Plate from last year, you may also recall I didn't make the final cut for the FN show.  But I got asked back to try again for this season, and here's what I served them today: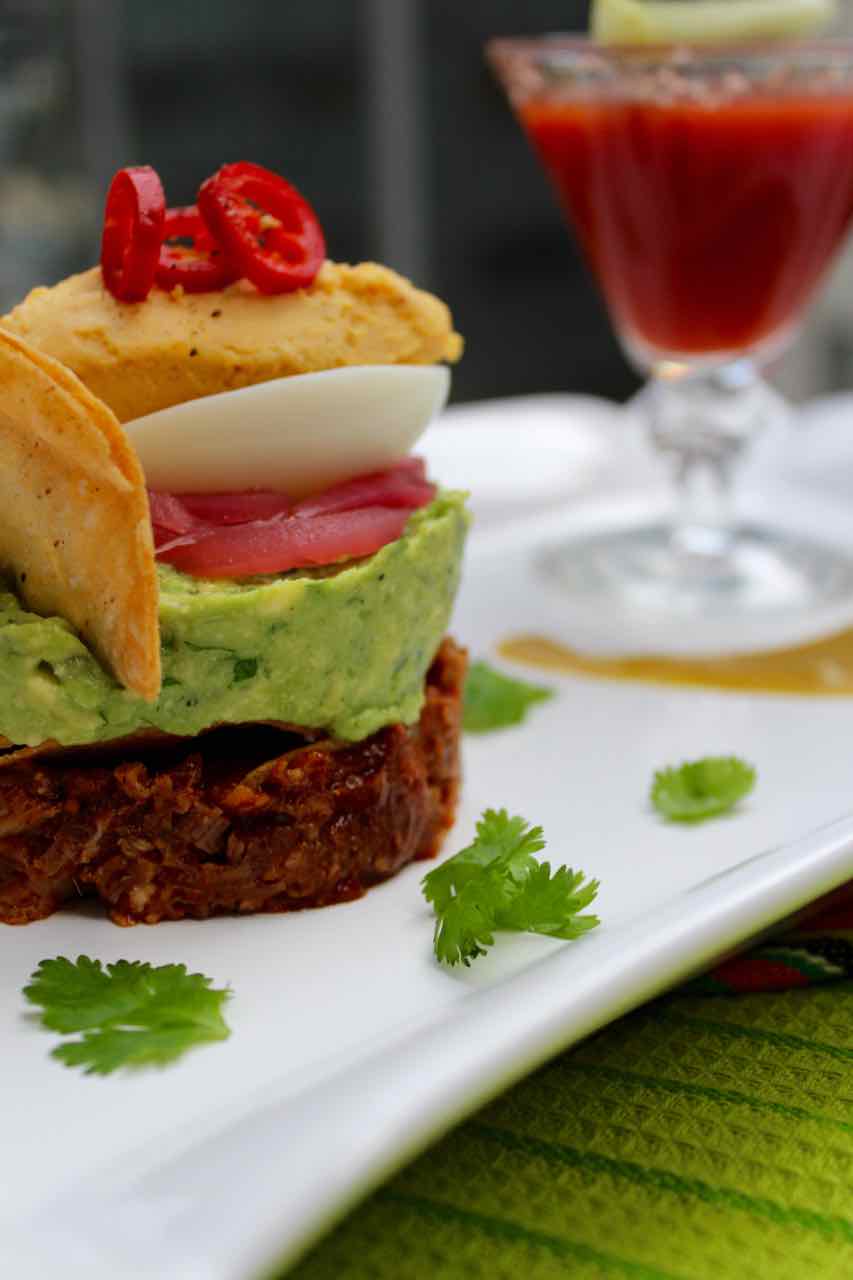 A huevos rancheros tower — bbq rib base, fried tortilla chip, guac.  Then some pickled red onion and a chipotle deviled egg. Garnished with pickled jalapeño and another fried tortilla crisp.   A spicy green chili sauce on the side.  And a home-made Bloody Mary with a chili-salt rim.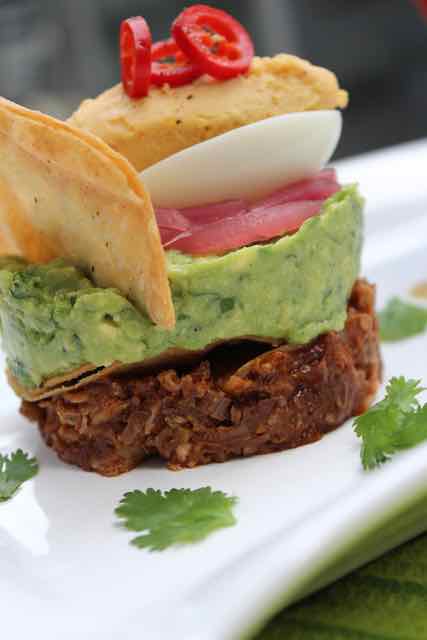 Shamelessly wooing producers with brunch and booze….
Comments Off on Fried Beef and Broccoli: Ix-Nay on the Akeout-Tay
So very better than take-out, and so very better for you.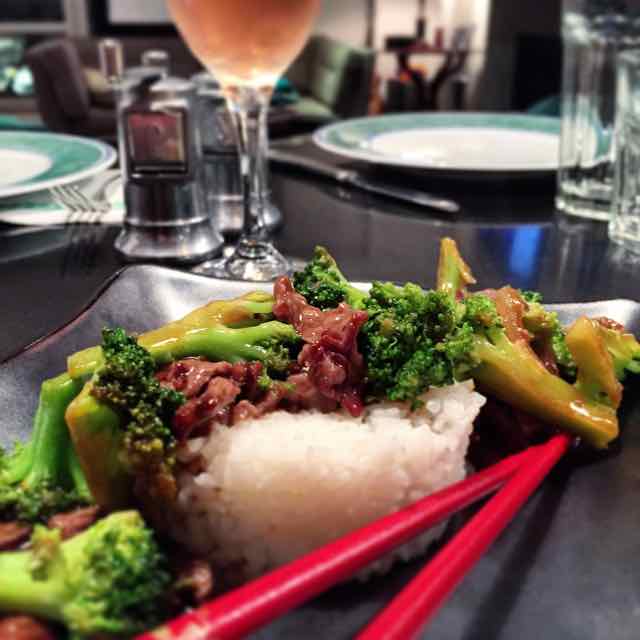 Translucent thin sirloin slices.  Throw it in the freezer for 20 mins or so beforehand.  Firms up for super fine slicing.  
Toss sirloin slices in a bit of cornstarch, garlic powder and ground ginger. For the sauce, 1/2 cup water and 1/2 cup tamari, thickened on the stovetop with a tablespoon of cornstarch, a squeeze of agave nectar and a few hits of ginger and garlic (fresh minced is best).   Steam your Jasmine rice.  In a screaming hot pan, sauté broccoli florets and sliced onions in canola and sesame oil.  Evacuate veg, sear beef slices for just a bit.  Add sauce to pan, toss in beef and veg.  Serve over rice.
A nice hit of Sriracha and a chilled Rosé brings this all together. 
The recent audition (no word yet….) required a plated savory dish.   I was going for three things — first, there was no kitchen at the studio so I wanted to serve something that was tasty while unheated.  Second –   it had to look pretty.  And third, I was going for a little edge.  So here's the result: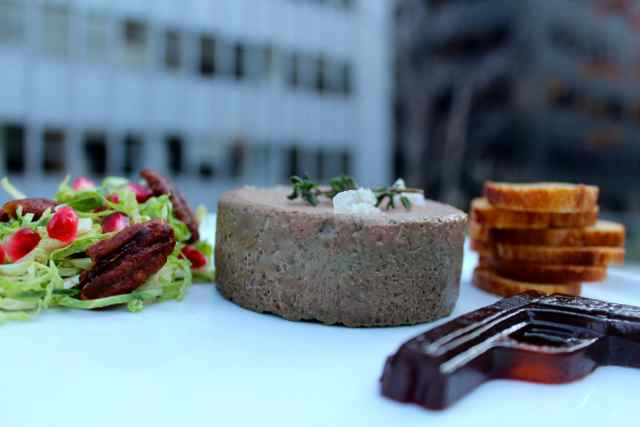 Chicken liver mousse, garnished with crunchy grey sea salt and a fresh thyme sprig.  Raw shaved brussels sprout salad with pomegranate arils and candied spicy pecans, lightly dressed with a mustard vinaigrette. Crisp toasted baguette rounds.  And finally a pomegranate gelée molded into a tiny Glock 9 mil. pistol – a little sour/sweet note to take out those rich livers.  
So yes – I essentially served chicken livers, raw brussels sprouts and an inappropriately-shaped jello.   Risky much? 
Homemade tomato soup — pretty quick, less sodium, and no tinny flavor.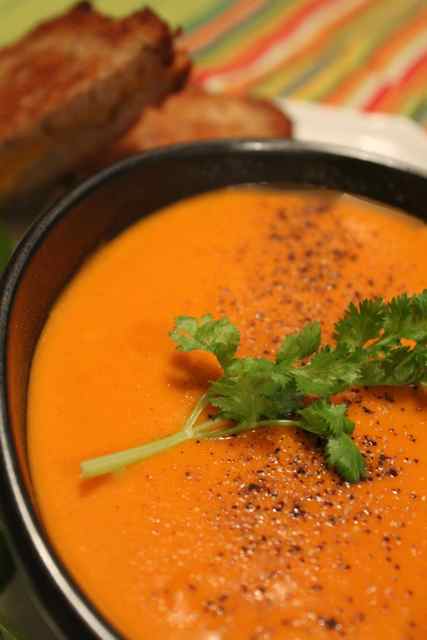 Sauté a chopped onion in a bit of butter until just browned.  Add one 28 oz. can of whole peeled San Marzano tomatoes, some chicken stock and a couple bay leaves.  Then a couple pinches of sugar and just a touch – like a quarter teaspoon – of baking soda viagra ohne rezept auf rechnung.  Let simmer for a while, remove the bay leaves and hit it with a blender until smooth.  Return to pot, add a little pour of heavy cream.   
Taste- if too acidic, add a pinch of sugar and a suggestion of baking soda until it all evens out.  Obviously, serve with grilled cheese – here, cheddar and gruyère.  Country bread, smeared with European butter, browned on the stovetop until everything's crisp on the outside and gooey on the inside.  Cut into soldiers for dipping ….    
 ***UPDATE:  a couple variations based on reader suggestions:  1- add fresh basil right before blending, garnish with a sprig as well.   2 – rather than heavy cream, use crème fraiche and mix in dried or fresh dill.   
Haven't had a Twinkie in like 20 years.  But hearing the news, suddenly craved one like never before.  Childhood memories replayed – the white box high atop the fridge, out of reach of small hands.  Chemically un-natural but oddly tasty yellowish cake, tightly hugging post apocalptic-approved cream.  The cream in turn holding itself blankly in a suspended perma-grin animation.  A fabulous abomination, a train wreck of awesome.  I do not endorse the Twinkie or anything it represents.  And yet it calls me after all this time. 
Apparently I'm not alone.  Went to eight stores on Friday — eight.   Three over lunch in midtown and five downtown after work.  The news broke just hours before, but the Hostess shelves were bare.  I desperately emailed family members and old friends — "Stock up!! Send some!!"  Quite the shameful spectacle going down here in Manhattan.  A run on the Twinkies indeed.
But turning our attention a little higher, there is the Florence Meat Market and its vaguely mysterious "Newport Steak" — which appears to be a tri-tip steak cut just so…. My Twinkie mis-adventures brought me to the West Village on Friday evening, and I've been meaning to visit this shop for a while.  Here's the shop: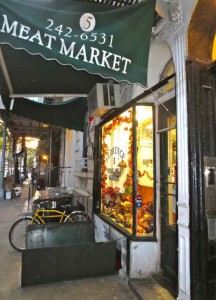 They portioned the steaks right in front of me from a primal cut, which was really cool to watch.  This place is old-school, there's like saws and stuff hanging off the walls (that they actually use), sawdust on the floor (really) and meat meat meat everywhere.  A carnivorous playground.  
(lots of pics this week keep scrolling down)
While the butcher was slicing my Newports, I noticed some nice slab bacon too … here was the haul: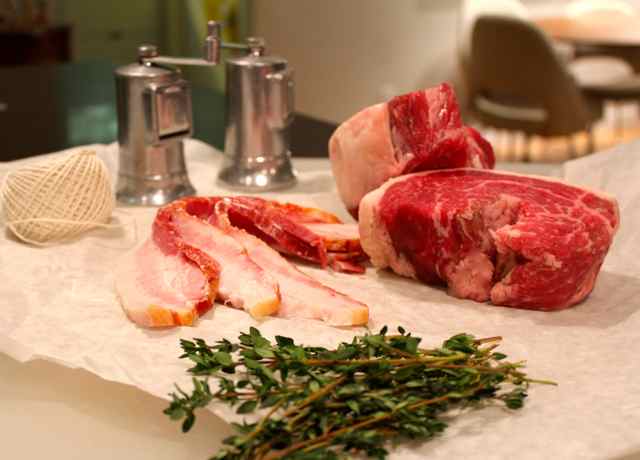 There was a pretty significant fat cap (see above) so I sliced that off with a boning knife and replaced it with BACON, secured with a length of twine.  Salt/pepper/garlic powder and here's how they looked: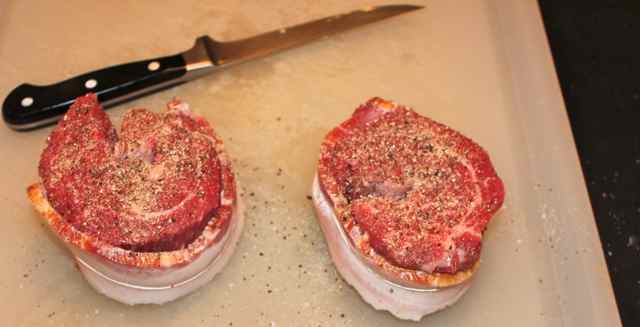 Seared on the stovetop with a splash of oil for 4 mins a side, finished in a 450º oven until internal temp was 125º, about 7 minutes here.  Before evacuating, melted a knob of butter in the pan and basted the steaks.  On to the service: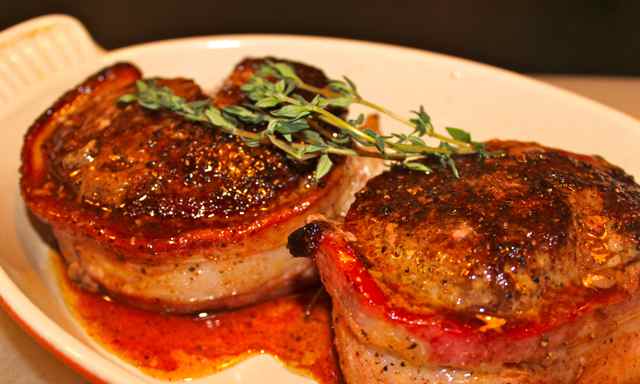 Served this with some roasted mushrooms, asparagus and little tiny potatoes.   I should have done a sauce but that didn't happen.  A nice cabernet-peppercorn reduction would do the trick.  
p.s.  SEND TWINKIES
Pumpkin Seeds and SoPo Blackout 

Well, it's been a long week here.  We didn't get it nearly as bad as many others and are thankful for that.  The storm surge came in over the Seaport and up to the new post office on Pearl Street, a couple blocks East of us near the Korean fried chicken place. Fortunately we're on a little incline and our building stayed dry.  But the seawater fried all the circuits and power was out in our part of SoPo for 6 days – no water (only went up to floor 5), no subways, no elevators, no cellphone service, etc. Still don't have heat or hot water (the steam is a different system – much of NYC actually runs on steam), but at least our little piece of the city is starting to get back to normal.  Of course Halloween got cancelled, and the tot didn't get to trot out her awesome witch costume with green face makeup — Elphaba from Wicked.  Though before the wind came and the lights went out, we did get to carve pumpkins — and cook up some seeds.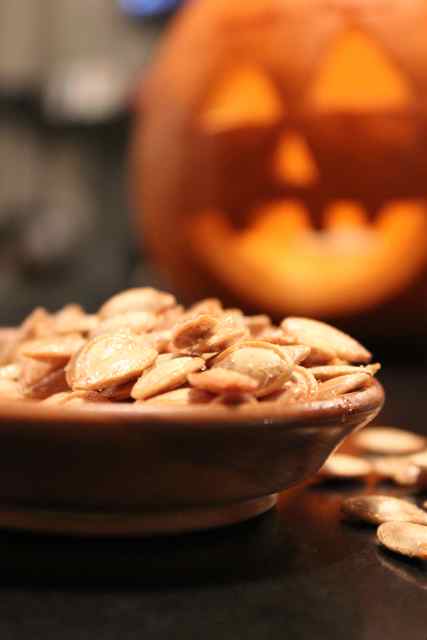 The Goods:
Pumpkin seeds, rinsed and dried well

Canola or peanut oil

Kosher salt
Carve up a nice Jack-O-Lantern, reserving seeds.  Oil to 350°, seeds in.  Fry until browned a bit.  Evacuate onto paper towels and toss with the salt.  And that's it.  
These are great on their own, but really shine as a garnish for hot Autumn soups.  They taste like fall.  
p.s. – scroll down for a shot of my ladies sporting the new SoPo NYC must-have accessory: headlamps.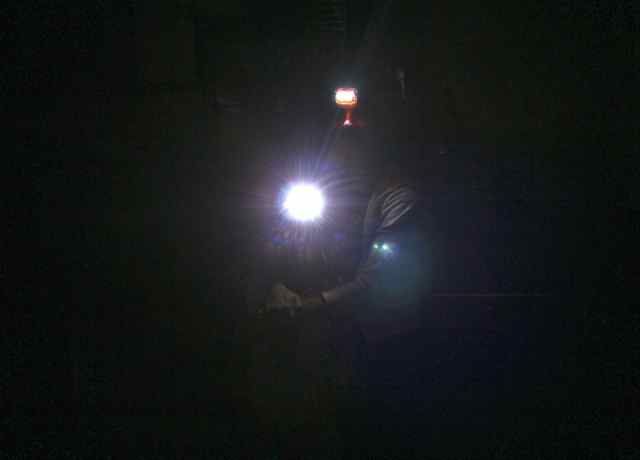 Tex-Mex Sushi.  Let it happen to you.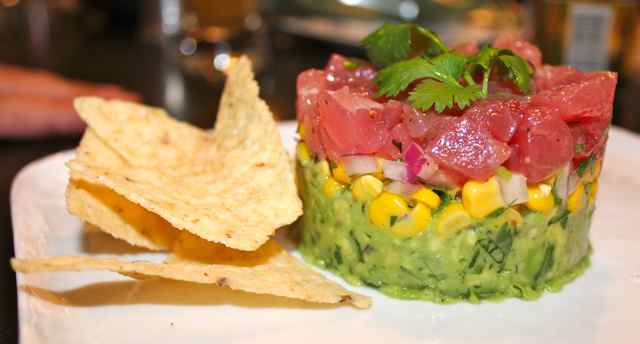 The Goods:
The perfect guac

Corn tossed with cilantro, red onion and jalapeño

Sushi grade tuna, cubed and tossed with a bit of S&P, neutral oil and ponzu

Tortilla chips
The Execution:
To form this tasty little tower I use a 4 inch long piece of PVC pipe.  Guac on the bottom, then the corn salsa, and finally the tuna.  Slide pipe up and off.  Drizzle a bit of ponzu over, garnish with a sprig of cilantro.  Serve with tortilla chips.  
The Takeaway:
We served this dish for friends — a light dinner after a fundraiser for the little one's school on a recent fall Sunday afternoon.  Go Spruce Street P.S. 397! 
And here's the dish getting taken down: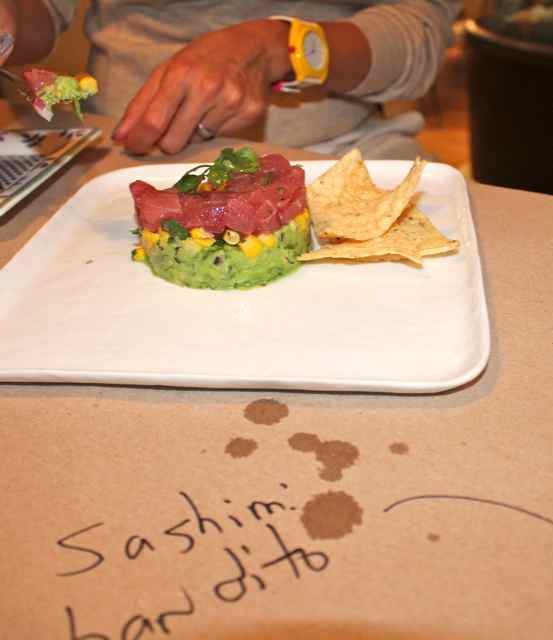 By request, here's a garnish riff.  This one can be quite dangerous.  If you live on the edge and venture to bang it out, you may well incinerate your kitchen to the very ground.  A blazing grease inferno indeed.    
In this little ditty we are getting our spinach nice and crispy by deep frying it.  Spinach is mostly water (92%), barely held together by some tasty green stuff.   Thus, when you sauté spinach it totally disappears.  Four bags turn into like four tablespoons. That's water packing it up and leaving our spinach.  And hot oil + fresh spinach…  Do you see where this is heading?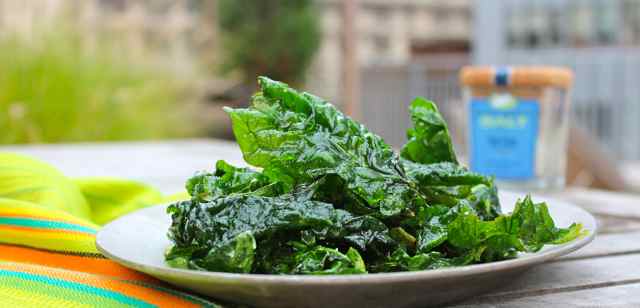 The Goods:
Spinach, washed and dried

well

Peanut or canola oil, 350º in a DEEP pot, 2 inches up

Kosher salt, garlic powder
The Execution:
Drop a handful of spinach in the pot — and look out.  This is the exploding part.  When the searing grease spray subsides and the spinach is bright green, remove with a spider or slotted spoon onto paper towels.  Hit with spices immediately.  Repeat in batches.
To minimize flying grease, you could use a splatter screen.  But I don't have a splatter screen.  So rather (and I do not recommend this at all) with an oven-gloved hand I hover a pot cover over the pot.  But don't actually put a cover on when deep frying.  That would be bad.  In fact, maybe don't even try this recipe at all.  
The Takeaway:
If you've never had crispy fried spinach…  Well…  It's just not something for words.  
Try this method with fresh parsley, rosemary, or most definitely sage leaves – all somewhat less explosive.   Perfect with most any meat or fowl.  Thoughtful garnishes like these make a house meal into a restaurant entrée.  Sauces, seasoning, butter and garnish.  That's all they're doing differently.  
The P.S.A.:
A public service announcement on grease fires.  NO WATER.  That just makes it worse, if more exciting.  Instead: Burner off.  Quickly wet and wring out dishcloth.  Throw over pot to cover.  Call fire department.