Here's a dessert classic for your holiday week…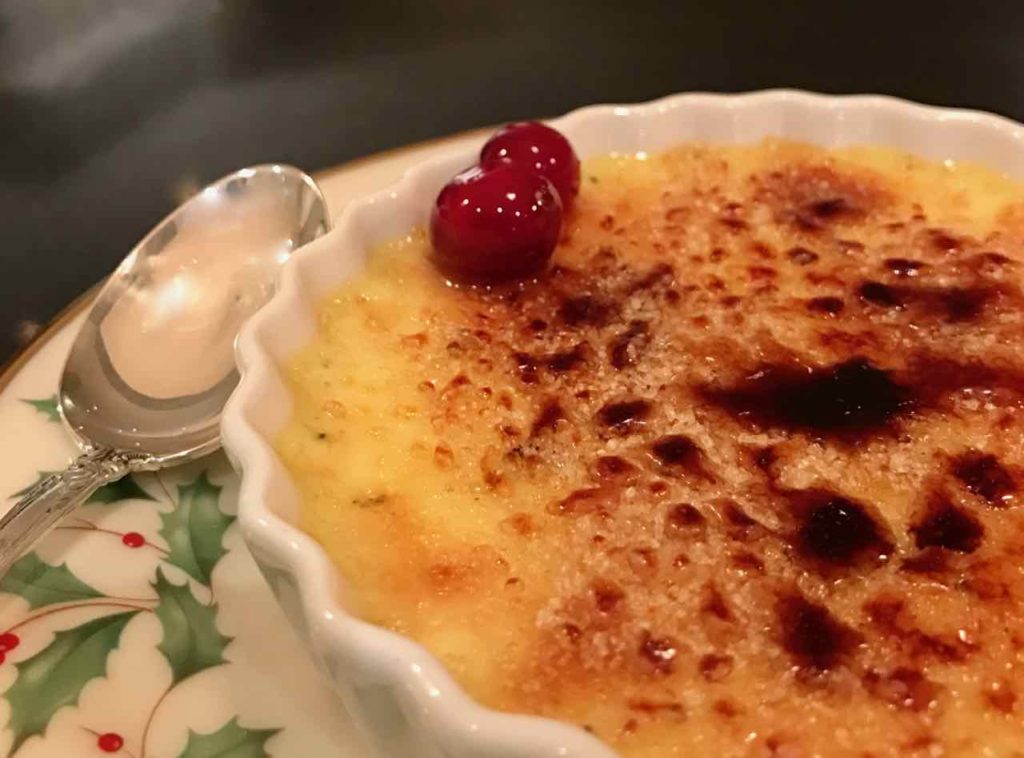 7 egg yolks, mixed with 2/3 C sugar, whipped up until lightened — "blanchir"
3 C heavy cream
1 C whole milk
Scrape in 1 vanilla bean, throw in scraped pods
Mix up with a whisk, let sit for a while, overnight if you can wait
Remove pods, pour mixture into 6-8 custard or brûlée dishes
Onto cookie sheet, into 350º oven, add water into the cookie sheet
50-60 minutes until just set, remove and let cool
When ready for service, torch some turbinado sugar on top – click here to see short vid
Garnish with something colorful – here some candied cranberries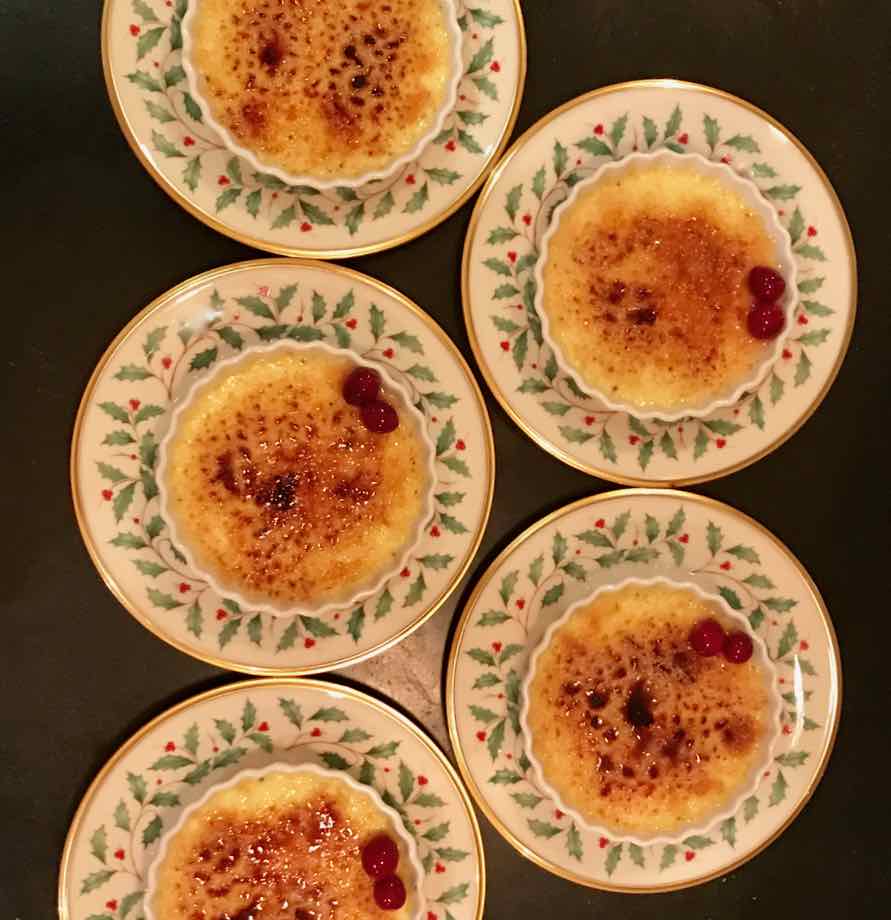 Happy holidays!
A little treat from leftover home-made apple sauce and an extra pie crust….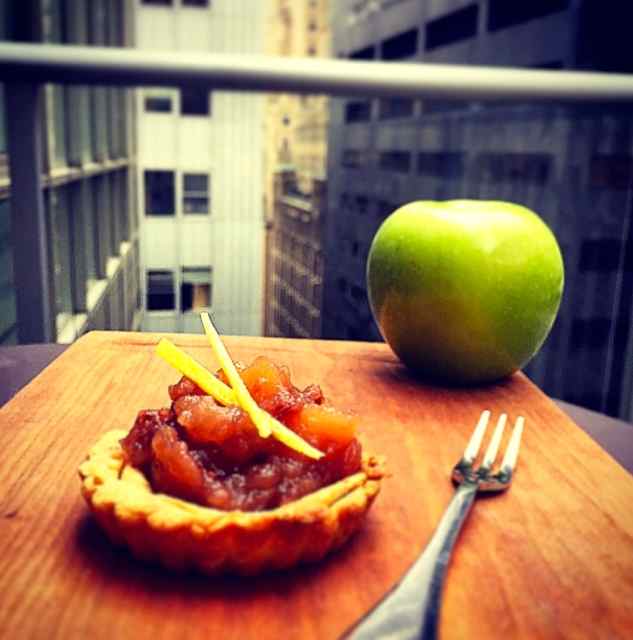 Three apples – all different kinds, which makes the texture interesting. Peeled, chopped.  Onto the stovetop with a knob of butter, a good squeeze of honey, and some ground ginger and cinnamon.  Let go on low for a while, then a nice pour of calvados and a squeeze of lemon.  Here I also added some chopped dried cherries which was nice.  Cook it all down, removing from heat while there's still noticeable chunks of apple.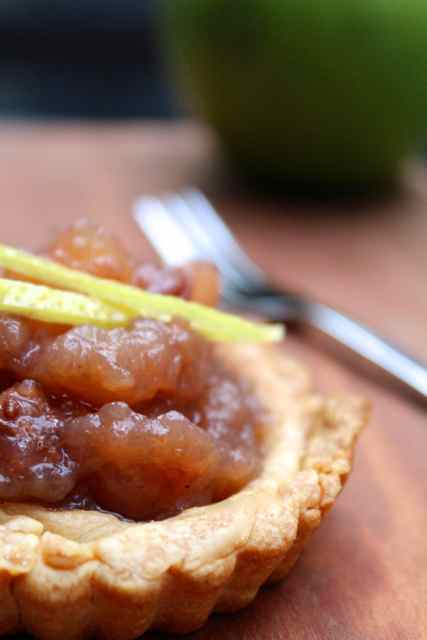 This is great with a nice roast pork.  Or, as here, a quick little filling for a tartlet.   
These were fun – puff pastry filled with mixed fresh berries.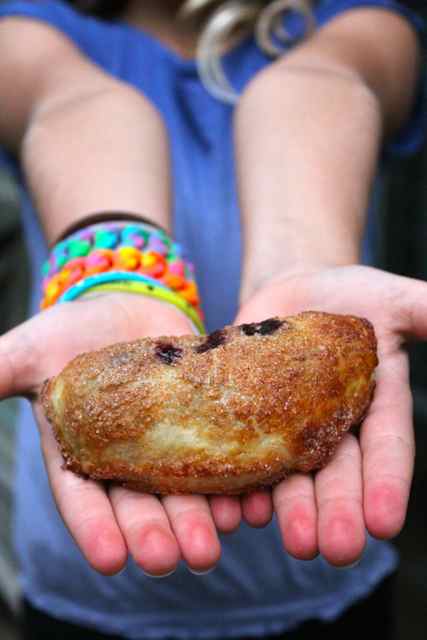 Oven to 400º  Toss fresh blueberries, raspberries and quartered strawberries with a squirt of lemon juice, a touch of vanilla and a good few squeezes of agave nectar.  Sprinkle in a bit of cornstarch to help thicken things up.  Cook on stovetop until berries start to release their liquids, remove from heat before everything gets too mushy.  Taste, add more agave or lemon if needed.
Roll out chilled puff pastry (or pie dough), cut into circles – I used a cereal bowl as a guide.   Place a few spoonfuls of the berry mixture on one side. Wet rim, fold over, gently seal.  Pierce the top, brush with egg beaten with a bit of milk (an "egg wash").   Sprinkle cane sugar over.  Into the oven for 20 minutes or so until they look like this: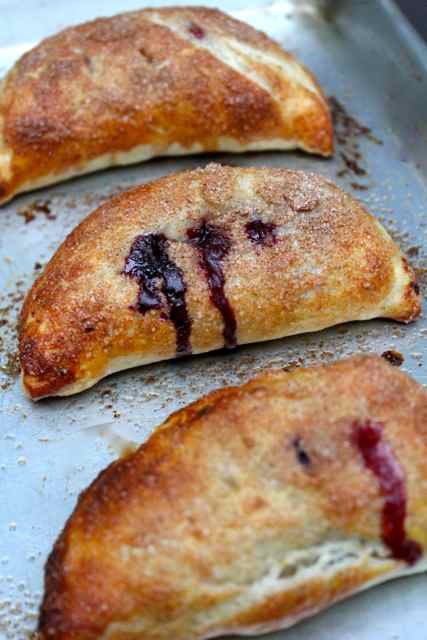 p.s.  a nice Sunday afternoon project with a little one.  Next time we are trying this with pie dough and spiced apples.  
Profiteroles and Gougeres: same start, different end.  A choux paste base, unique as twice cooked – once on stovetop and again in oven. First the gougeres –the base dough plus finely grated Gruyère cheese mixed in, and topped with grated Romano.  Perfect cheesy puffs, served warm alongside chilled Champs: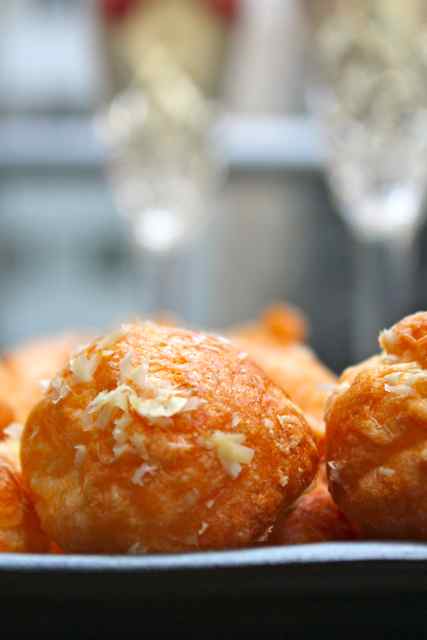 One for you? Get in there, the Tot's tearing through them…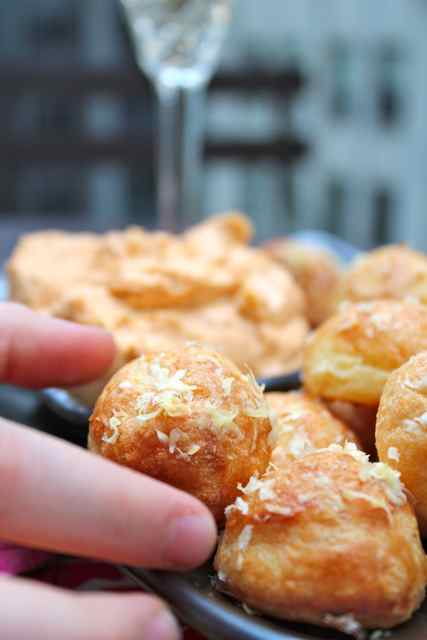 Profiteroles – basic dough plus an extra good pinch of sugar.  After piped and baked, filled with pasty cream or sliced and sandwiched with a small scoop of ice cream.  The tops dipped in melted chocolate: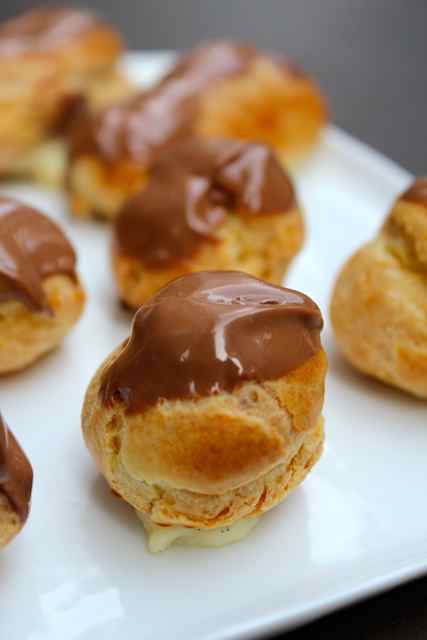 The Tot piping in the pastry cream…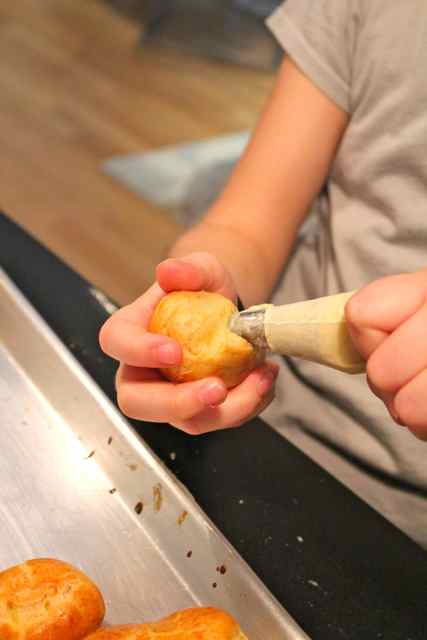 p.s. email me if you want the recipes…  
Lazy man apple pie?  Maybe.  Tasty slice of fall flavor?  Oh yes indeed: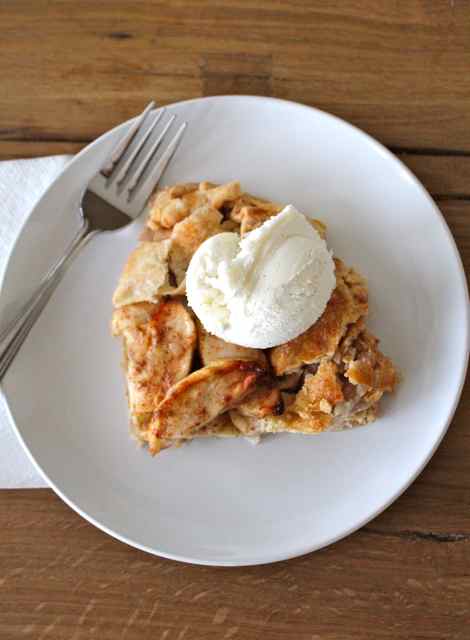 Peel and slice about 6 different apples, mixed.  Here I used Crispin, McIntosh and Empire.  Toss with juice of half a lemon.  Take about a half cup sugar (or more if you like it sweeter) and mix with cinnamon, ginger, nutmeg and cloves.  Toss with apples.  
Roll out a pie crust, onto a cookie sheet.  Apples into center.  Fold edges of crust over, leaving middle part exposed.  Beat an egg with a splash of milk (an "egg wash"), brush onto crust.  Sprinkle with cinnamon sugar. Into 350º oven until apples are cooked through and crust is nice and brown.   This one took like 55 mins but it will vary.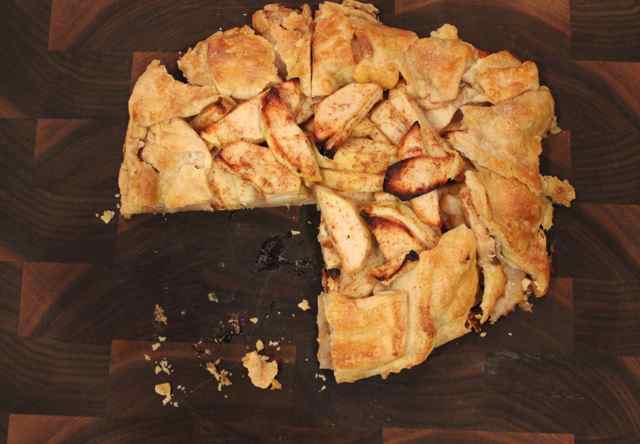 p.s. a little drizzle of whiskey caramel sauce on top of that ice cream would be allright allright…..
Baby for small.  Bombs for rich rich rich.  And a little salty too…   A study in earth tones, a fantastic monochromatic: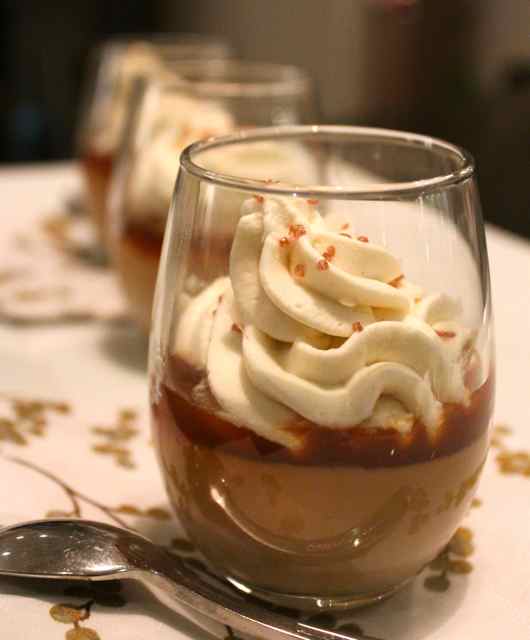 First, the butterscotch pudding – I used this recipe from David Lebovitz.  I couldn't find the 'cassonade' sugar (though I didn't look that hard).  It was fine with the dark brown sugar in any event.  Pour into little glasses and let set.   The recipe says 4-6 servings but it's really rich so I split into 10 or 12.    
Next, drizzle on a thin layer of whiskey caramel (my recipe here).  
Then pipe over some chantilly cream – heavy cream whipped to firm peaks with some vanilla extract and confectioners sugar folded in.  
Finish with a pinch of Hawaiian lava salt (because it's brownish).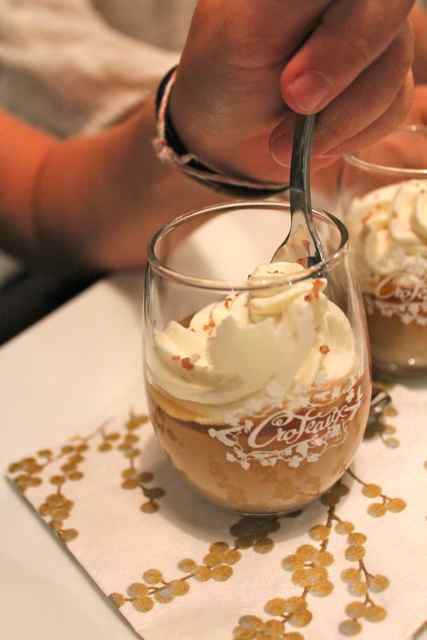 p.s. This is a riff of a dessert I had at a business dinner in Minneapolis back when I was there every week.  I also had my first Scotch Egg in Minny.

Always a hit, tough to botch = party favorite.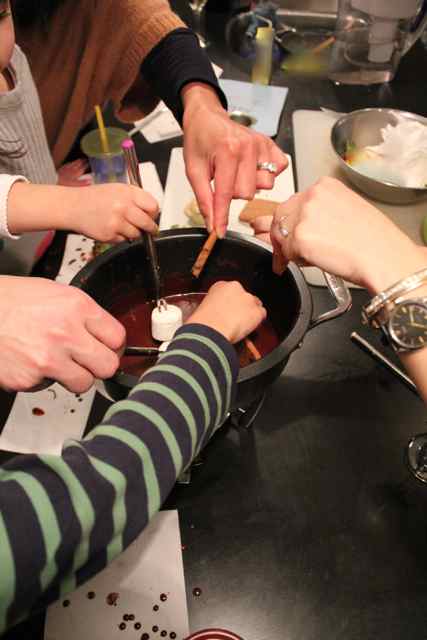 The Goods:
3 chocolate bars – I use two dark bittersweet and one milk

1/2 c (or more) heavy cream, warmed

Orange zest

Splash of Grand Marnier
The Execution:
Break up chocolate bars (small guests enjoy this job).  Melt over low heat on stovetop, slowly thin with warm cream. You may need more or less cream depending on your chocolate and how you like your fondue. Stir in liquor and zest.  
Serve in fondue pot.  If you can control your fondue pot flame, have it on the low side – just enough to keep the chocolate all fluid and silky. 
Popular dippers in our house include sliced green apple, graham crackers, marshmallows, strawberries, fresh pineapple, madeleine cookies, cubes of pound cake.   
And a few other variations instead of orange zest and Grand Marnier: toasted hazelnuts chopped fine and Frangelico, a bit of ground espresso and Kahlua, or maybe even some chopped maraschino cherries and moonshine….
p.s. – I'm still working on the french onion soup post to go with my slicing onions video.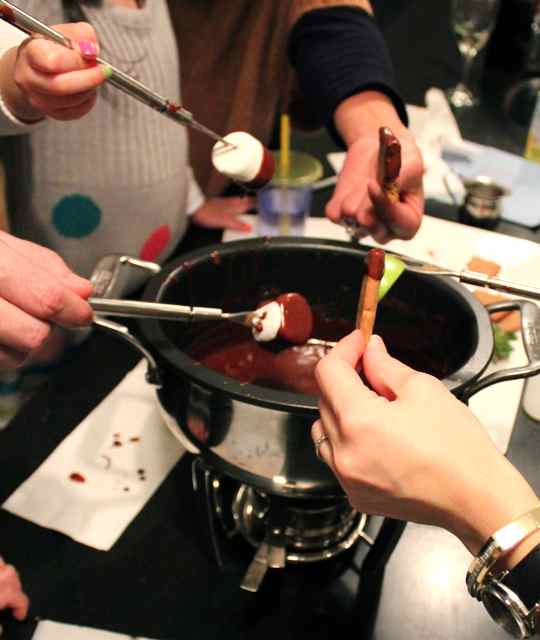 These thin ginger snaps are such a pain in the a*# to make.  So we only do them on Superbowl Sunday, maybe once more around the holidays.  Baking isn't any fun, but if you can suffer through the exact measurements and ridiculously thin rolling of the dough, you'll be rewarded with razor-thin ginger snaps that you are compelled to repeatedly cram into your mouth.  Really, you can't eat just 25 of them.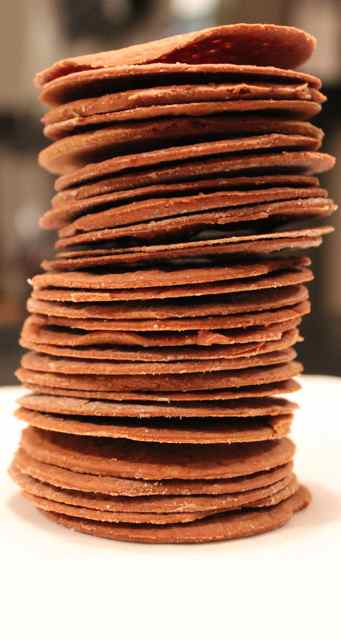 The Goods:
1/2 C sugar

1/2 C molasses

1/2 C melted unsalted butter or shortening

1 large egg, beaten

1 T white vinegar

1/2 T baking soda

1 T ground ginger

1/4 t salt

3 C flour
The Execution:
Mix first 4 ingredients, stirring well to dissolve sugar.  In a separate cup, quickly mix vinegar and baking soda and add while still bubbling into the sugar mixture — exciting!  Mix ginger, salt and flour together.  In thirds, stir flour mix into sugar mix until incorporated.
Let rest a while, at least 30 mins.  When ready to cook, oven to 350º.  Take a small handful of the dough and on a floured board roll it super thin.  Like so thin you can see the board through the dough.  You'll need to keep adding flour so the dough doesn't stick to the rolling pin. Cut into small circles (or whatever shape you like).  
With a sharp spatula, scrape the rounds off the board and line up on a cookie sheet.  Into the oven for 8-10 minutes until browned.  They'll crisp up as they cool on a rack.   While one batch is in the oven, start rolling out the next.  If you get them thin enough this recipe will make about 6 cookie sheets.
p.s. – my father would not have approved of the snaps in the picture above, they're all still too thick except the one shown below: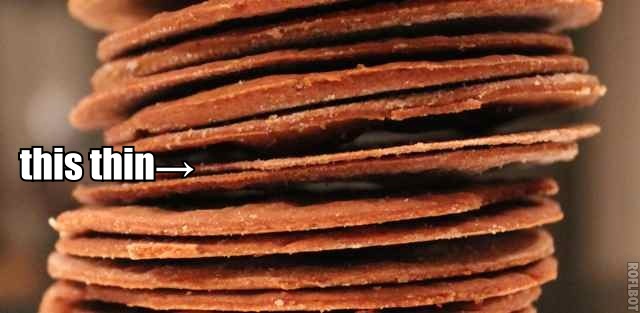 Can't stand baking.  What with the exact measuring/timing and all.  And then there's all the stuff – measuring spoons, cups, little boxes of powder, cannisters of things.  Excavating for baking dishes buried in the far reaches of the cabinet. What a hassle.  
But there's a few things we'll bake now and again, and here's one of them.  An old family recipe, labeled "Lemon Pudding"  —  kind of misleading because the top half actually turns into an airy lemon cake.  The bottom, though, is a thick lemony pudding.  Nice contrast, and easy to put together. This is great after a holiday dinner.  Something light and tart after a leg of lamb or a big ol' standing rib roast.  And for baking, it's not that annoying to prepare.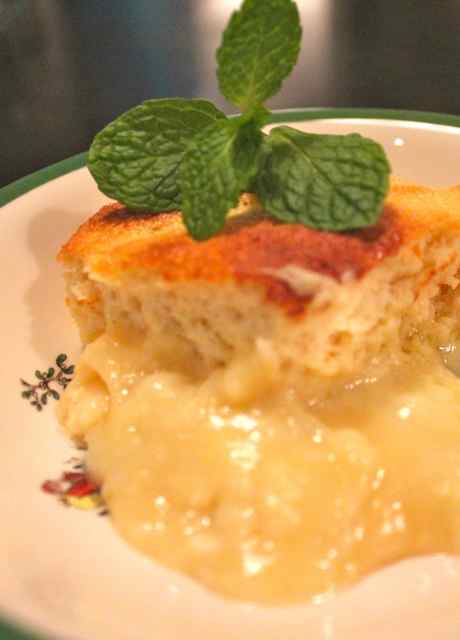 The Goods:
1 C sugar

2 T butter, melted

5 T fresh squeezed lemon juice

Zest from 2 lemons, minced fine

1½ C whole milk

4 T flour

1/8 t salt

3 separated eggs
The Execution:
Oven to 350º. Beat egg yolks into sugar, add in everything else except the egg whites.   Beat whites into stiff peaks, gently fold into mix.  Pour into buttered 1½ quart casserole.  Put in pan of warm water and slide carefully into oven for 45 minutes at most.  Evacuate when top gets browned — like this: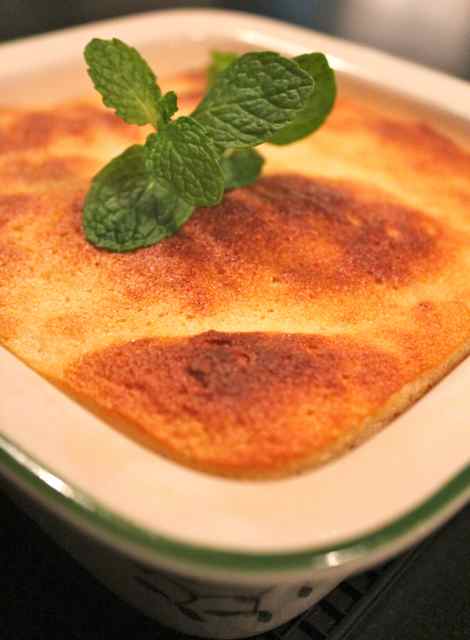 Serve warm with a sprig of mint, maybe a snifter of Grand Marnier mixed with a touch of Cognac on the side…  
p.s. – you can do these in individual ramekins too, just reduce the baking time. We rolled out individual lemon puddings for the tot and her little compadres a while back, was a big hit.    
Let's end this summer with a kick in the pants — this dessert will open a can of whup*ss right all up on you.  Spicy serranos, peaches with fresh squeezed lime juice, tequila whipped cream.  Feel that sweet boozy burn, let's go go go!
The Goods:
Sweet firm-soft late summer peaches, diced 

Lime, zested and juiced

Serrano peppers, sliced thin

Heavy whipping cream, confectioner's sugar

Patron Silver
The Execution:
Toss the peaches gently with lime juice and some of the serranos.  Let that sit and get it on, as you whip the cream into soft peaks.  Fold into the cream some confectioner's sugar and a short pour of the Patron, lightly whip together.  Peaches into glass, spoon cream over, top with remaining serranos and lime zest.  
The Takeaway: 
This dessert happened from playing around with extra ingredients from the seviche. Sometimes you can't plan a good dish, it just makes itself.  
p.s. firm-soft = a little give but not like all mushy.