Here's a dessert classic for your holiday week…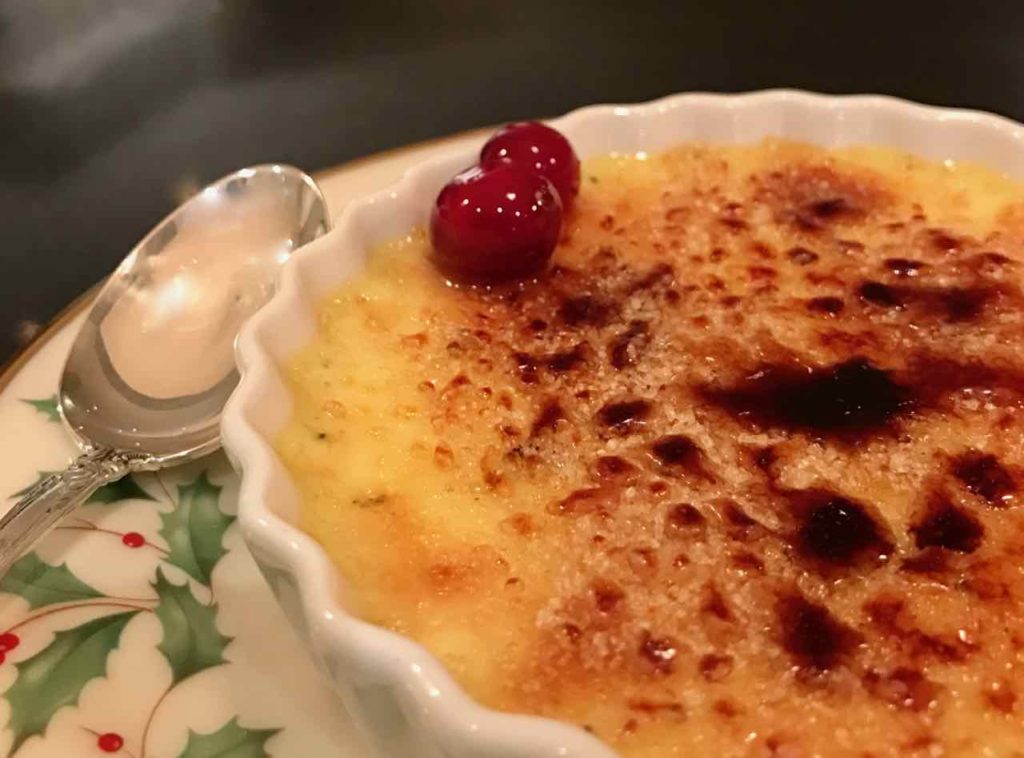 7 egg yolks, mixed with 2/3 C sugar, whipped up until lightened — "blanchir"
3 C heavy cream
1 C whole milk
Scrape in 1 vanilla bean, throw in scraped pods
Mix up with a whisk, let sit for a while, overnight if you can wait
Remove pods, pour mixture into 6-8 custard or brûlée dishes
Onto cookie sheet, into 350º oven, add water into the cookie sheet
50-60 minutes until just set, remove and let cool
When ready for service, torch some turbinado sugar on top – click here to see short vid
Garnish with something colorful – here some candied cranberries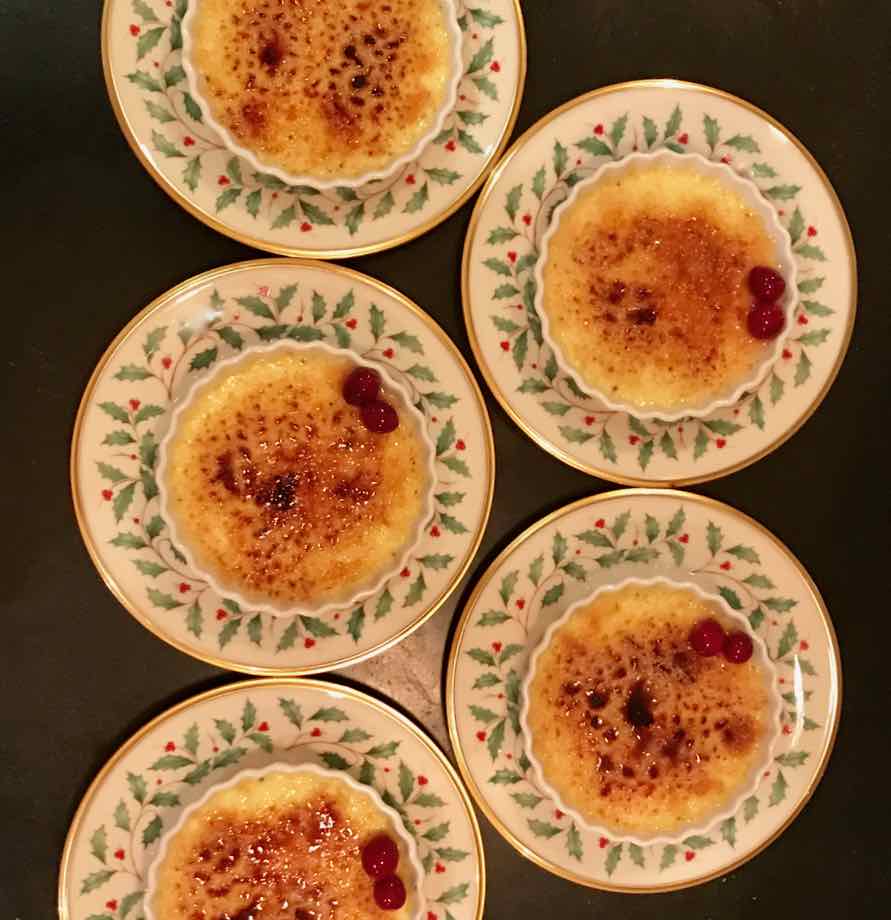 Happy holidays!
A frozen treat halfway through dinner.  What's not to love-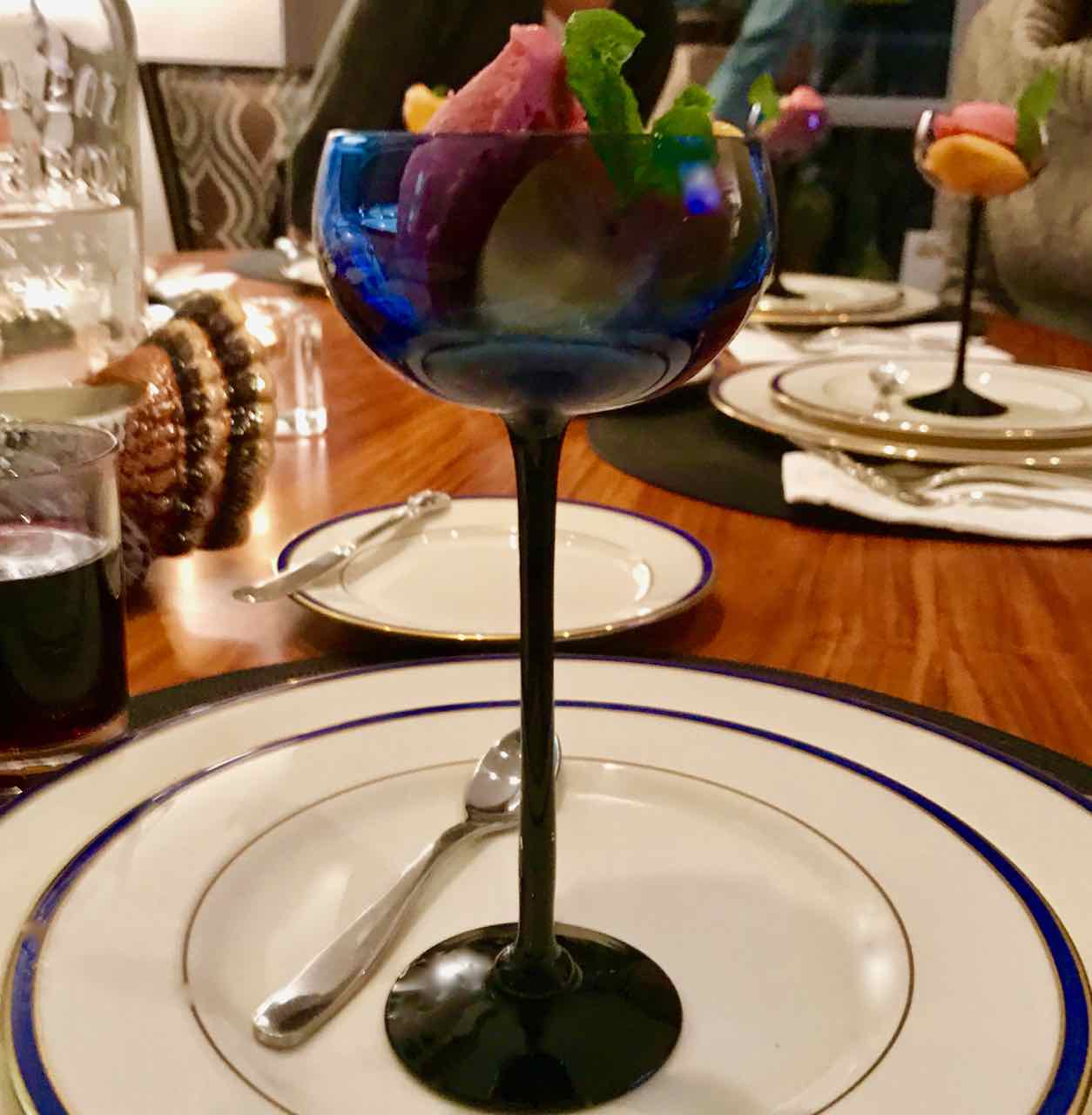 And here's the plan….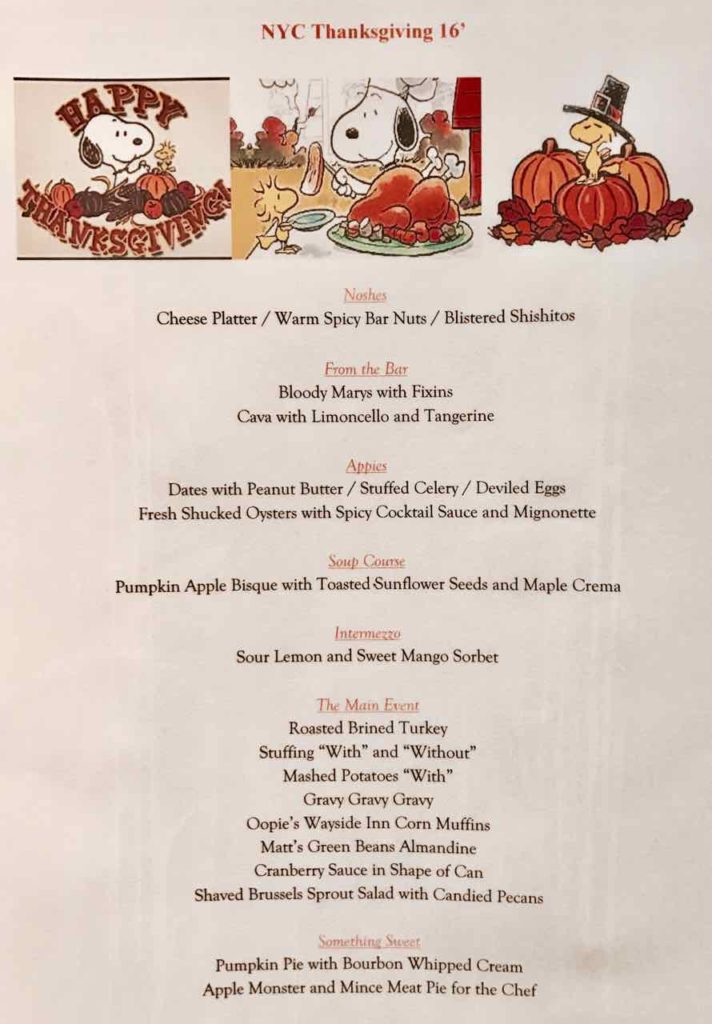 Settle on in for a spring Sunday dinner.  Roasted boneless leg of lamb, rainbow baby potatoes and roasted broccoli.  Pinot and cracked pepper pan sauce.  That's about right.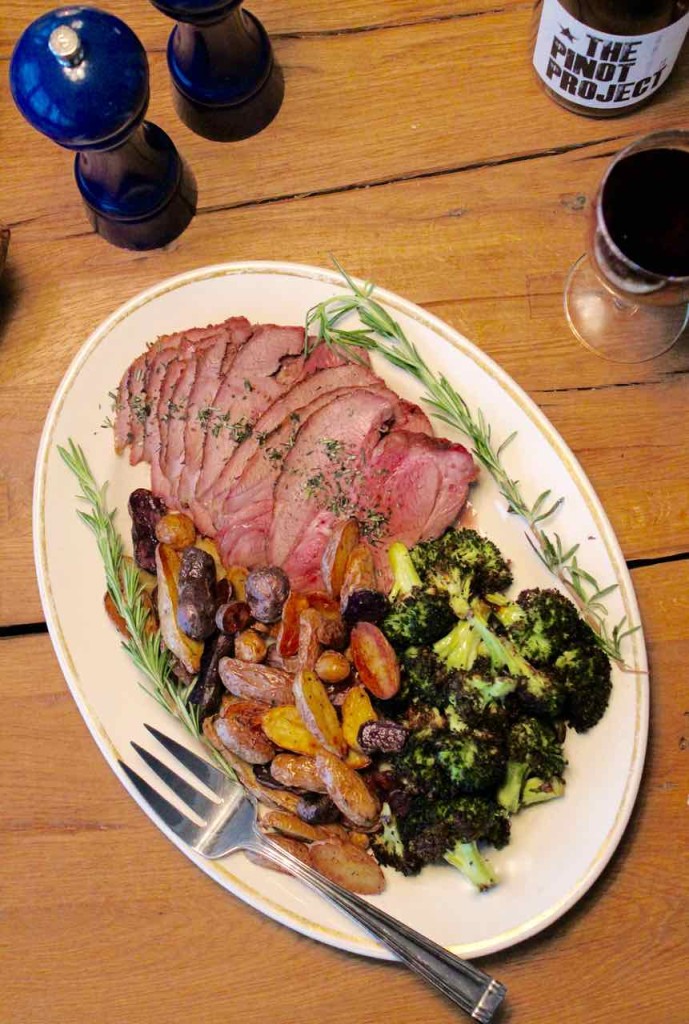 Let the lamb come to room temp, rubbed with smashed garlic, olive oil and fresh chopped rosemary + thyme.  Into 500º oven for 15 mins, then down to 325º until internal temp is 120-125º for rare.  This one's more on the medium side per my ladies' preference.   Click here for the slicing video.  
Asparagus might have been more appropriate but we love us some roasted broccoli.  And pass the Pinot please…
Baby potatoes, just covered in good olive oil.  Fresh thyme, peppercorns and sliced shallot.  A bay leaf or two and a few cloves smashed garlic.   Slow and low until tender, click here for the video.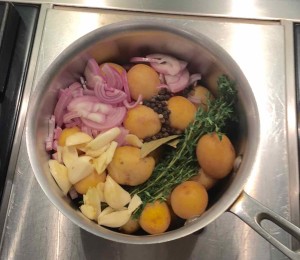 Drain, saving the oil for another use (now infused with the aromatics).   Lightly crush potatoes, set aside.  When about ready for service, add a bit of the olive to a pan and crisp them up.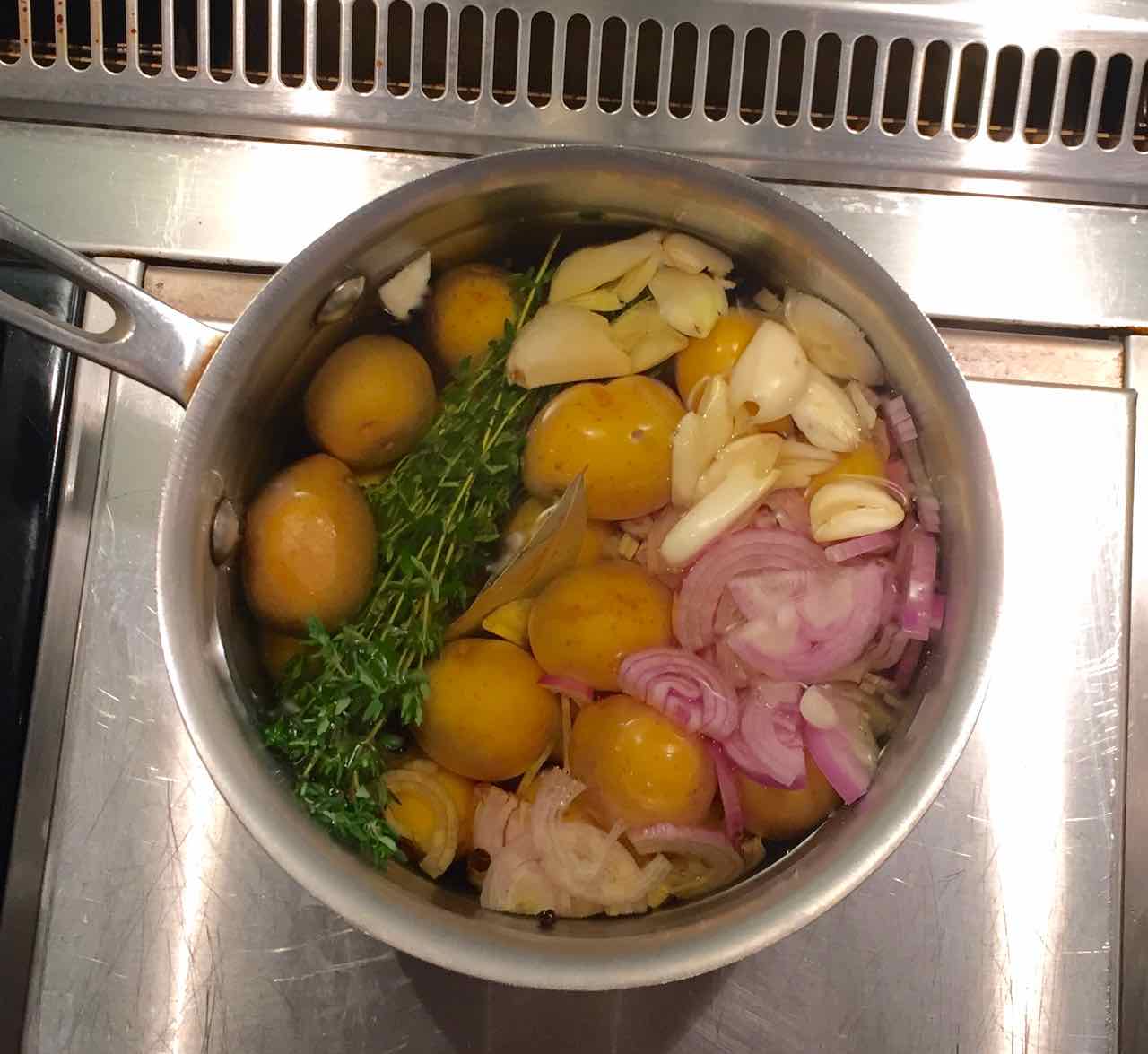 Here, served with a 2 bone medium rare ribeye roast.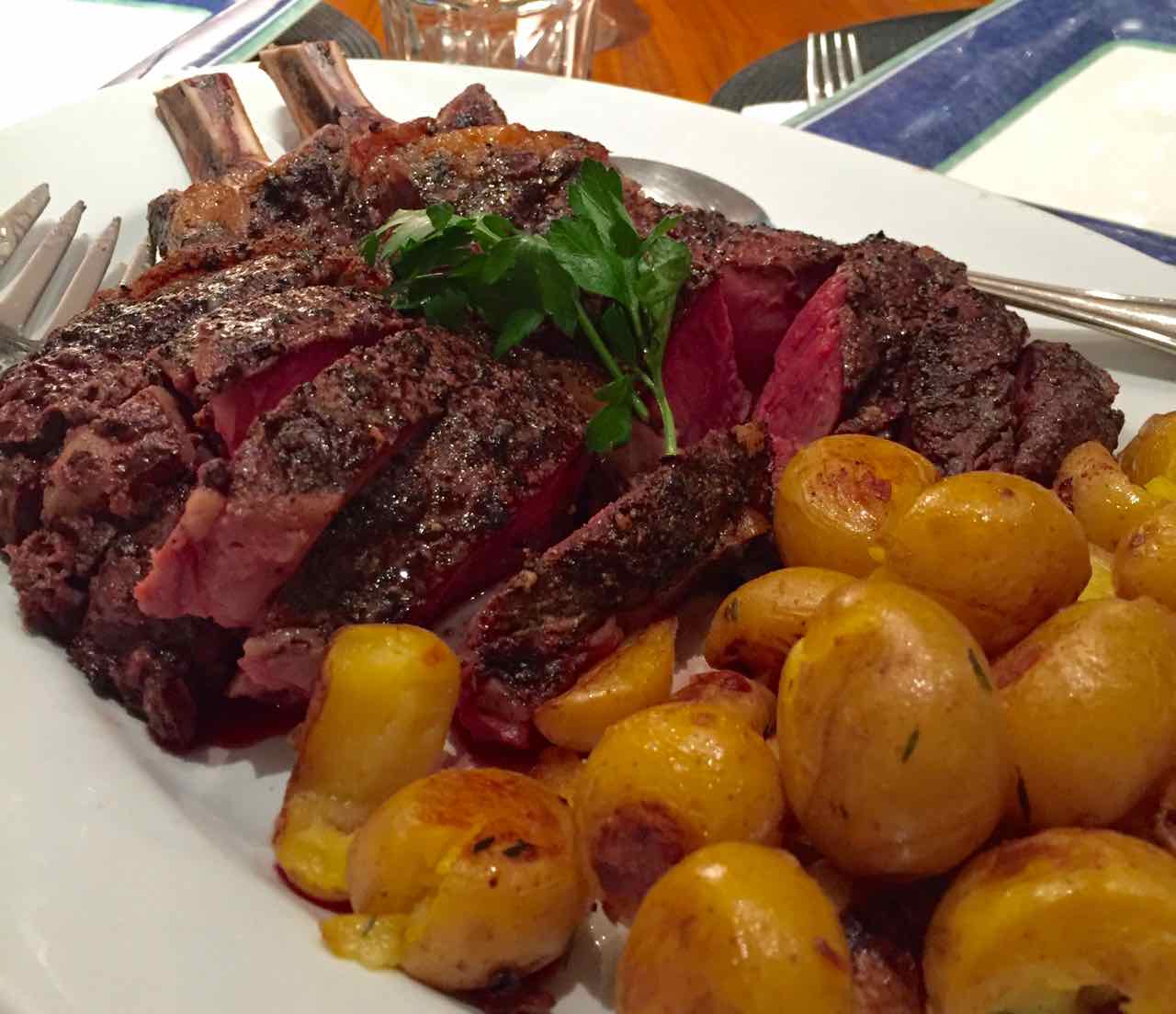 The same cut that rib-eye steaks come from, with the bone and left in one big piece.  "Standing" because it stands on the ribs when cooking- no rack required!  There's controversy over how best to cook  – low and slow vs. high and fast.  I had a smaller cut – just 2 bones – so I went with a fast method.  For a larger cut I might go the other way.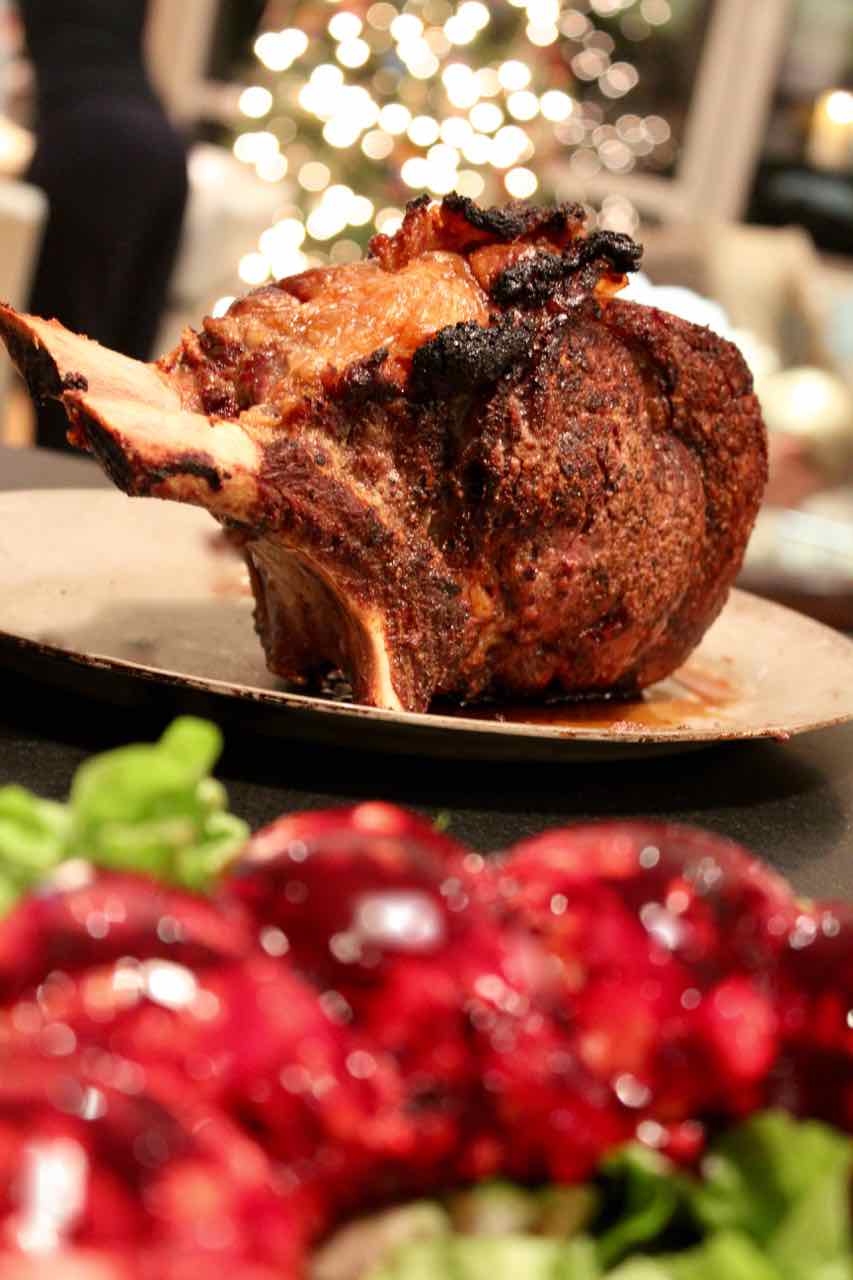 Rub with plenty of salt, pepper and garlic powder.  Sear with a touch of oil in a hot pan 4 mins a side- then into 425° oven until internal temp hits 125°.  This one took about 35 mins.  Remove from oven and let rest at least 20 mins before service.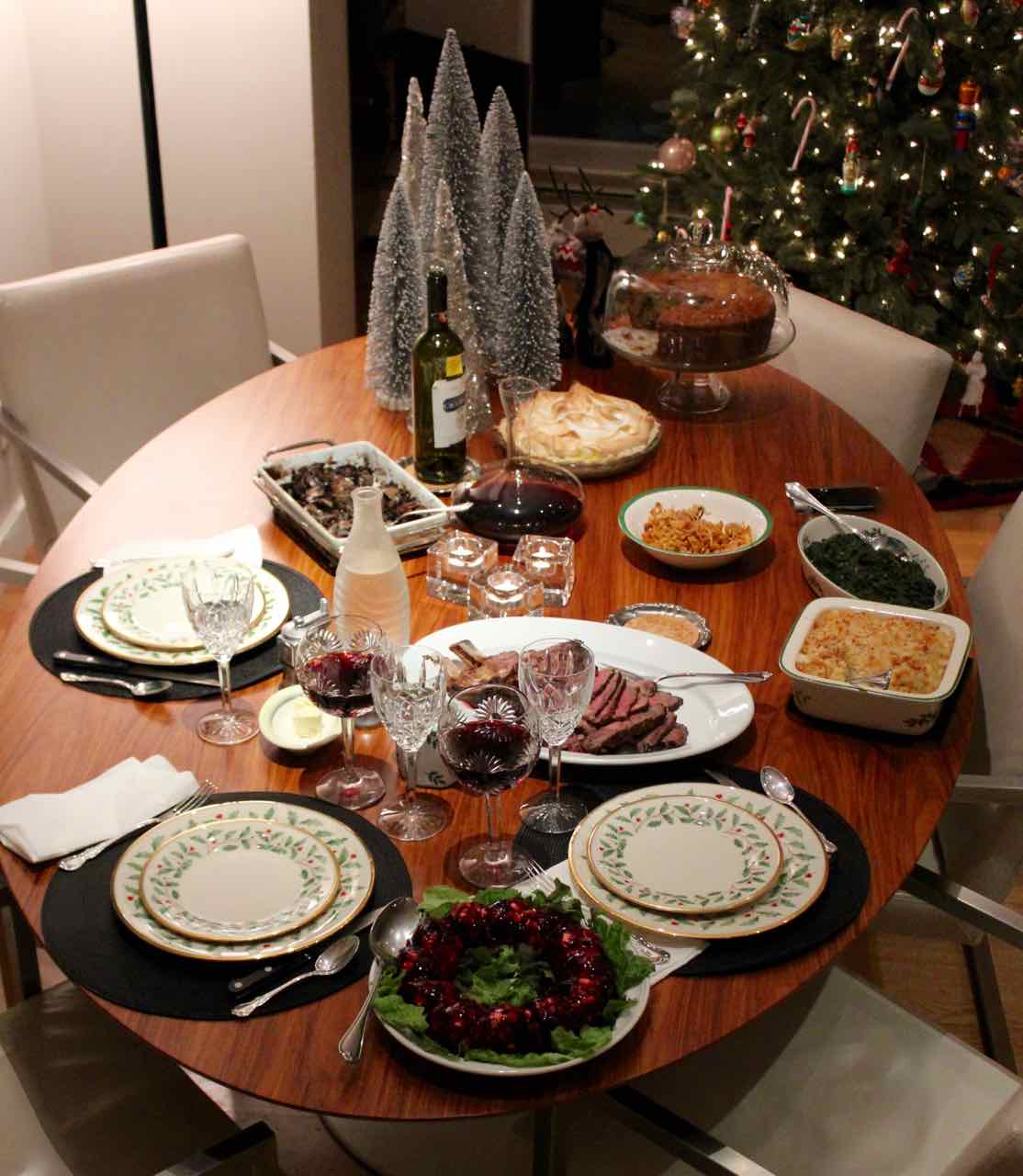 For the sauce – sauté chopped shallot and celery in a bit of butter with S&P, flambé with a shot of brandy or cognac.  Add in 2 parts stock (chicken or beef) with one part red wine, reduce with a bundle of thyme, a bay leaf, some green peppercorns and a smashed garlic clove.  Before service, strain out solids, add a touch of cream and some of the pan drippings from the roast.  Thicken with a slurry of stock and cornstarch if you want a little more body.
Coming soon to a season near you – meltaway short ribs.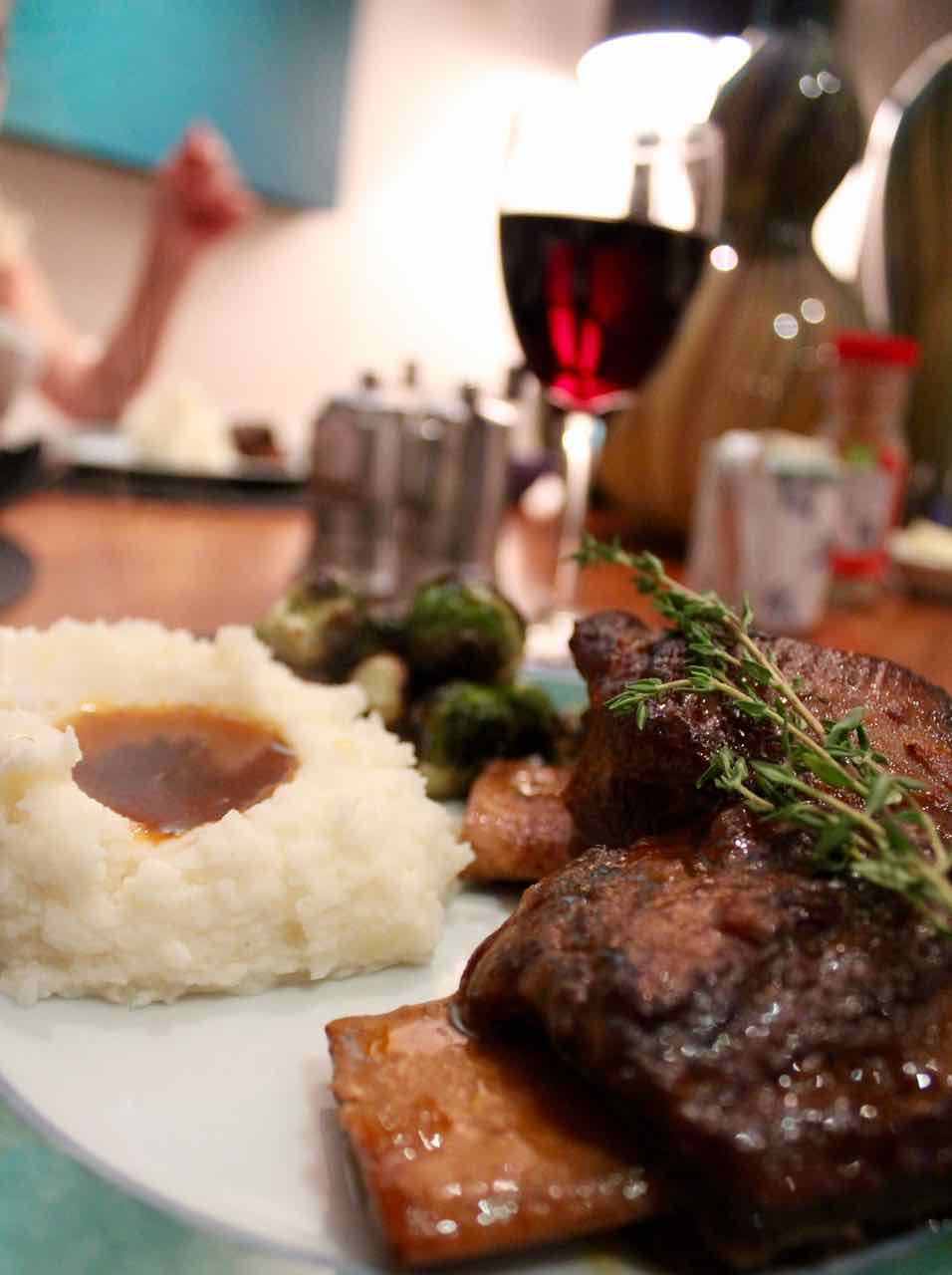 Coat ribs with a bit of oil, season generously with S&P and garlic powder. In a heavy pot, sear until nicely browned on all sides.  Remove ribs, add chopped onion and celery with a bit more oil if needed.  Once cooked down, add chopped carrots and a couple tablespoons of tomato paste, let that go for a while.  Deglaze with some cognac, wine or beer.  Add a few bay leaves, a bouquet garni of fresh thyme and a tablespoon of cocoa powder.  Stack ribs in pot, add chicken or beef stock until ribs are partially covered.   Bring to a light simmer on the stovetop, cover and into 225º oven for at least 3½ hours.
Carefully remove ribs so the bone stays in (or not, if you want to go boneless).  Strain solids, return strained liquid to pot.  Skim off some of the fat, thicken remaining liquid with a slurry of unheated stock and cornstarch. Return ribs to pot, keep warm until service.
Served here with butter-whipped Yukons, roasted Brussels sprouts and a quaffable French table red.   A bit of horseradish is nice with this as well.  
Soak, poach, crisp.  Three steps to righteous frites.  
Slice up your russets and soak in fridge, preferably overnight.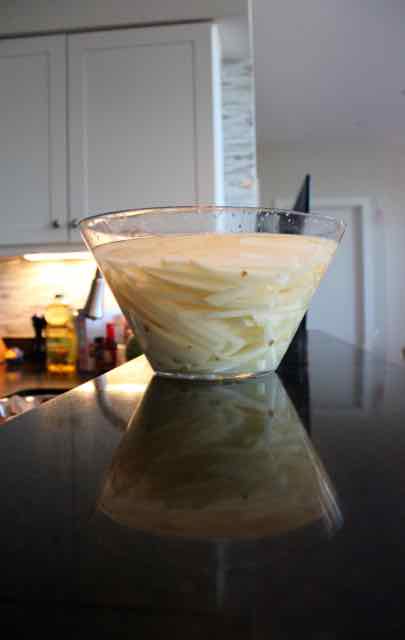 Pat dry and poach in 325º peanut oil until tender through.  Drain and set aside until just before service.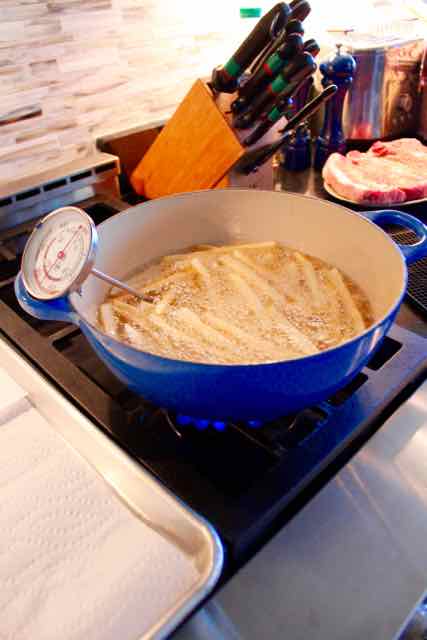 A crispy browned finish with a quick dip into 375º oil.  Salt them just out of the fry.  Serve with a fat steak, a green salad and dijon mustard.  No ketchup. Mustard.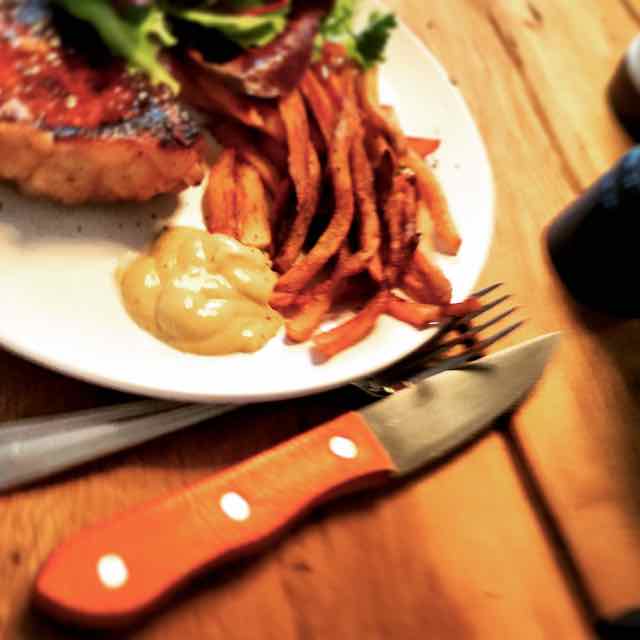 Get some!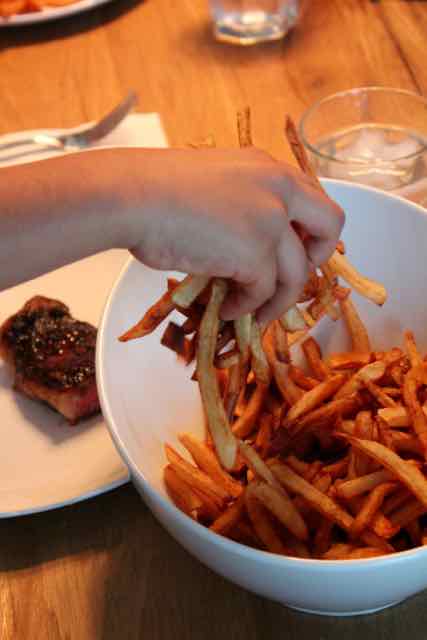 MMMMMmmmmm.   Steaks.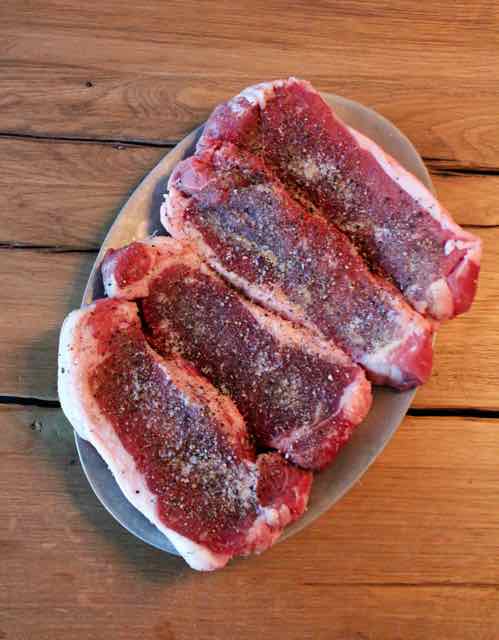 Here's an easy Spring soup.   Tough to mess up, tasty and make-ahead. Great for a dinner party or, as here, a holiday meal.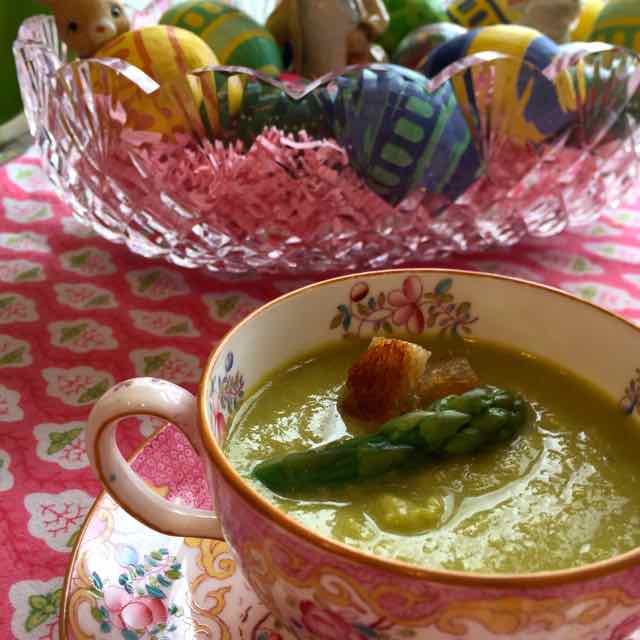 Two asparagus bundles, rinsed and chopped.  Reserve some tips- blanche briefly, shock in ice bath and set aside.  Slice and rinse a leek, sauté in a knob of butter with sea salt and cracked pepper.  Add chopped asparagus, cover with chicken stock.  Let it go a good long while then hit with blender more than you think necessary.   Back on stovetop, a good pour of cream. Taste, adjust seasoning.  
Top with a tip and add a crouton for a little crunch.  Here, sourdough squares crisped with more butter than you think necessary.  
Crispy skin salmon filets, over garlicky hummus and sautéed greens.   Some toasted slivered almonds for another layer of crunch.  And that flavor-of-the-moment, smoked paprika….   Courtesy of good friend Jo, who nailed this dish in all of 18 minutes.   Pic below is a tribute re-make at our place the following week: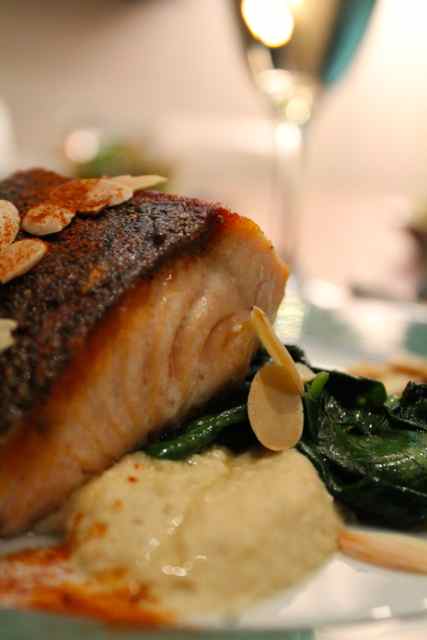 For that perfect crispy skin, heat a non-stick pan with a good pour of olive oil.  Pat dry and season salmon filets with S&P, sear skin side down 5 or 6 mins, flip for 3 or 4.  
Serve this dish right now.  I'm doing it again tomorrow.  
p.s. the only thing better than throwing a good dinner party is going to someone else's.  And click here for a link to my Instagram of Jo's actual dish that night.