Fresh pasta – easier than expected.  Particularly when you have the kid make it.   Flour – two cups.  Eggs – two whole plus four yolks.  A good pinch of salt.   Make a well with the flour – eggs and salt in the middle. Beat with fork, slowly incorporate.  Knead a few times once it comes together.   Wrap it up and let rest in the fridge for a few hours.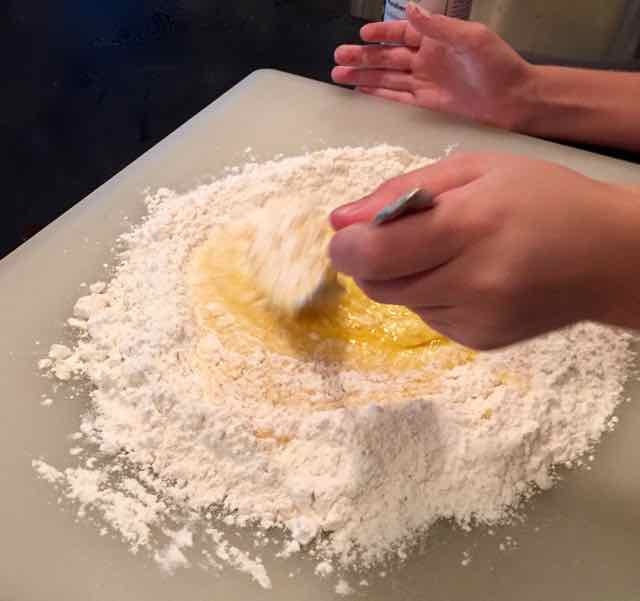 Cut in quarters.  Roll out a bit, dusting with some flour.  Send through pasta machine's thickest setting a couple times, then fold the ends into the middle and do it again.  This helps keep the shape right.  Now crank through the successively thinner settings.  Roll into a log and slice to desired thickness  —  see that happen in this video on my Instagram. Set on a cookie sheet and cover with damp towel while you do the other quarters.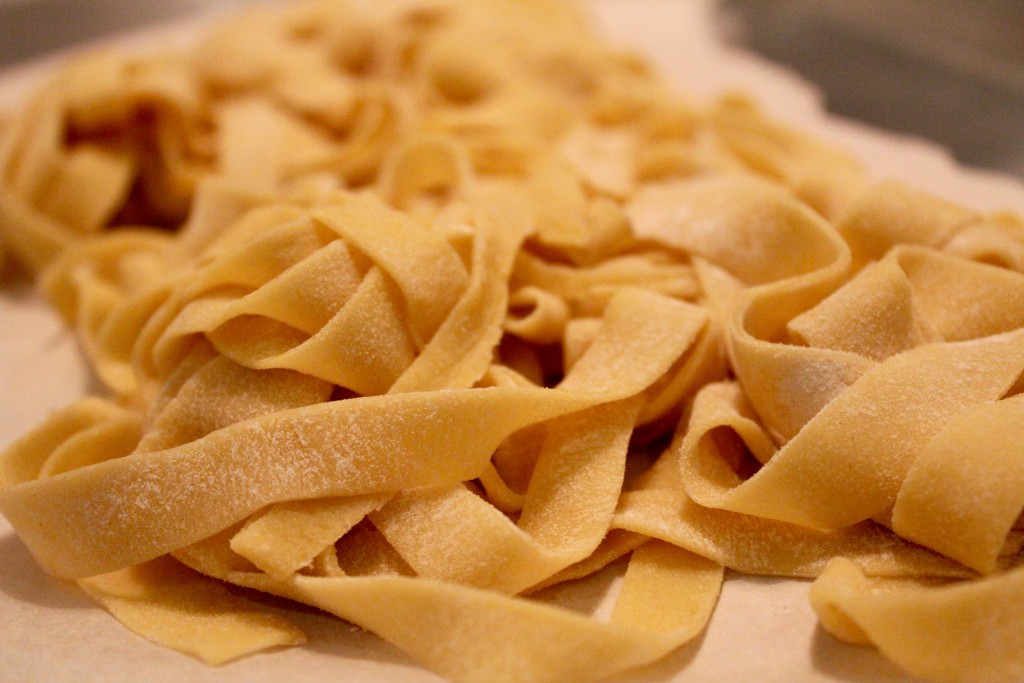 This cooks really fast. Brown some butter in a pan, keep warm.  Pasta into boiling salted water for just a minute or so, drain and toss with the brown butter on the stovetop.  Add some chopped fresh sage, cracked pepper and some crushed red pepper.  Then a good handful of grated parm, which plays the salt role.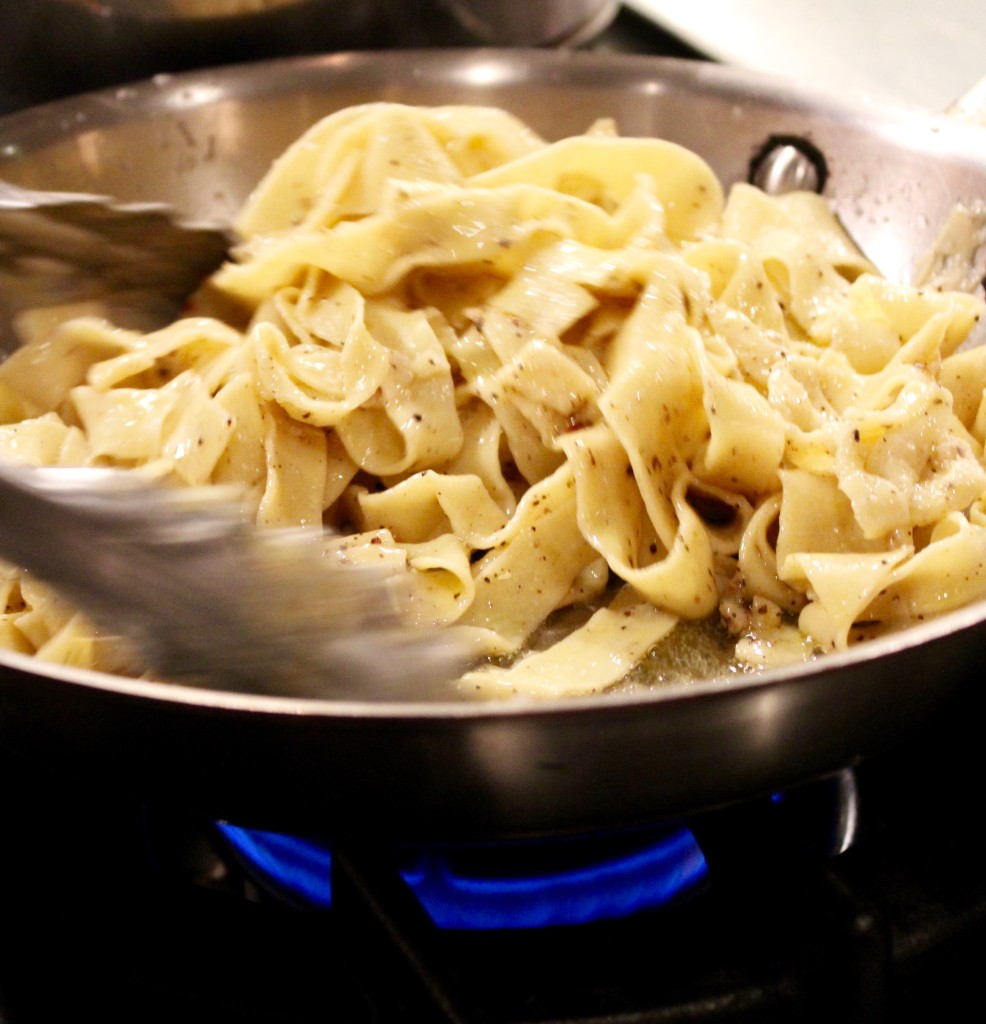 I serve this topped with some fried salted sage leaves, which I hide until service or they all disappear.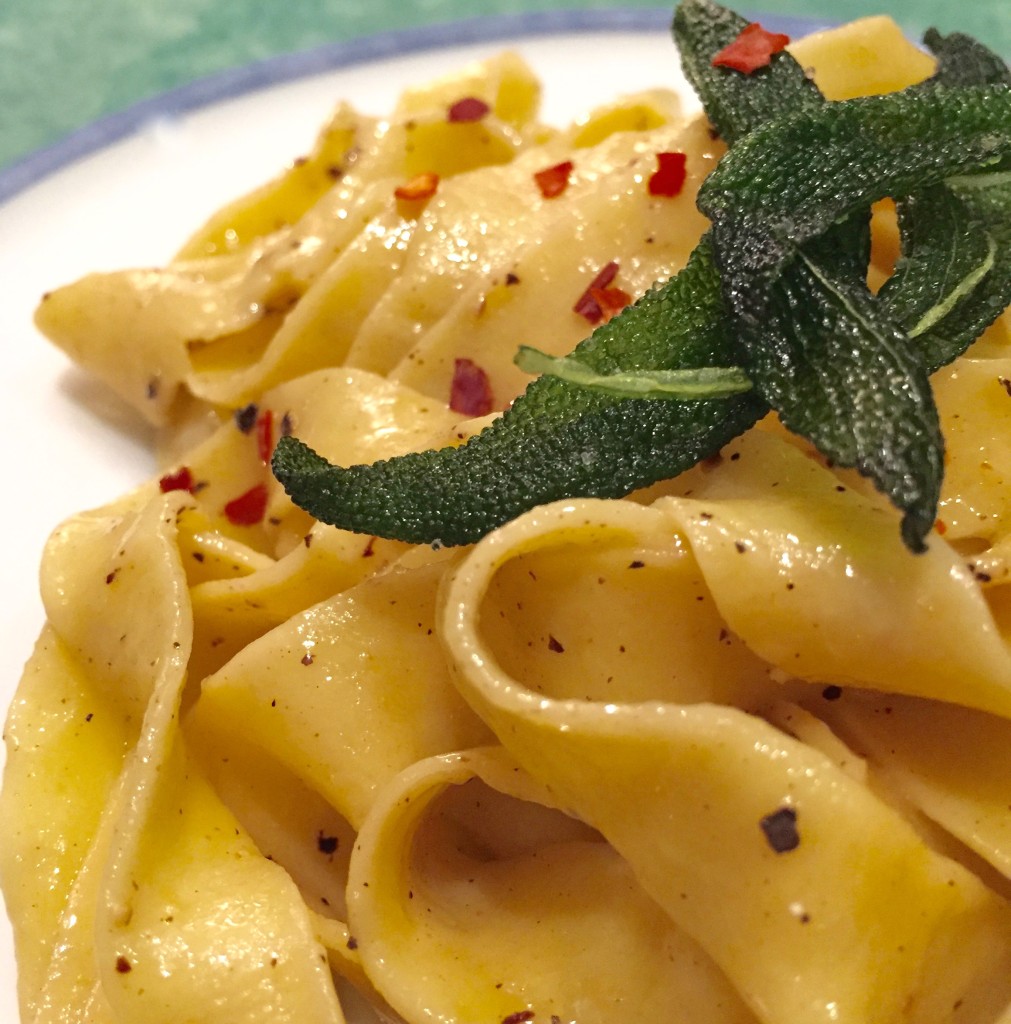 A fun dad/daughter kitchen project indeed.  
Nobody likes a bad english muffin pizza.  All limp, soggy and gross.   There's a better way, people.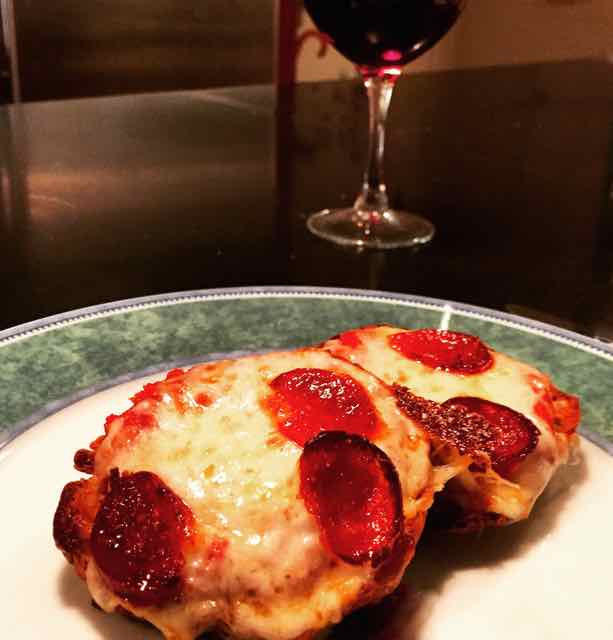 The key here is to crisp up the muffins in the oven before applying sauce/cheese.  Slice muffins, drizzle with olive oil.  Garlic power, S&P, maybe some oregano.  Into 420º oven until browned and crisp.   Now some good sauce and shredded mozz, thin sliced pepperoni on top.   Back into the oven on broil and let it go until the cheese is bubbly and the pepperoni crisps a bit at the edges.  Now that's about right. 
There was this kid I knew growing up who would do english muffin pizzas in the microwave with ketchup and american cheese slices.  Oh, the humanity.
Yes let's eat this right now.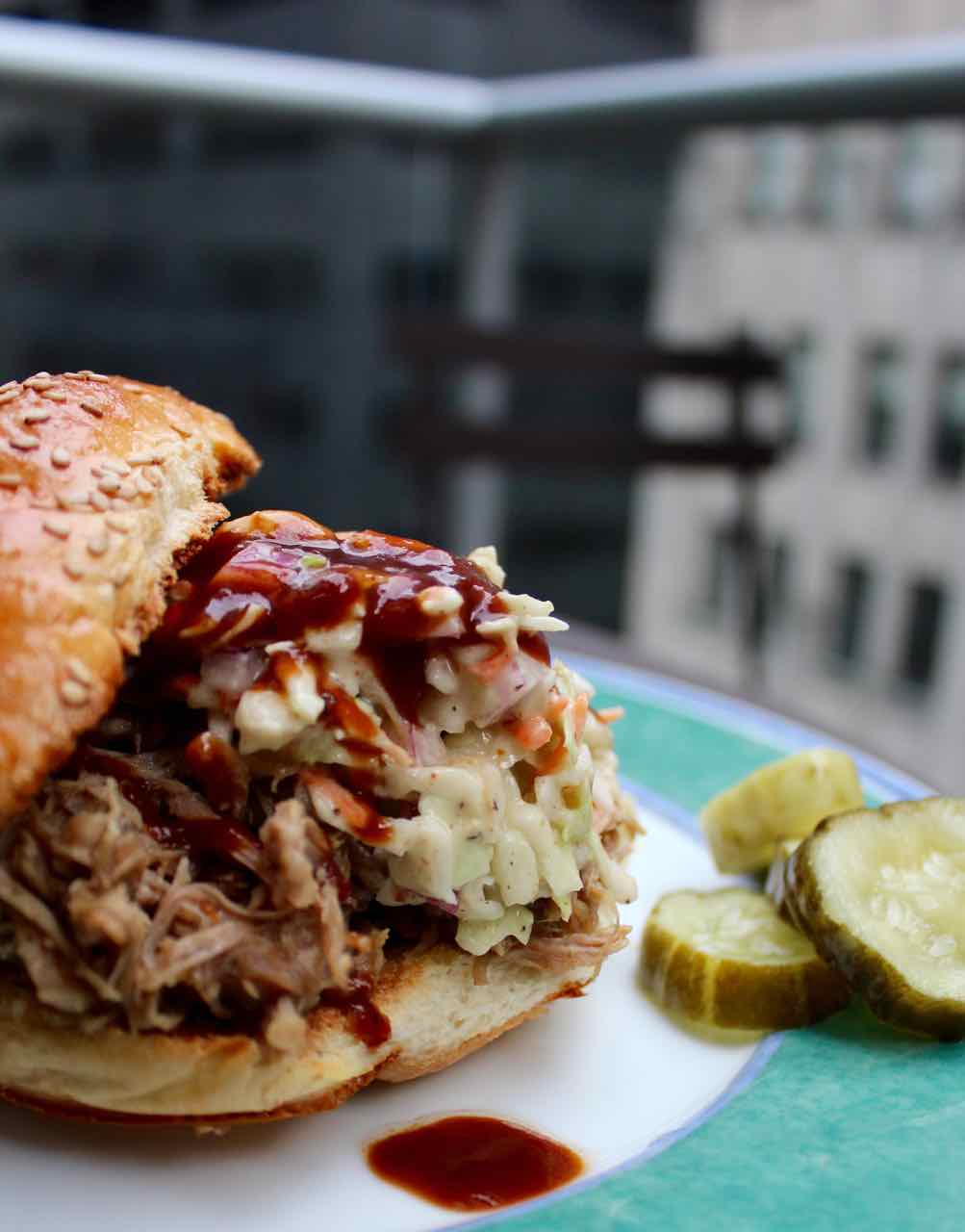 Pork shoulder brined in sugar and salt water overnight.  Drained and dusted with cracked pepper, oregano, cumin, garlic powder and sea salt. Into a covered dutch oven with a good pour of chicken stock and one can plus one teaspoon beer.  A couple bay leaves and a few shakes liquid smoke.  Slow and low — 225º for several hours.  Pull apart with a couple forks, let it all soak in the braising liquid a while.  On stovetop, cook off most of the excess liquid before service.  
Served on a toasted sesame seed bun with the sexy coleslaw and some homemade bbq sauce.  A few sliced pickles on the side from the Pickle Guys on Essex Street.  Yes.
The Tot loves this.  And super-simple too.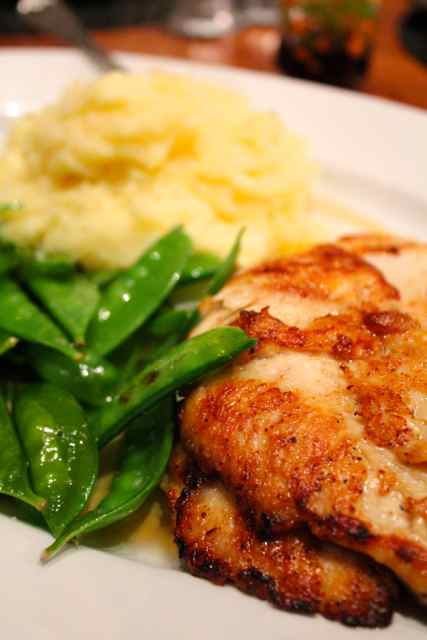 Boneless skinless chicken breast, pounded thin with a meat mallet.  Cover with a freezer bag or a triple layer of plastic wrap before pounding — prevents raw chicken from flying everywhere.  
Drizzle with canola oil, sprinkle generously with salt, pepper and garlic powder.  Into screaming hot pan, flip when browned.   Add a knob of butter into the pan just before chicken is cooked through, baste with a spoon.   And that's it.  
Some dishes excite just through the settings evoked.  Like Baja Style Fish Tacos – a late lunch on a barstool somewhere warm.**  Or Porterhouse for Two – dinner at a clubby NYC steakhouse, settled next to each other in the lush red banquette. Perhaps a vodka martini with blue-cheese stuffed olives…
And then there's "Italian Wedding Soup", which just sounds like fun and happiness and all things good.  Plus you get to say "polpette."  The polpettes before cooking – one teaspoon each: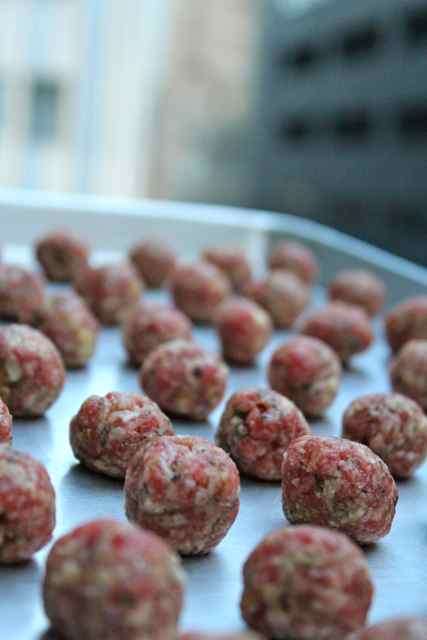 We've been threatening to do this soup for a long time, and a recent recuperation presented the right moment.  My soup came out quite nice,
but even if it didn't I'd still love that name…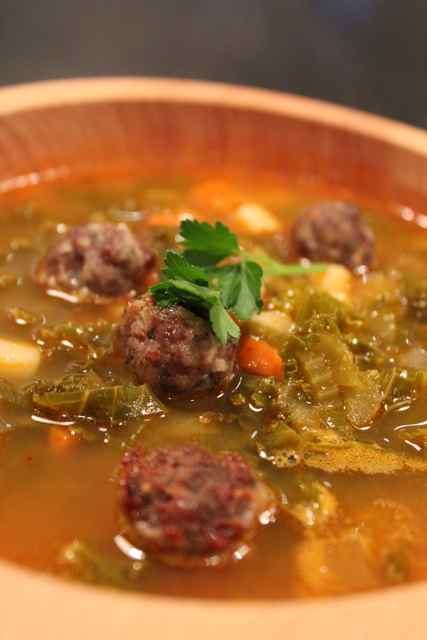 ** Some color on the Baja Tacos —  They're served with guacamole, salty air and cold beer.  Mine a Modelo Especial.  Hers a shortie (pony) because she can't finish a regular size beer before it warms. The tot has destroyed the little basket of chips, I only got like three.  Gipsy King's Spanish version of Hotel California is playing.  It's 2:20.
Here's a real treat – perfect for a big family meal.  The pics are from the holidays…
Step 1 – butterfly the tenderloin roast (or have your butcher do it), and smear the inside with an herb paste – here I used chopped fresh tarragon, parsley, thyme and rosemary mixed with smashed chopped garlic, olive oil, cracked pepper and sea salt.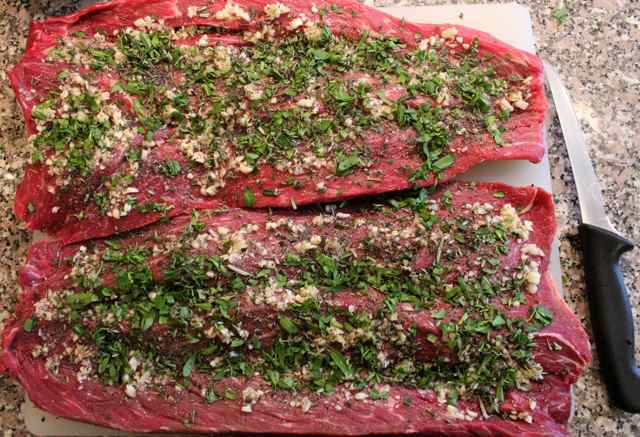 Step 2 – tie up the roast with butcher twine, rub lightly with canola oil and sprinkle generously with cracked pepper, salt and garlic  powder.  Let sit outside the fridge until the chill is off.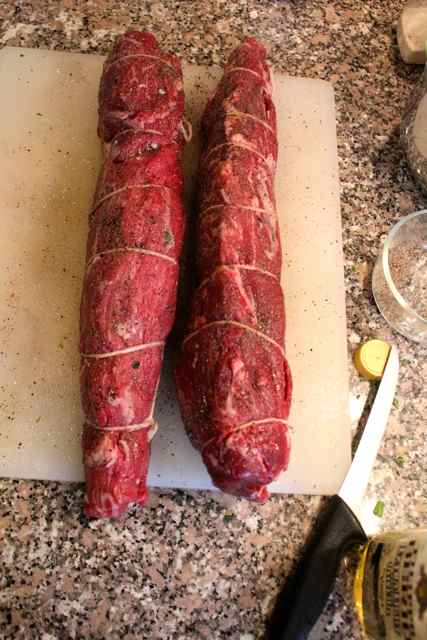 Step 3 – roast at 425º until internal temp is 125º at the thickest part.  As the tenderloin is tapered, when the middle is on the rare side the skinny end will be more well, providing for a nice selection of doneness.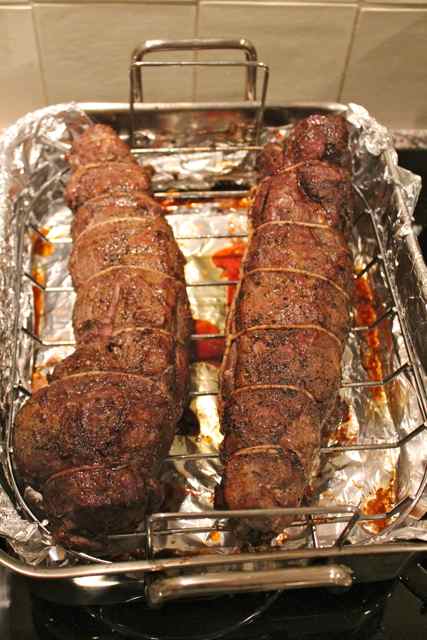 Step 4 – let rest for a good while, at least 20 mins.  Slice and enjoy!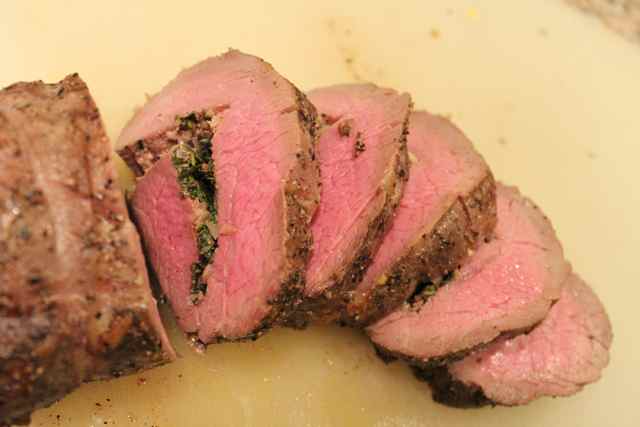 p.s. sauced this with a cabernet peppercorn reduction.   
I cook mine less than he did (pink pork is ok!) but otherwise this is my Dad's roast pork recipe: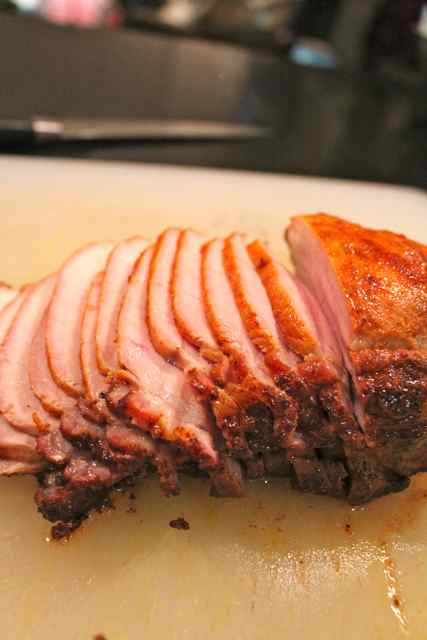 Rub roast lightly with canola oil, then coat with S&P, garlic powder and hot Hungarian paprika (smoked would also be good).  Let sit outside the fridge for a good hour or so – bringing meat to room temp first helps to evenly cook.   Roast in a 425º oven until thermometer registers 135°, and then let rest for a good 15-20 mins before slicing.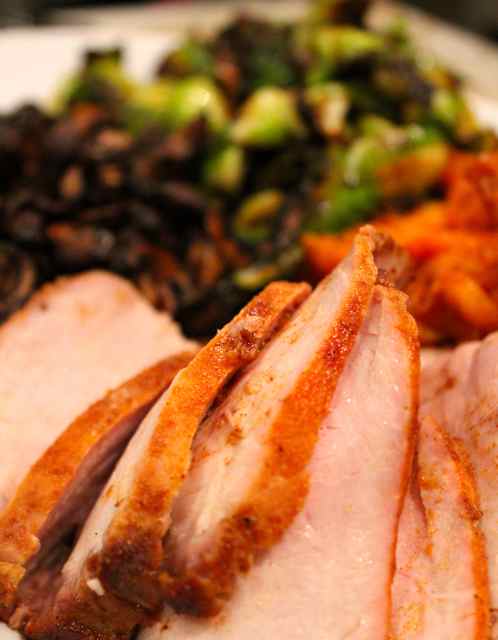 Served with roasted Brussels sprouts, mushrooms and wedges of sweet potato. The sweets cooked together with the pork — tossed lightly with oil and S&P, spread on bottom of pan, roast placed right on top.    
Ok so this is happening right now: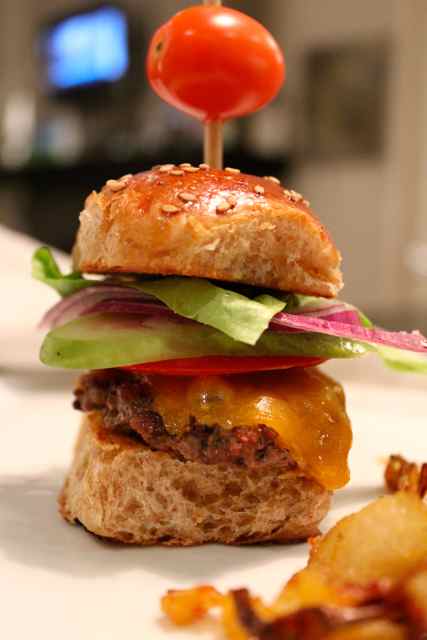 Wheat Parkerhouse rolls, toasted in a pan with some butter.  The required Pat LaFrieda grind, a slice of aged cheddar.  Pickles, red onion, tomato and butter lettuce.   Thin Yukon chips, roasted crisp with olive oil, S&P and garlic powder.  
btw Denver is just getting whacked at the moment.
It's French bistro night:
Carte Du Jour
Pan Seared Bone-In Prime Strips / Beurre Maitre d'Hotel
Mixed Bitter Greens / Dijon Vinaigrette
Crispy Pommes Frites
Lots of Cheap Red Table Wine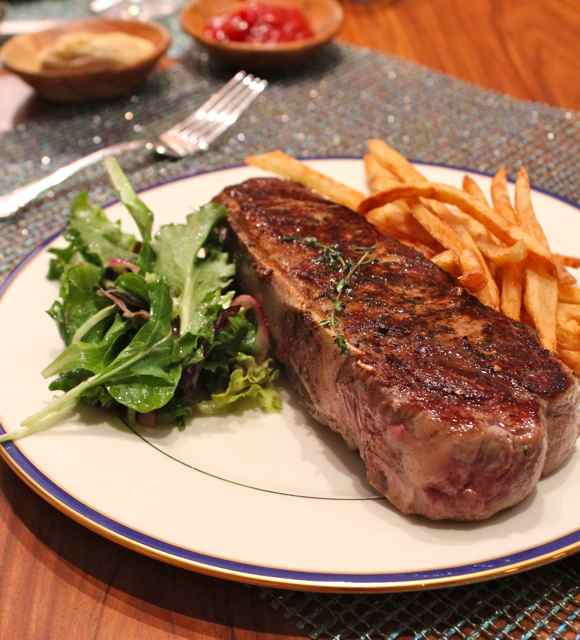 Ok fancy French talkin' guy, so what's Beurre Maitre d'Hotel?  This: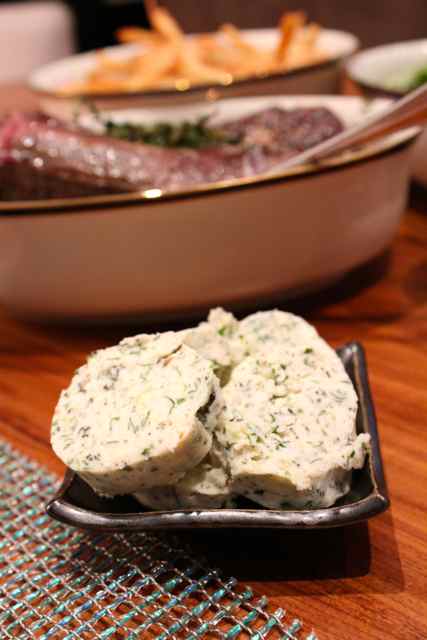 Soften a stick of butter, beat with cracked pepper, sea salt and chopped fresh herbs — here: tarragon, chives and parsley.  Chill and form into a cylinder.* Slice into discs — and then…
Drop onto your steak, and it melts and makes its own sauce.  It melts and makes its own sauce!!  ITS OWN SAUCE!!!
* There's an easy way to do this involving the back of a knife, saran wrap and some spinning.  Maybe will do a short video on that move.  
Whack this out in a flash on a Friday evening after work — pan-seared pork chops, blistered shishitos.  With rice or garlicy mashed potatoes.  Pour out a chilled Gruner Veltliner.  And call it dinner: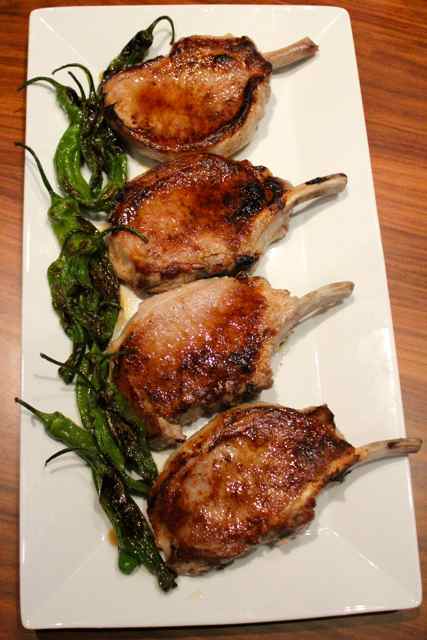 Take the chops out of the fridge right when you get home – letting meats come to room temp before cooking helps make sure everything is even.  Rub with a drizzle of canola or peanut oil, season with sea salt, cracked pepper and garlic powder.  And maybe some paprika.  Get a pan screaming hot, drizzle in a touch of oil.  For these fat chops sear about 4 mins one side, 3 mins the other. For skinnier chops go less.  Let rest 5 mins before serving.  Once you lay the chops into the pan, get the shishitos going– click here for my post on those bad boys.  
There was a time (umm, hello 1981) when everyone cooked pork to a dry 180º brick.  Pearls were clutched at a touch of pink.  But believe me you — say yes to medium rare pork!  
p.s. – for a pan sauce — after evacuating chops deglaze pan with a splash of white.  Add a bit of chicken stock and reduce.  If you have some fresh thyme, sage or rosemary toss that in.  Drop in a knob of cold butter and swirl until melted.  Pour over chops (or directly into your mouth).