T-day appie course — Fresh Shucked Montauk Pearls with Mignonette, Deviled Eggs, Crunchy Peanut Butter Stuffed Medjool Dates….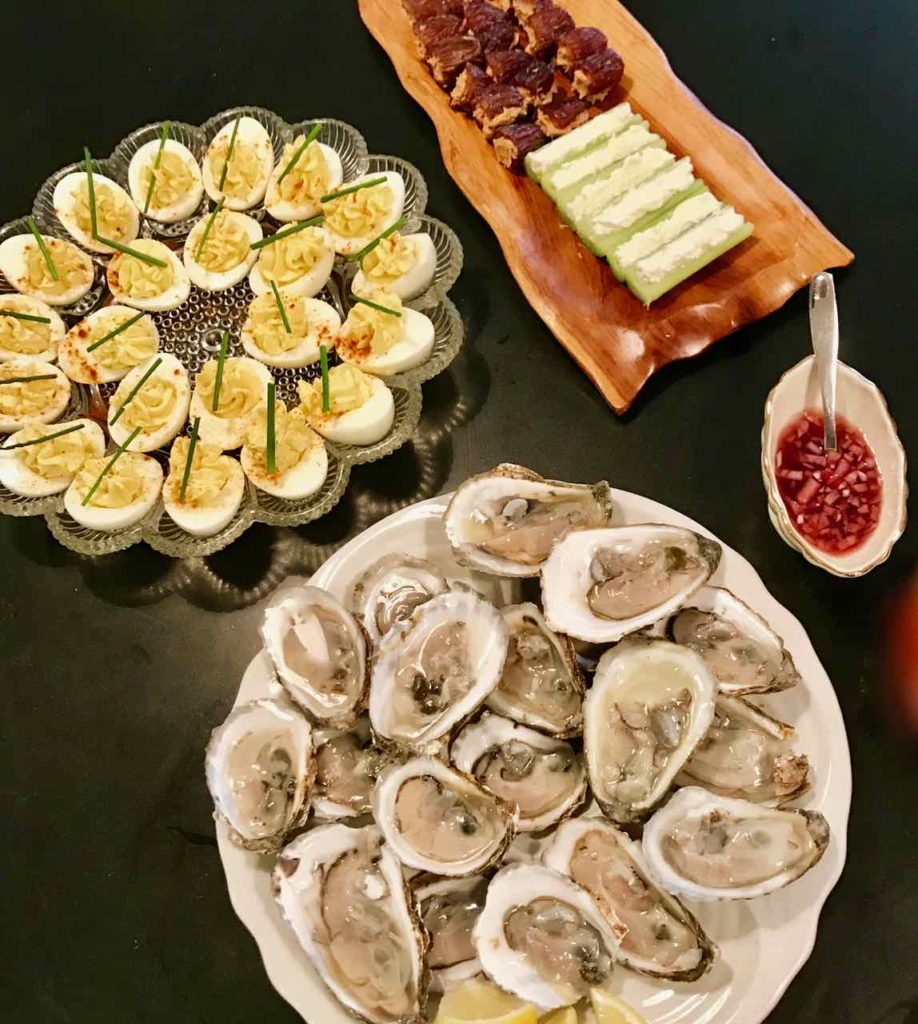 And here's the plan….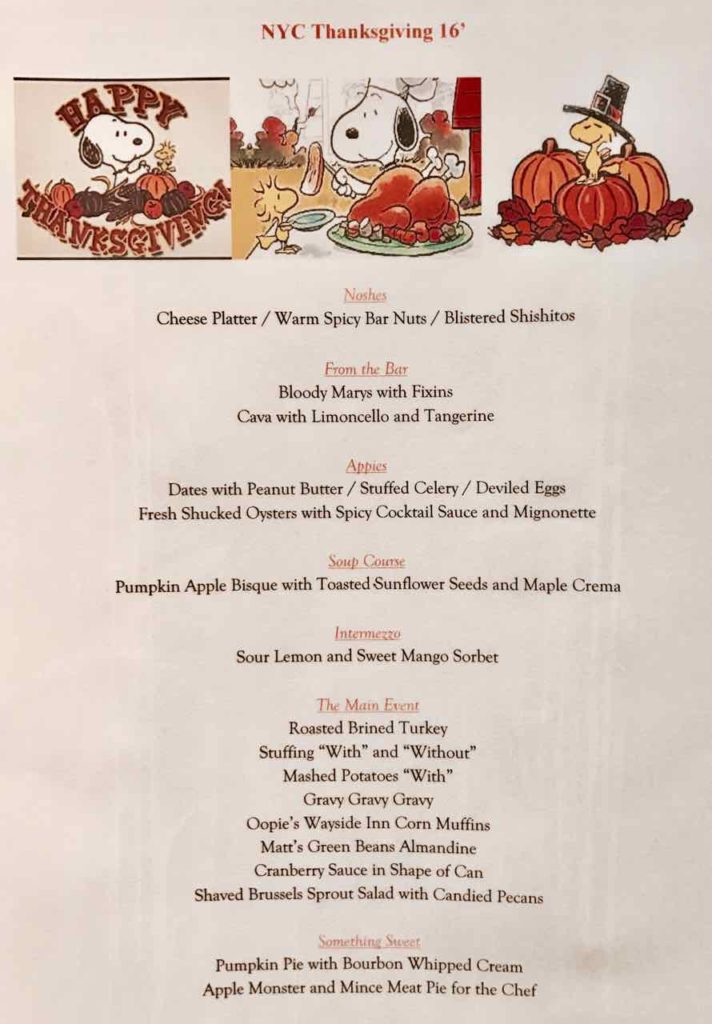 Settle on in for a spring Sunday dinner.  Roasted boneless leg of lamb, rainbow baby potatoes and roasted broccoli.  Pinot and cracked pepper pan sauce.  That's about right.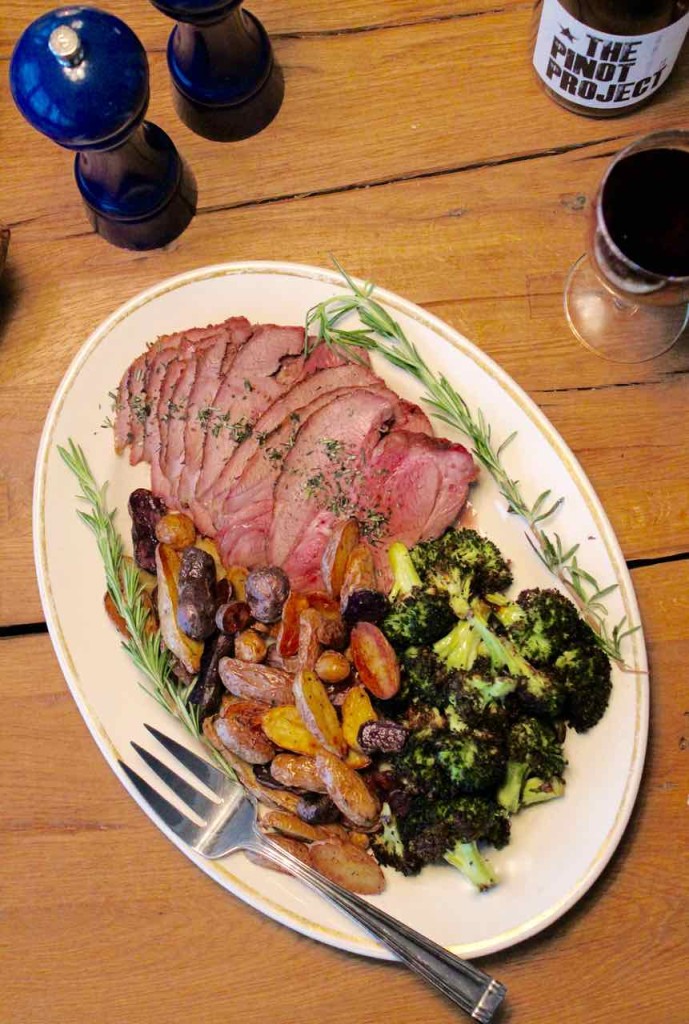 Let the lamb come to room temp, rubbed with smashed garlic, olive oil and fresh chopped rosemary + thyme.  Into 500º oven for 15 mins, then down to 325º until internal temp is 120-125º for rare.  This one's more on the medium side per my ladies' preference.   Click here for the slicing video.  
Asparagus might have been more appropriate but we love us some roasted broccoli.  And pass the Pinot please…
The same cut that rib-eye steaks come from, with the bone and left in one big piece.  "Standing" because it stands on the ribs when cooking- no rack required!  There's controversy over how best to cook  – low and slow vs. high and fast.  I had a smaller cut – just 2 bones – so I went with a fast method.  For a larger cut I might go the other way.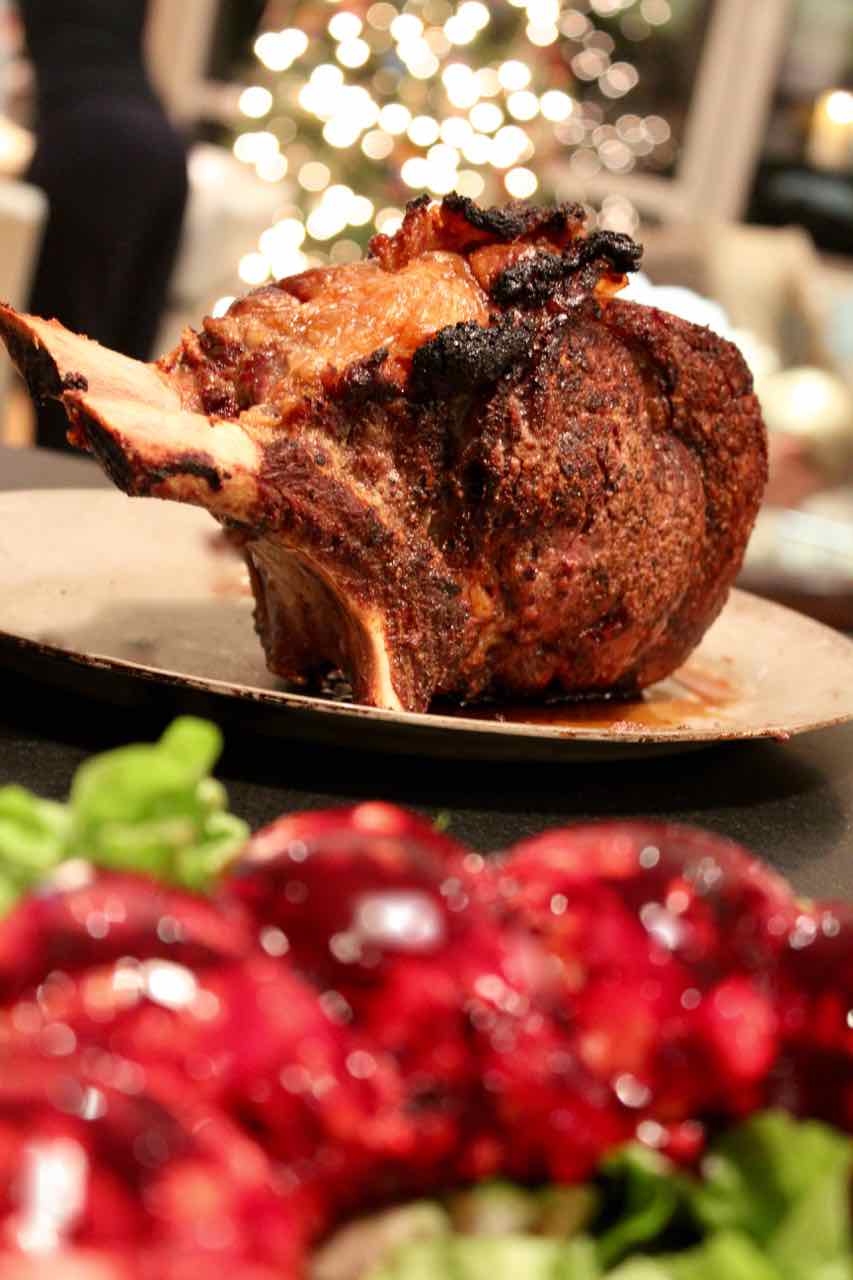 Rub with plenty of salt, pepper and garlic powder.  Sear with a touch of oil in a hot pan 4 mins a side- then into 425° oven until internal temp hits 125°.  This one took about 35 mins.  Remove from oven and let rest at least 20 mins before service.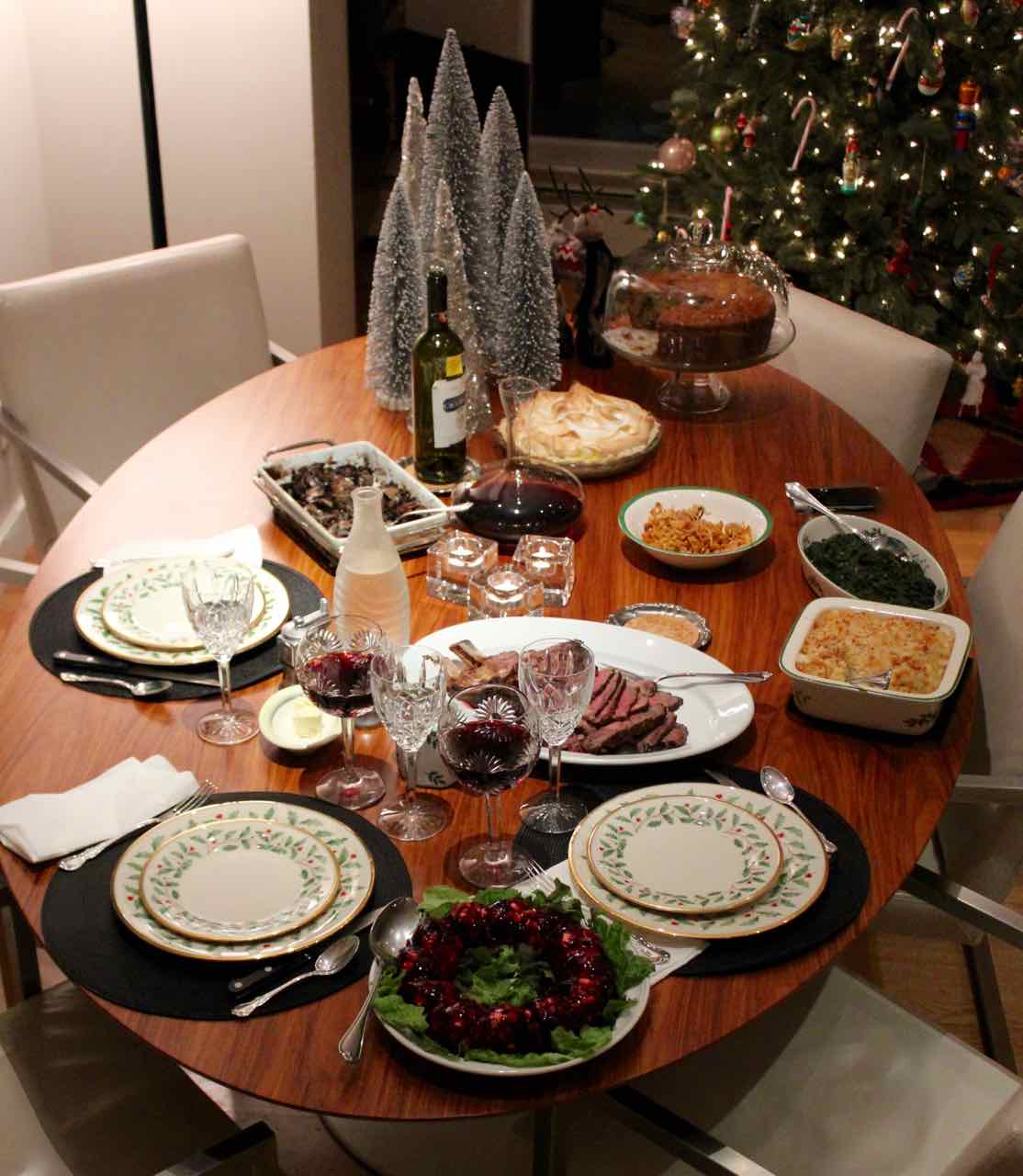 For the sauce – sauté chopped shallot and celery in a bit of butter with S&P, flambé with a shot of brandy or cognac.  Add in 2 parts stock (chicken or beef) with one part red wine, reduce with a bundle of thyme, a bay leaf, some green peppercorns and a smashed garlic clove.  Before service, strain out solids, add a touch of cream and some of the pan drippings from the roast.  Thicken with a slurry of stock and cornstarch if you want a little more body.
Due to the tot's performance schedule, it was just the three of us this year for Thanksgiving.  But we still did it up right:
Hope everyone had a great Turkey Day!  Stay tuned for the soup recipe, coming up next.  
p.s. here's the main, plated: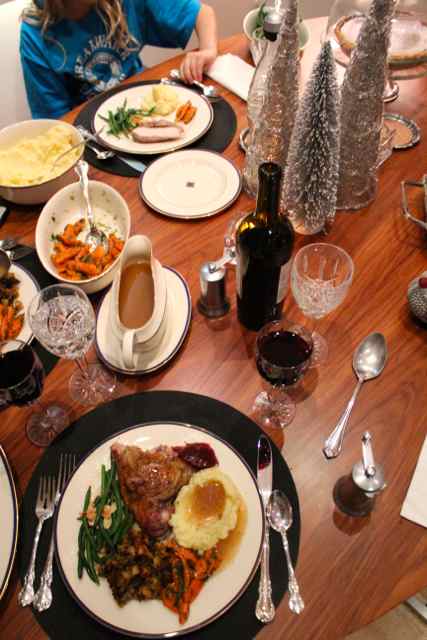 Who doesn't love a soup course, especially when it's this easy…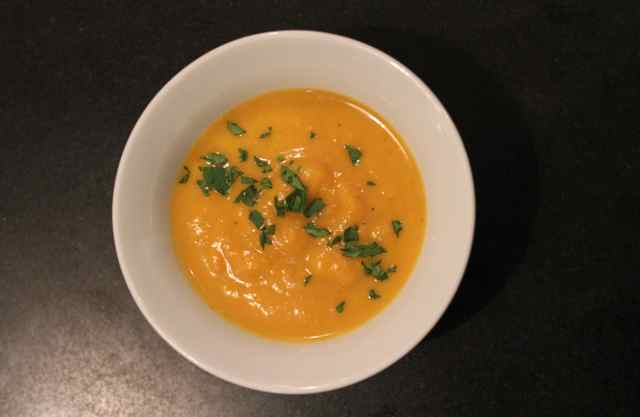 Rough chop a leek, sauté in butter a little while.  Add one peeled chopped Granny Smith apple, let that go for a while.  Drop in a can of pumpkin flesh, cover with chicken stock.  Nail it with the curry powder, and don't be shy. Hit it all with a stick blender until smooth.  If too tight, add more stock.  If loose, let it reduce a while.  Add a little pour of heavy cream before service. Taste, add salt if needed.    
p.s. this is Granny Smith 
We spent this Thanksgiving with family at my cousin's house (thanks S&E!), and my assignment was bringing brussels sprouts.   The thing about brussels sprouts — great just out of the oven, but on a re-heat the luster is lost.   And not wanting to crowd E's kitchen on the biggest/busiest food day of the year, here's the solution — raw: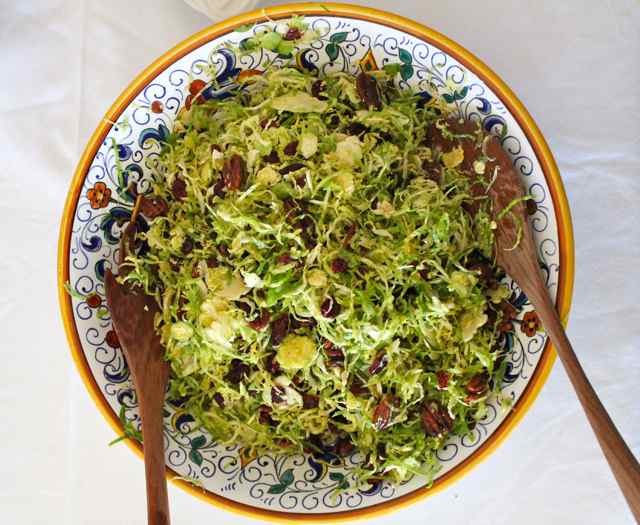 Shred the sprouts super-thin on a mandoline (not the stringed instrument).   Toss with a mustard vinaigrette, candied spicy pecans and dried sweetened cranberries.  Easy, festive-looking, and a pleasing result.  Recipes for the dressing and pecans are below…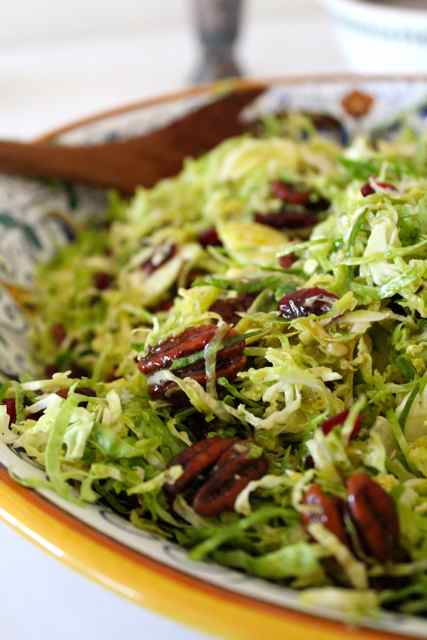 Vinaigrette:  Three parts extra virgin olive oil, one part red wine vinegar.  A squeeze of dijon mustard, a little squirt of agave nectar.  Salt and pepper.   Mix until thick and emulsified.  Taste.  Adjust.   Toss with shredded sprouts and dried cranberries just before service.
Candied Spicy Pecans:  Melt a couple tablespoons of butter with a good squeeze of agave nectar.  Add kosher salt and a generous amount of cayenne pepper.  Toss with pecans, roast on a cookie sheet lined with parchment at 250º for a couple hours.  Let cool completely and toss with just-dressed sprouts.    
There was a day my father and I would cook Thanksgiving dinner for 30+ people.  Lots of logistics, but just one issue really riled dad — people still milling about at service.  It's better to have everyone seated and ready to eat: "hot foods should be served hot!" he would say.  So one year we came up with a strategy — the soup strategy.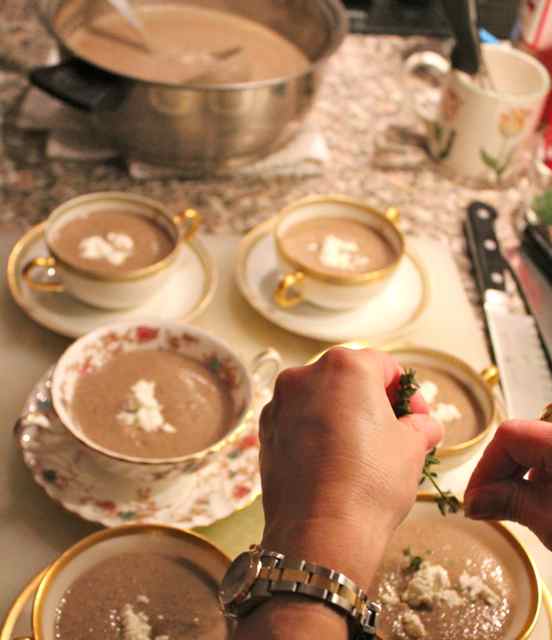 Of course! — add a soup course.  Before the main, a thick unctuous soup comes out.  Holding its savory heat.  People gravitate over.  Seats pulled in.  Grace. The cooks excuse themselves after a few spoonfuls, and retreat to the (now empty) kitchen to prep service for the main meal — without dodging the crowds, and everyone seated in time.
p.s. – that pic is the lovely Mrs. garnishing our Christmas soup — a roasted chestnut and wild mushroom bisque, with goat cheese and fresh thyme leaves. Hey now.  Everyone got to the table on time.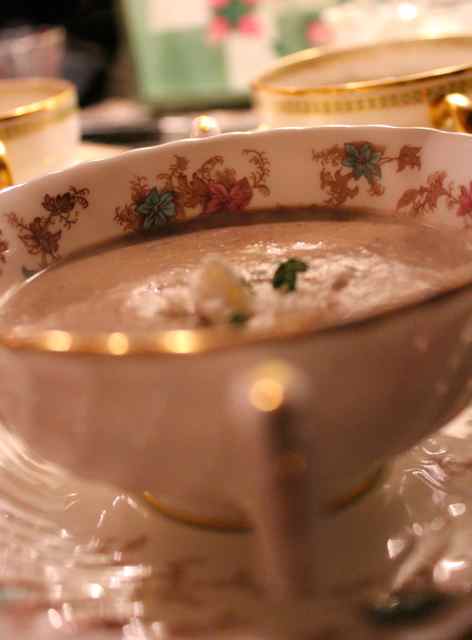 Double-wide lamb chops — it's all about treating a nice ingredient with a light touch. Lamb chops are surely indicative of a special occasion, and perfect for the holidays.  Here's how to roll em' out: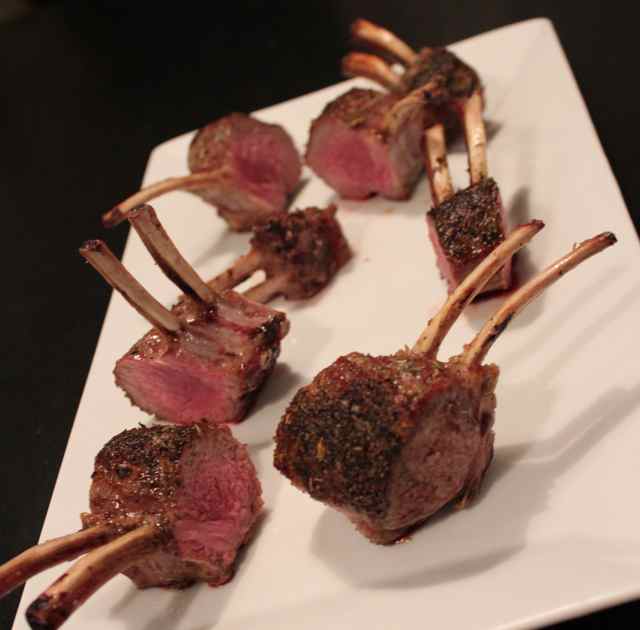 The Goods:
2 racks of lamb

¼ stick of butter, clarified

2 T butter, cubed

Herbes de Provence

S&P
The Execution:
Trim off the big strip of fat.  Some people leave this on.  I don't.  Brush trimmed racks generously with melted clarified butter.  Hit with Herbes de Provence and S&P.  If you are eating soon, let the racks sit and come to room temp.  Otherwise, back into the fridge.  Remember to take them out at least an hour before cooking. 
Preheat oven – 425º.  Heat pan until screaming hot.  Sear racks (meat side down) in a touch of canola, 4 mins.  Put on the exhaust fan for this part.  Then flip racks and pop the pan into oven.  Roast until internal temp is 125º, somewhere between 8 and 12 minutes depending on thickness.   Evacuate from oven, cubed butter into the pan to melt.  (Watch that handle it's hot!!)  Scrape up the browned bits from the pan and baste the racks with the melted butter.  Remove from pan and let sit for at least 5 mins before cutting into double chops.   Drizzle a bit of the melted butter onto the racks as they are served. 
 p.s. – the "tidbits" are the tot's favorite part of this dish.  When trimming the fat, you invariably cut off a bit of meat.  Rather than discarding, scrape the meat off with the side of a sharp knife.  Hit with spices and clarified butter.  When searing the racks, drop the tidbits into the pan alongside.  By the time the racks go in the oven, the tidbits are ready.  Offer as a hint of what's to come….   
AND AS PROMISED — TURKEY PIC FROM TURKEY DAY!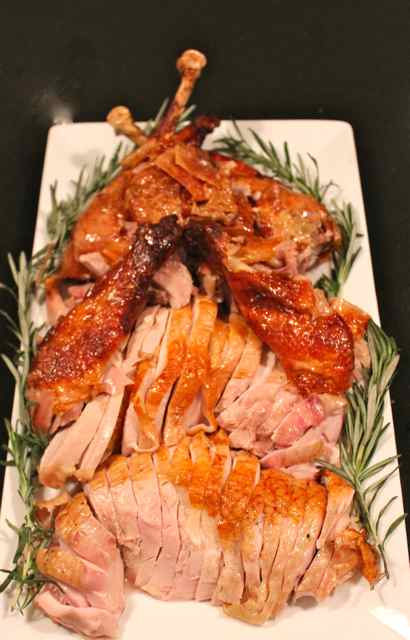 I didn't intend to make kale soup.  Rather, it was to be lightly wilted with butter, shallots and a bit of garlic.  But my trimming of the stems was a bit lazy, and they just weren't cooking through.  So I dropped it all into the blender, added chicken stock and let it fly.   This was a few months ago, and now the accidental kale soup is firmly in the soup rotation.  
Here's the version from Thanksgiving, garnished with goat cheese and soy nuts: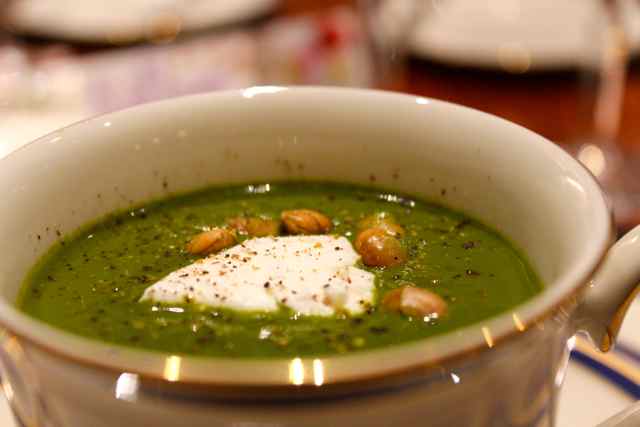 The Goods:
2 bunches kale, stems trimmed, washed well, roughly chopped

1 big or 2 small shallots, chopped fine

2 cloves garlic, chopped fine

2 T butter

1 box chicken stock

S&P, ground nutmeg

Optional – bacon fat and heavy cream.
The Execution:
In a pot, cook shallots and garlic in butter until fragrant.  (Optional – add a spoonful of bacon fat with the butter.) Add kale and about a quarter of the box of chicken stock.  Sprinkle with a dash of nutmeg and S&P.  Cover and let steam until the kale is wilted.   Carefully transfer everything into a blender and hit it a few times.  Add chicken stock in parts until soup reaches your desired consistency.  If it ends up too loose, you can reduce it on the stovetop before service.  Just before service, reheat soup and if it moves you add a little pour of heavy cream.   Garnish with something crunchy and/or some soft cheese or crème fraîche. 
p.s. – the comments on last week's post lit up for the kale soup, so I bumped the turkey pics to next week….