Here's a verdant quickie to brighten up your dinner.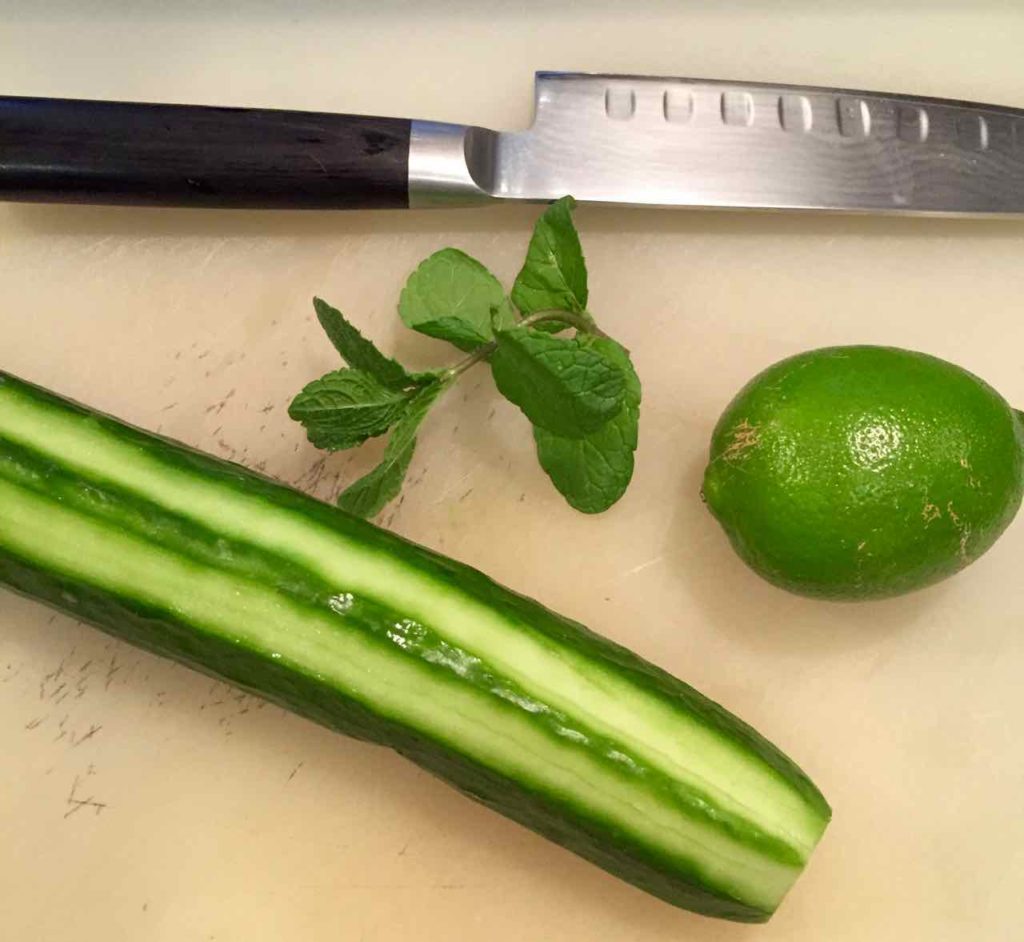 Cukes, striped-peeled, seeded.  Fresh mint (from the new urban garden!). Lime zest and juice.  Let's get to the knife.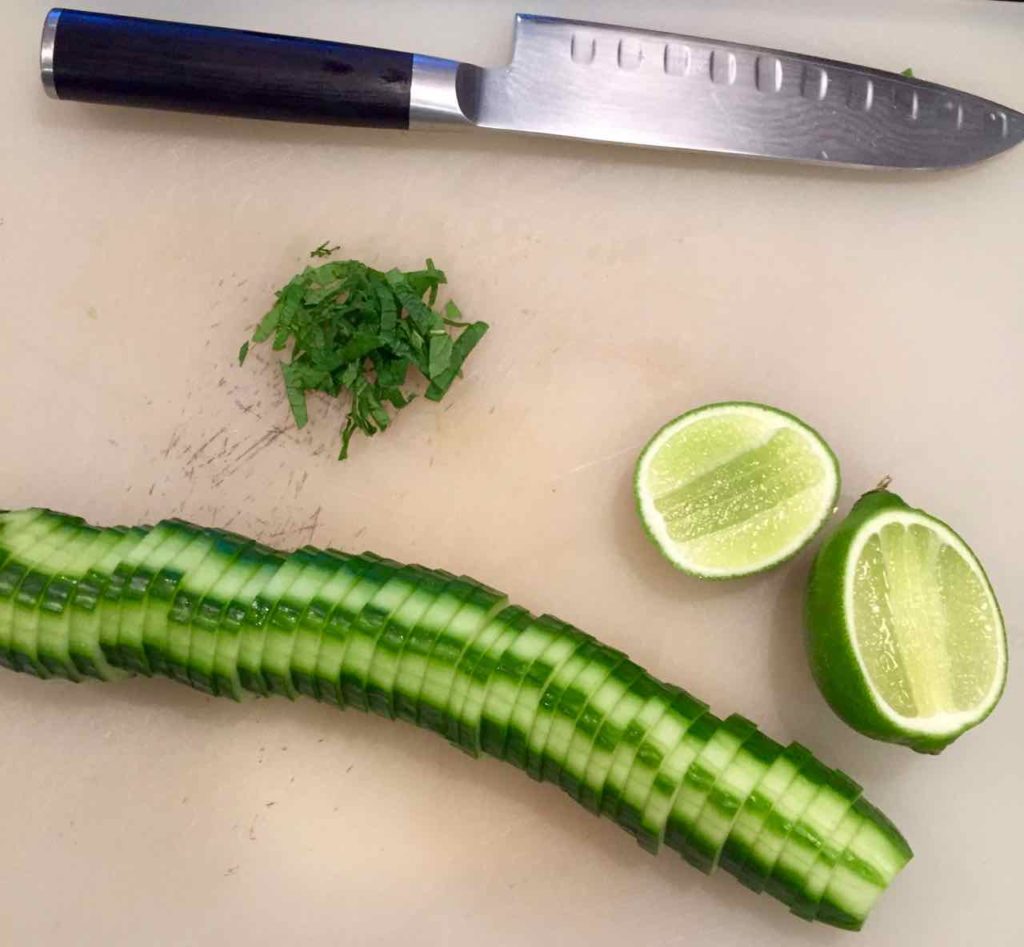 Drizzle of good olive oil, crack of fresh pepper.  Throw of sea salt.  Call it a monochromatic salad.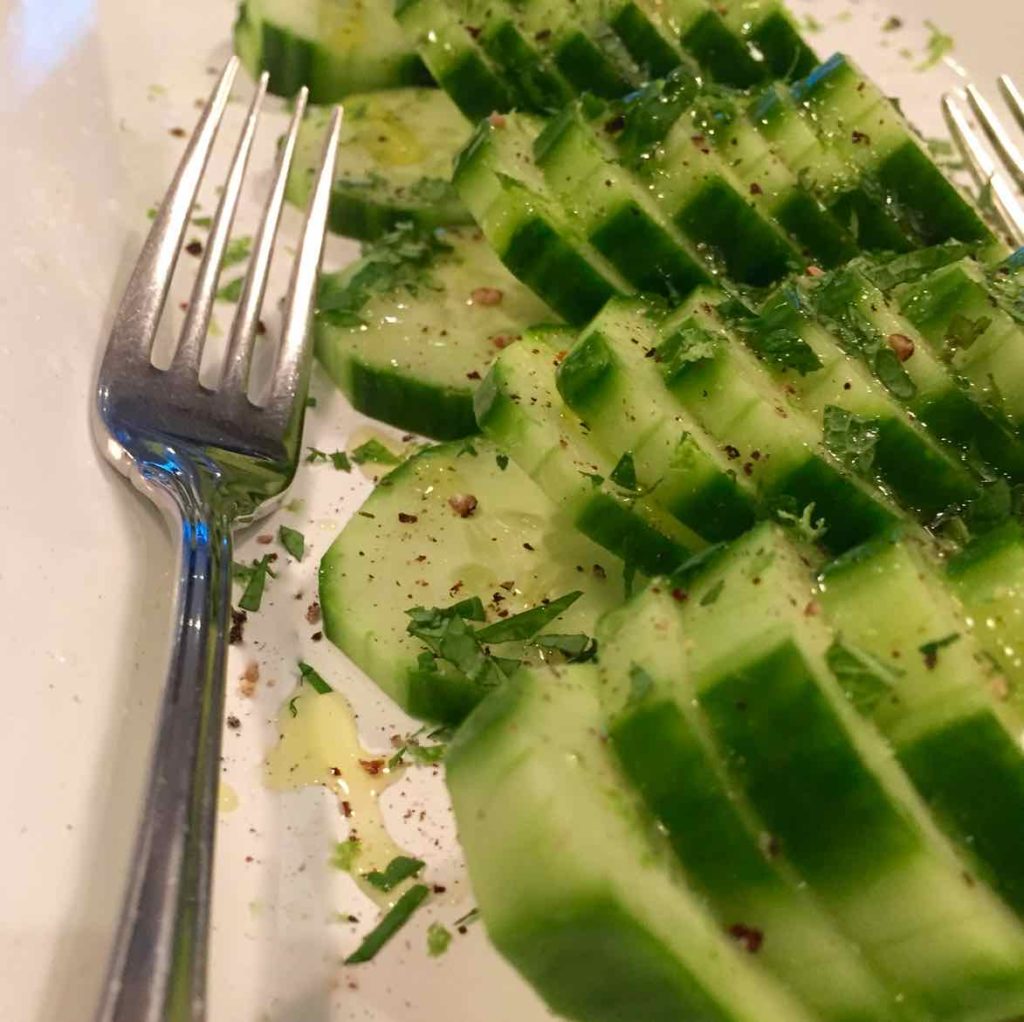 Pour a glass of chilled rosé, this'll start 2014 allright allright…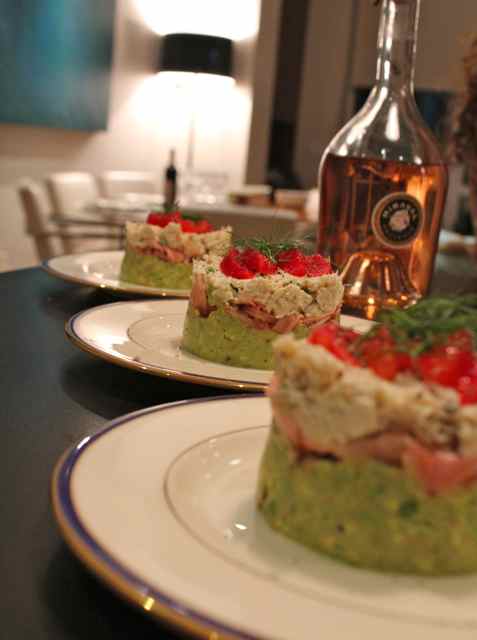 Happy New Year, in 5 layers…
Avocado, smashed with lime juice, jalapeño, sea salt and cracked pepper.

Thin shaved fennel, lightly pickled in rice wine vinegar and blood orange juice.

Crabmeat, gently massaged with a dijon aioli and chopped green onion.

Blood orange supremes.

Fennel fronds.
A bite for you?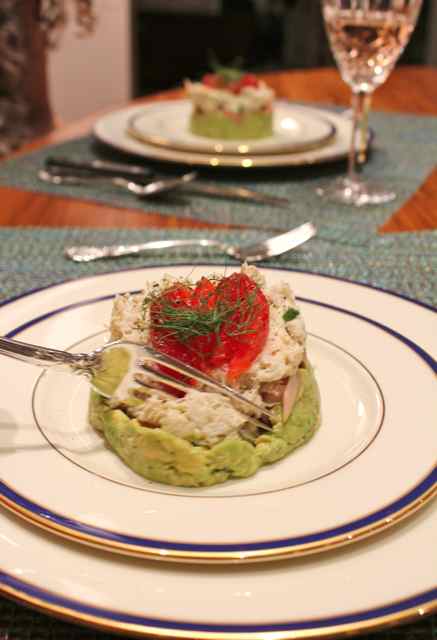 p.s. in case you missed it on the FB post earlier this week, here's a shot of the new business cards made out of meat….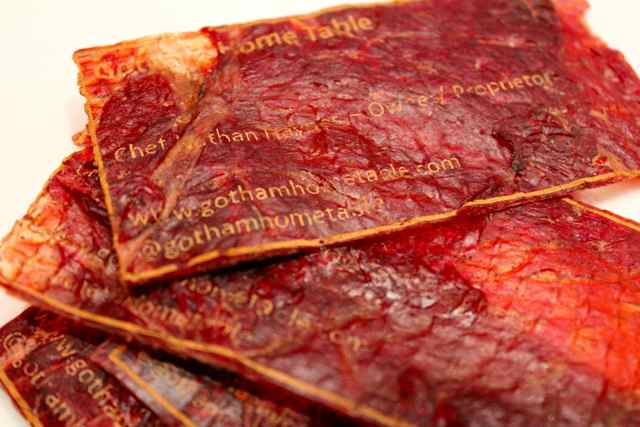 The beet.  What to do…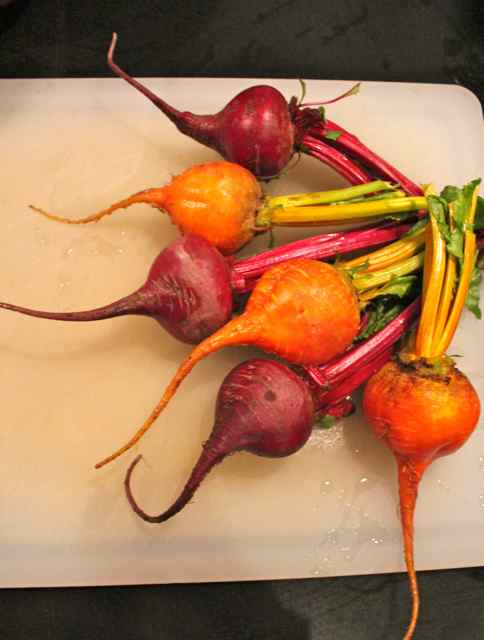 Slice off thin root, chop off tops (wash and save for other use).  Drizzle of olive oil, wrap in foil with a few sprigs of fresh thyme and/or rosemary.  Roast a good hour at 425º.  Let cool, unwrap and peel off outer skin.  Now what?
1 – The Stack: Here's a pretty presentation.  Slice beets and stack with alternating slices of goat cheese.  Drizzle with champagne vinegar, olive oil.   A throw of sea salt and cracked pepper.  Garnish with some chopped fresh herbs and toasted pistachios.  Click here for a past post and pic on this one.
2- In a Salad: Beets add a nice sweetness to a bitter greens salad.  Cut into small cubes, if using red beets add right before service (too soon and they'll stain the salad).
3- A Solo Performance:  Serve alone as a side dish.  Cut into cubes or slices, heat and toss with melted butter and S&P.  Garnish with chopped fresh dill.
4- Lightly Pickled – Chop and toss with apple cider vinegar and sliced red onions, let sit overnight at least.   Serve cold in place of (or beside) a potato salad.  
5- In a Bloody – Cut into large cubes, let sit overnight covered in vodka.  Use the vodka for the Bloodies, garnish with the cubes.  
Still steamin' …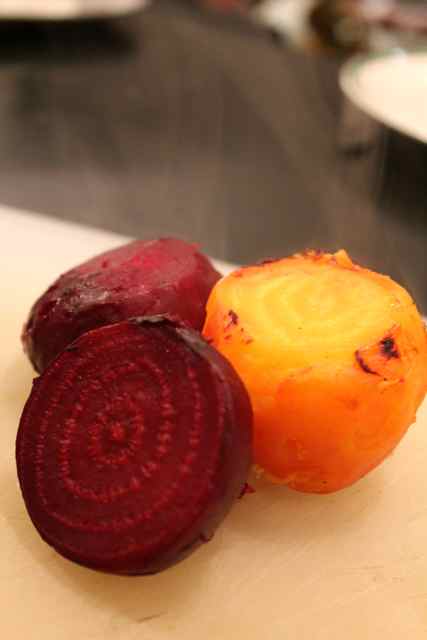 We spent this Thanksgiving with family at my cousin's house (thanks S&E!), and my assignment was bringing brussels sprouts.   The thing about brussels sprouts — great just out of the oven, but on a re-heat the luster is lost.   And not wanting to crowd E's kitchen on the biggest/busiest food day of the year, here's the solution — raw: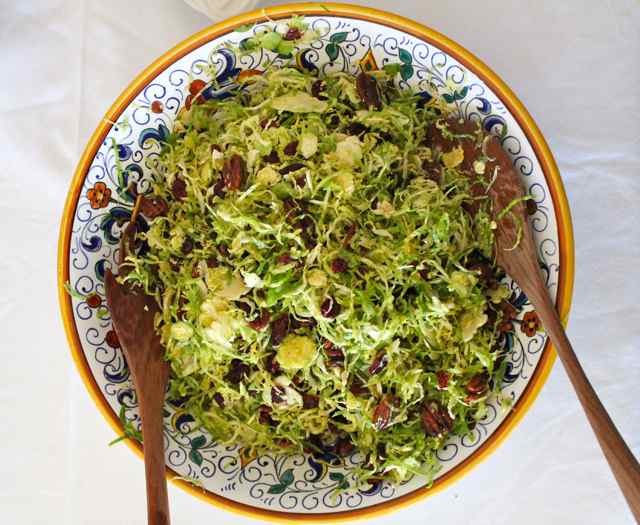 Shred the sprouts super-thin on a mandoline (not the stringed instrument).   Toss with a mustard vinaigrette, candied spicy pecans and dried sweetened cranberries.  Easy, festive-looking, and a pleasing result.  Recipes for the dressing and pecans are below…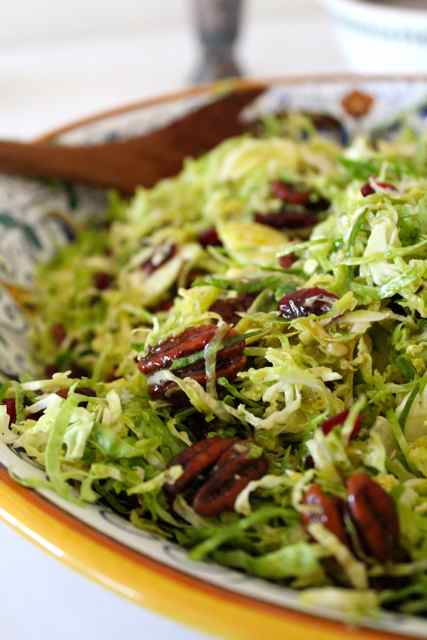 Vinaigrette:  Three parts extra virgin olive oil, one part red wine vinegar.  A squeeze of dijon mustard, a little squirt of agave nectar.  Salt and pepper.   Mix until thick and emulsified.  Taste.  Adjust.   Toss with shredded sprouts and dried cranberries just before service.
Candied Spicy Pecans:  Melt a couple tablespoons of butter with a good squeeze of agave nectar.  Add kosher salt and a generous amount of cayenne pepper.  Toss with pecans, roast on a cookie sheet lined with parchment at 250º for a couple hours.  Let cool completely and toss with just-dressed sprouts.    
Summer as a bowl.  Peppery arugula, pickled watermelon, limed avocado.  All lightly bathed – a spicy vinaigrette.  Courtesy Scott Conant, via local NYC cable show some years back.  The tot still so small, by the river in Battery Park. Hot days take us to the roof.  Watching the sun disappear on the far side of the Hudson.  A nosh accompanies: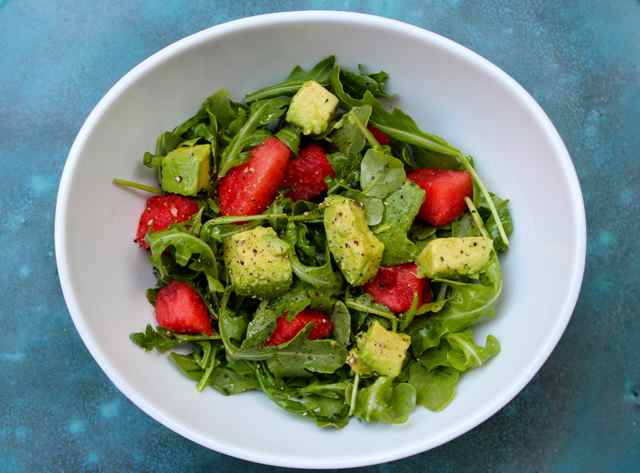 The Goods:
Arugula

Small chunks of watermelon

Rice wine vinegar

Ripe avocado

Lime

Olive oil
The Execution:
Sprinkle watermelon chunks with rice wine vinegar – like you are dressing a salad. Return to fridge and let it pickle as everything else gets together.   Wash arugula well, dry well.  Chunk up the avocado, toss with lime juice, S&P in a separate bowl.  When ready for service, toss arugula in pour of olive oil, a drizzle of rice wine vinegar, a few shakes of the green Tabasco and some S&P.  Toss in the watermelon, and then gently fold in the avocado.  Sea salt and cracked black pepper.  
The Takeaway:
What to say about this salad.  It's just so good.  Pop in a little Summer Breeze, pour the Sancerre.  Lay back and let it all roll out on you.  
Fish tacos taste like summer.  We do them in soft corn tortillas.  Chunks of ripe avocado tossed with cilantro, lime and S&P.   A drizzle of sour cream mixed with plain yogurt or mayo, lime zest and chipotle tabasco.  Some white fish — tilapia, maybe cod.  Thin sliced, lightly battered and quick fried to a nice crunch.   And for that little touch of hot sweet, a good throw of spicy mango salsa: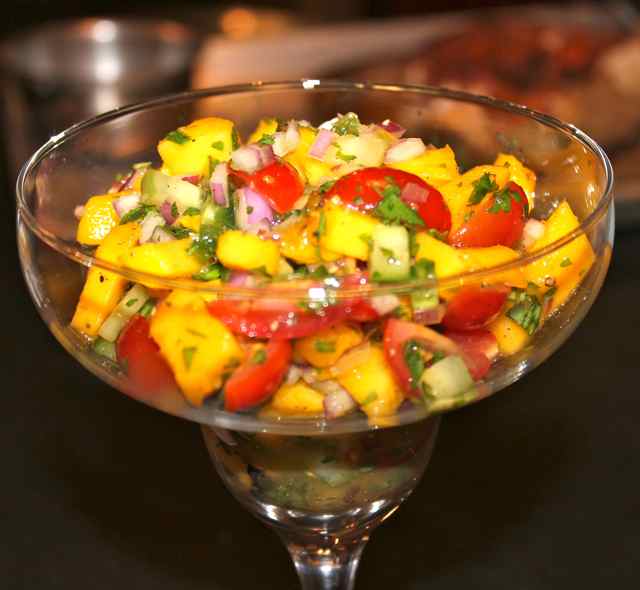 The Goods: 
1 ripe mango, diced.

1 plum tomato, seeded and diced – or a few grape tomatoes, quartered.

1/4 small red onion, small dice (ciseler).

1/2 hothouse cucumber, seeded and diced.

Cilantro, washed well and chopped fine (hacher).

1 jalapeño, ciseler.

Juice of 1 lime, S&P.
The Execution:
Mix it all up.  It's on.  
The Takeaway:  
If I were ever to suddenly be taken by irresponsibility, I imagine fish tacos are what I would be serving from a truck near the ocean somewhere.  That's not really in the master plan, but I'm getting my beach on with some surf lessons.  As the wife and tot will attest (btw thanks for coming, ladies!), it was something of a flail-fest the first time out.  Here's me just barely almost kind of on the way to catching a wave: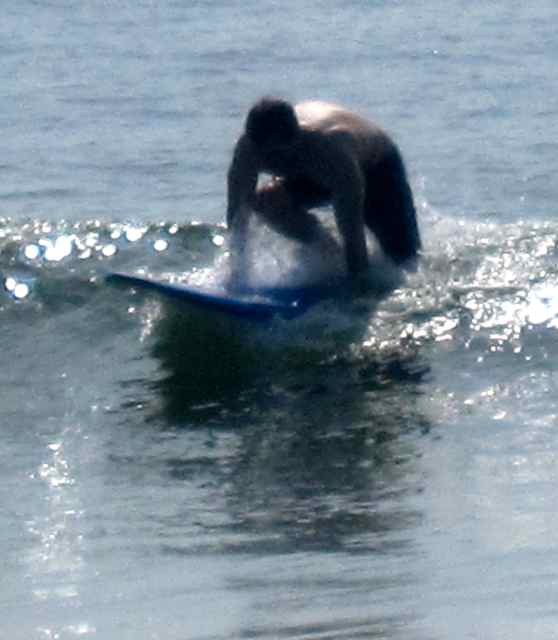 p.s. – oddly, me and the other students before, after and next to me were all 'of a certain age.'  On the other hand, my instructor was like 12 years old.  
Here we go again with the roasted veggies — this time it's sugar snap peas.  Who doesn't love sugar snaps.  Tell me you don't, I dare you-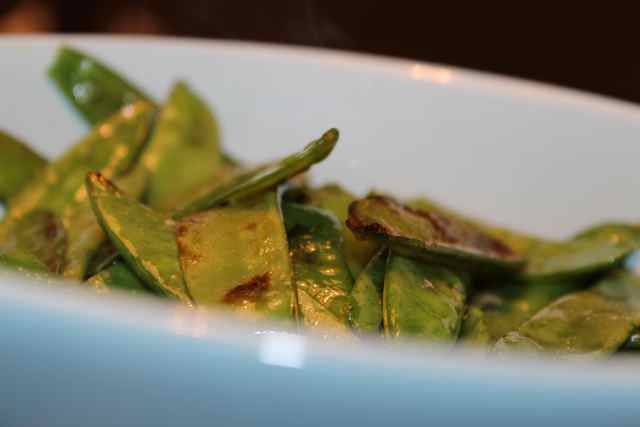 The Goods:
Sugar snap peas

Olive oil

Kosher salt, cracked pepper
The Execution:
Oven to 425º.  Toss the snaps with a touch of oil.  Season, then onto the pan and into the oven.  Give it the shaky-shake a few times and evacuate when they start to brown a bit, maybe 8 or 10 minutes.  These are good cold too.  I love me some roasted veggies.
Aerospace Jumprope Update:  
Week 3.  Belly up to the pain bar and crack open another can o' whup-ass.  I kept up with the rope for a good 9 minutes, which is sneaking up on a third of the 30 minute jump class.  So I've got that going for me.  But it was still a hot mess for the core work in the back 30.  I'm presenting quite the freak show there in the last row.  Lots of awkward positions, grunting, slipping in sweat and total muscle failure.  It ain't pretty, people.  It ain't pretty.   I'm glad nobody's picking teams in that gym class.  
p.s.- Here's a video from NY Times of Michael and people who look good at Aerospace. Shockingly, I was not invited to appear.
And in case you missed it, week 1 is here and week 2 is here.   
Here's a dish that's dressed to impress.  Hey there, beets – lookin' pretty dapper.
The Goods: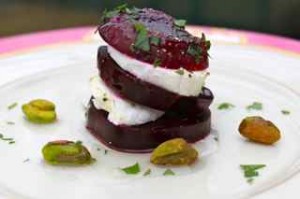 Beets
Fresh thyme and parsley
Goat cheese
Roasted salted pistachios
Olive oil
Champagne vinegar
The Execution:
Oven to 425°.  Wash beets, cut off tops and tails.  Drizzle beets with olive oil, wrap individually in foil with sprigs of fresh thyme.  Roast 1 hour.  Let cool, peel and slice.  The peel kind of slips off, I scrape it gently with a paring knife.  Slice goat cheese log into rounds.  Stack – alternating between beets and cheese.  Drizzle of olive oil and champagne vinegar, hit with some cracked pepper and kosher salt.  Garnish with chopped thyme and parsley.   Throw a few pistachios around for some crunch.
The Takeaway:
Good holiday/company dish.  It's really easy and you can do everything but assembly in advance.  And beets are fun to trot out now and again.
p.s. – Save the greens.  Chop and sauté with some olive oil, butter, sliced garlic and shallot.  Hit with some S&P and nutmeg.   Don't forget to wash the greens really well or  it will be gritty.  Nobody wants gritty.
Ummm, salad for dinner?  Really?  Don't worry, people.  This is no wimpy toss of greens.  We are placing together a hearty (yes, hearty) arranged salad in the style of Nice, France: a Salad Niçoise.  Let's take a few liberties with the traditional bent, but conceptually we'll enjoy our salad along the Côte d'Azur.  Not that I've actually ever been there. But you get it.
The Prep:
The veg and eggs: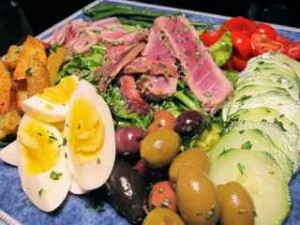 Oven on, pot of salty water to boil.
Veg prep therapy (on a cookie sheet together — see pic below)- slice grape tomatoes, trim green beans, slice red onions, partially peel and slice cukes, quarter fingerling potatoes, chop herbs (chives, parsley, tarragon, your call).  Tear and wash Boston lettuce.
Oven heated, potatoes tossed with olive oil, S&P and in.
Water boiling – green beans in just until crisp tender, shock in ice bath, dry.   Don't pour out the boiling water!
Flame down for a low simmer, a few eggs in for just 8 minutes or so.  I like the yolks creamy, not chalky with the depressing green ring.  Shock in ice water, peel.
Potatoes out when browned.
The tuna:
Pat steaks dry with paper towel.
Coat in a mixture of black and white sesame seeds and S&P.
Touch of oil in hot pan.  Just a lingering kiss on each side.
Slice thin.
The dressing:
In order from most to least:  olive oil, lemon juice, rice wine vinegar, dijon mustard, agave nectar, smashed garlic clove, S&P.    Similar to the steak salad dressing, but with a softer vinegar.
The plating:
Separately toss each veg with dressing.  Plate.
Olives, quartered eggs.
Tuna slices, anchovies.
Sprinkle with chopped herbs.
Mise en Place:
The 'Arranged Salad' differs from the ordinary salad, in that each item is separately dressed and plated (i.e., arranged) rather than everyone getting tossed in a bowl together.  This means there's a lot of activity at the plating stage, and we need that to go smoothly.  The answer? Mise en place.  Everything in its place.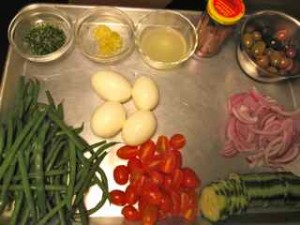 Here's a pic of my veg mis for this dish:
p.s. – Yes, traditionally it's steamed potatoes and canned tuna.  But we are not afraid to annoy French chefs here at GHT.
p.s.s. – "Occupy Wall Street" still going down here.  The Mrs. and the little one got caught in one of the marches on their way to dance class earlier this week.   Wonder if the crowd realizes that most of the banks/funds are actually in Midtown now.  Wall Street has a New York Sports Club I go to every so often.  And a nice Duane Reade (the one with the sushi bar).   Our church is right there too.  But finance professionals?  Other than DB, not so much.
The 80's Steaks Diane post was so much fun that I felt compelled to once again crank up the Whitesnake, pull on the parachute pants and pop-lock/robot my way into the kitchen to trot out another 80's favorite — the Caesar salad.  Alright alright.
The Prep:
Ok let's start with the scut work: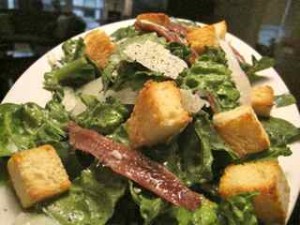 Oven on, romaine washed and chopped.
Brioche cubed, toasted in the oven 10 mins or so until dried through and crisp.  Try one, if it's not crisp all the way through pop it back in the oven.  Nobody likes the mushy crouton.
Now the fun stuff – mixin' up the dressing:
Egg yolk into the bowl.
Grate all sorts of parm right into the bowl.
A dollop of Dijon, a few hits of Worcestershire.
One clove garlic, smashed to a paste with the side of a knife.  Kosher salt helps here as an abrasive.
Fresh squeezed lemon juice, now whisk everything up while drizzling in good olive oil.  It should get all thick on you now (emulsify).
Cracked pepper to finish, taste and adjust.  If it needs a bit of zing you can whisk in a touch of red wine vinegar.  What with all the parm, you probably don't need salt, but if so go for it.
All together now:
Toss each serving of lettuce individually with a few spoons of dressing.  Not too much, your guests can add more to their liking.
Plate the dressed lettuce, top with croutons, anchovies, and then shave leaves of parmesan over the top with a vegetable peeler.
A couple turns of black pepper, and that's it people.
The Pros:
There's raw egg yolk involved.  Awesome.
The Cons:
There's raw egg yolk involved.  So don't get the 'manager's special' eggs.  And be careful separating the egg, don't get the shell all in it.  I crack it with one hand on a flat surface (when you crack on an edge, shell bits get driven into the egg) and release the egg into the other (washed) hand.  Then let the white slip through your fingers and you are left with a nice yolk.
The Takeaway:
A bad Caesar is just sad and depressing.  But a good Caesar?  Hey now.  So get the fresh fresh ingredients and don't skip the anchovy.
Is GHT done with the 80's food kick?  Hmmm.  Stay tuned.