Chocolate Fondue Party
Always a hit, tough to botch = party favorite.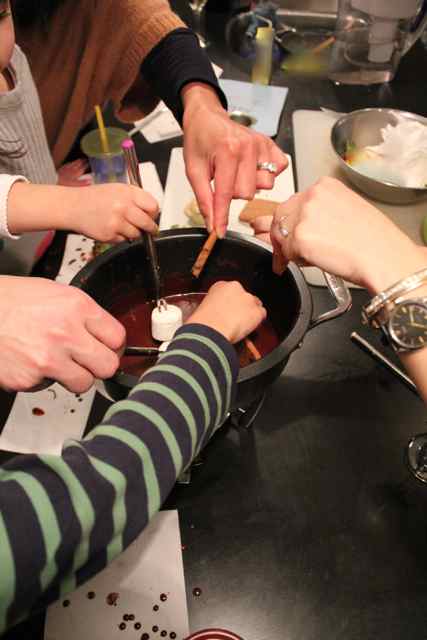 The Goods:
3 chocolate bars – I use two dark bittersweet and one milk

1/2 c (or more) heavy cream, warmed

Orange zest

Splash of Grand Marnier
The Execution:
Break up chocolate bars (small guests enjoy this job).  Melt over low heat on stovetop, slowly thin with warm cream. You may need more or less cream depending on your chocolate and how you like your fondue. Stir in liquor and zest.  
Serve in fondue pot.  If you can control your fondue pot flame, have it on the low side – just enough to keep the chocolate all fluid and silky. 
Popular dippers in our house include sliced green apple, graham crackers, marshmallows, strawberries, fresh pineapple, madeleine cookies, cubes of pound cake.   
And a few other variations instead of orange zest and Grand Marnier: toasted hazelnuts chopped fine and Frangelico, a bit of ground espresso and Kahlua, or maybe even some chopped maraschino cherries and moonshine….
p.s. – I'm still working on the french onion soup post to go with my slicing onions video.