Crispy Smashies
Baby red potatoes, simmered tender.  Smashed flat.  Salted.  Drizzled with olive oil and crisped up.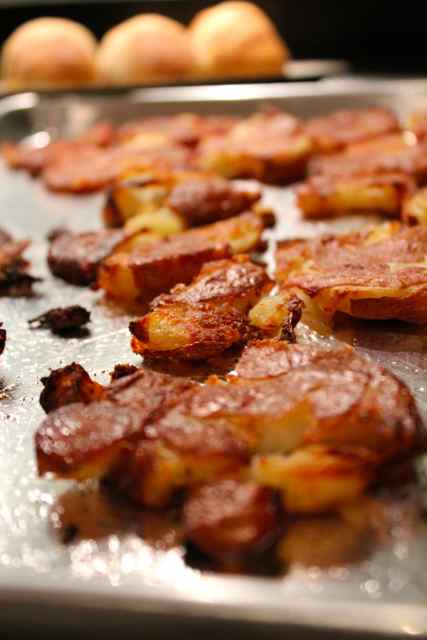 Simmer small red potatoes until tender, drain and let cool a bit.  Onto cookie sheet, gently smash flat.  Drizzle oil over, S&P and garlic powder. Flip. Repeat. Into 425º oven, flip once, remove when browned and crisped on both sides. 
Below is the whole meal together — Crispy Smashies, Pan-Seared Skirt Steak, Sourdough Rolls and Roasted Asparagus.  A good old-school American meat-and-potatoes dinner.  For me it's all very Lee Greenwood circa Gulf 1.  In boot camp when the idea of a meal like this brought wistful thoughts.  Some time around training day 40, I mailed my parents asking for a picture of a dinner they were having.  They responded with a snap of beef stew and cherry pie. And man did it look good.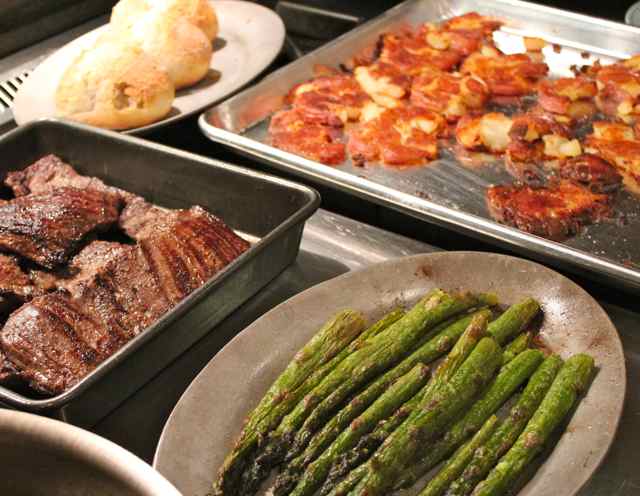 p.s.  serve with Dijon mustard.
UPDATE:  Some answers on the pan — I used a plain old aluminum cookie sheet here (which cost $18 at BB&B but I get for $3.99 on the Bowery…).  You could probably use a non-stick but the potatoes might not brown up as much. If you are only doing a couple servings a cast iron pan would do nicely as well.