Double-Wide Lamb Chops
Double-wide lamb chops — it's all about treating a nice ingredient with a light touch. Lamb chops are surely indicative of a special occasion, and perfect for the holidays.  Here's how to roll em' out: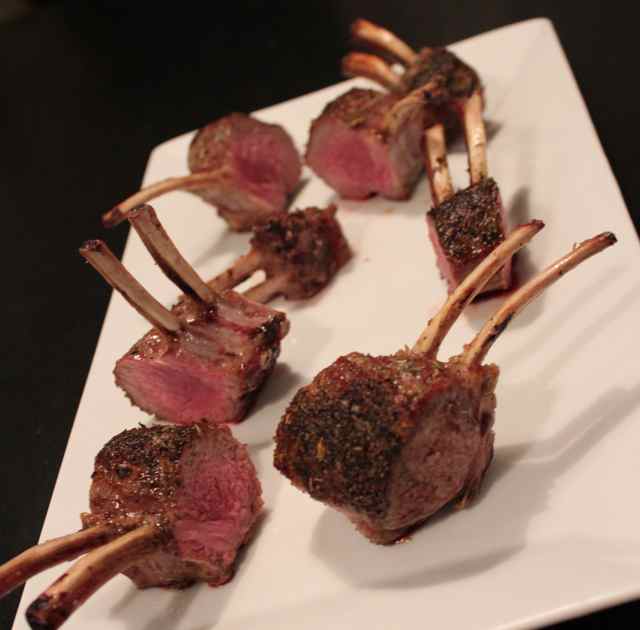 The Goods:
2 racks of lamb

¼ stick of butter, clarified

2 T butter, cubed

Herbes de Provence

S&P
The Execution:
Trim off the big strip of fat.  Some people leave this on.  I don't.  Brush trimmed racks generously with melted clarified butter.  Hit with Herbes de Provence and S&P.  If you are eating soon, let the racks sit and come to room temp.  Otherwise, back into the fridge.  Remember to take them out at least an hour before cooking. 
Preheat oven – 425º.  Heat pan until screaming hot.  Sear racks (meat side down) in a touch of canola, 4 mins.  Put on the exhaust fan for this part.  Then flip racks and pop the pan into oven.  Roast until internal temp is 125º, somewhere between 8 and 12 minutes depending on thickness.   Evacuate from oven, cubed butter into the pan to melt.  (Watch that handle it's hot!!)  Scrape up the browned bits from the pan and baste the racks with the melted butter.  Remove from pan and let sit for at least 5 mins before cutting into double chops.   Drizzle a bit of the melted butter onto the racks as they are served. 
 p.s. – the "tidbits" are the tot's favorite part of this dish.  When trimming the fat, you invariably cut off a bit of meat.  Rather than discarding, scrape the meat off with the side of a sharp knife.  Hit with spices and clarified butter.  When searing the racks, drop the tidbits into the pan alongside.  By the time the racks go in the oven, the tidbits are ready.  Offer as a hint of what's to come….   
AND AS PROMISED — TURKEY PIC FROM TURKEY DAY!