Easter Dinner – Popover and Soup Course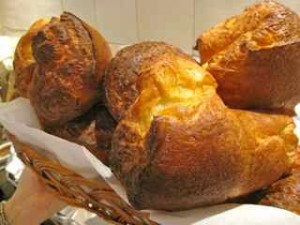 So for this one, we are going on the road.  I've packed my stick blender and my popover pan.  Ready to rock-n-roll this Easter dinner.  Let's take this a course at a time, the next post will start the main meal.  I'll exclude the appies/finger foods here, but we did have a nice spread of cheeses, crackers, nuts and good-ol' shrimp cocktail.  And really spicy bloodies…   But on to the popover and soup course:
Popovers with Maple Butter
Asparagus Soup with Mascarpone
The Prep:
The night before, make the popover batter and put into a ziploc bag.  There are plenty of recipes out there but my go-to is Ina Garten's which you can find at:  FoodNetwork.   And take out a stick of butter to soften.  Once nice and soft, whip it with a bit of sea salt and a decent pour of maple syrup.  Probably 1 part syrup for 3 parts butter.  More syrup is better, but too much and it doesn't hold together so well.
Also the night before, let's crank out the soup.  Slice thin a leek or two, and soak well to get all that grit out.  Melt some butter in a pot (I use a big Le Creuset for this).  Drain the leeks and drop into the pot.  Keep it slow, we are not looking to brown here.  Once they get all wilty looking, smash a clove of garlic or two and add to the pot.  Then a bit of sea salt and a couple turns of pepper.  Wash and rough chop two bundles of asparagus, and add to pot but reserve as many tips as you have guests.   A splash of white wine into the pot, reduced.  Then cover with two boxes of chicken stock and let simmer a good long way.   Once the asparagus is nice and cooked through, hit the whole thing with the stick blender.  Now take the reserved tips and blanch in boiling water for just a minute, shock in ice water, drain and set aside.  And that's it for tonight.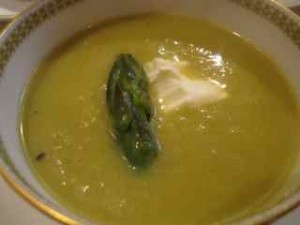 The next day, take the popover batter out of the fridge well before cooking, they 'pop' better when the batter starts at room temp.  Also get the maple butter out of the fridge to soften up.
Slide the popovers into the oven exactly 30 mins before service.  Heat the soup and taste for seasoning. If too thick, add a touch more stock.  If too thin, let it boil down.  Once you are happy with the consistency, add a nice pour of heavy cream.  Just as the popovers are almost done — ladle out the soup, top with a spoon of room-temperature mascarpone, and lay an asparagus tip aside or astride.  Evacuate the popovers from the oven into a nice basket, and serve with the maple butter.  Get them out of the kitchen ASAP so when guests break them open the steam all puffs out.  Nice.
The Pros:
Popovers are fun, and the maple butter is an unexpected twist that really goes over well.  The asparagus soup is easy and tasty.
The Cons:
Cooking popovers can present some timing challenges where you need the oven for other things (like Easter dinner), so you really need to choreograph what's going in the oven when.   Unless you have a double oven in which case I'm jealous.
The Takeaway:
This is a low-stress first course because all the heavy lifting is the night before.  Next time I might use creme fraiche rather than mascarpone, or maybe chop some fresh herbs into the mascarpone.  It was good as it was, but I could have packed some more flavor in that part.