Flavor Fail: Beef Stroga-not
It's not all roses and daisies here at GHT.  We have high expectations and need to bring it.  And once in a while, it happens.  The plan executed, the food lookin' nice, the family hungry.   But then – the big fizzle.  It's just not that good.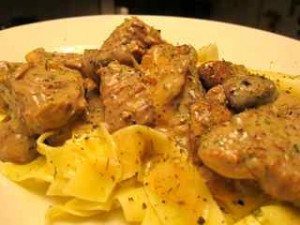 FreshDirect "President's Picks" had a good deal on petit filet mignons, so the Mrs. ordered a couple pounds figuring we could get something together.   We'd been away the weekend, so the first whack I got at the filets was Monday night.   On the 4 train home, it came to me — Beef Stroganoff.  Pasta, steak, mushrooms, sauce.   Nice.  Out of the subway on Fulton, Google a recipe on the bberry along the block home.  Stop by Jubilee, pick up mushrooms, pasta, cream, etc.
Now I'm not going to run thru the prep here, because what I did just failed.  There was a significant lack of any flavor.   So what went wrong?   Let's discuss:
Browning the beef chunks- I crowded the pan and they steamed rather than seared, so I didn't get a nice brown flavorful crust (and there was no fond in the pan to deglaze).
Seasoning – filet is pretty bland, and needs some spice.  I didn't season the chunks well enough before they hit the pan.
Fresh pasta – should be blanched quickly and finished in the sauce.  Here, I left it in the boiling water too long and it lost all bite.   Plus, because it was already overcooked, I didn't finish in the sauce.  So it didn't pick up any of those flavors.
Fresh herbs – this dish needs some (like dill), I didn't use any.
The mushroom cream sauce – flat and muddy.   What it needed was a good hit of acid, like lemon juice or capers or even a splash of vinegar.   The mistake here – I didn't taste as I was going along.   A good sauce can make up for other shortcomings, but here it just highlighted my otherwise poor technique.
Because the pasta was over and the beef didn't get a crust, the whole dish was mono-textural.   Plain Jane.
Lastly, don't trust the first recipe you hit on Google.  Get a few, then compare/contrast.  Take what looks good from each and combine for your own take.
The Takeaway: Most of this flavor fail falls under the heading: "In a rush and cut corners."   Had I taken a few more minutes and a little more care, this meal wouldn't have gone all pear-shaped on me.   But I will try this dish again, if only because this take was so miserable that I have something to prove.   Don't let the fails get you down, people, get back in the kitchen and do it right!