Greek-Style Lamb Sliders. Opa! (can i say that?)
There's not much wrong with these sliders.  I mean really.   Toasted brioche roll, oregano-seasoned lamb, black olive tapenade, feta cheese, tzatziki, tomato slice, pickled red onions and mint leaves.  All in a 4-bite package.  We did these on a Saturday night up on the roof deck with some friends.   It started raining on us right at service. Nobody left the table.
The Prep:
The Lamb: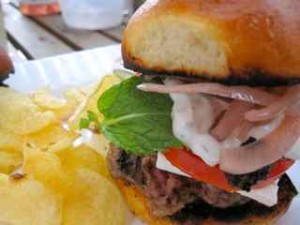 Ground lamb shoulder.   Good drizzle of olive oil, sea salt, cracked pepper, garlic powder.  And lots of oregano.
Mix gently with hands.
Form small patties, chill.
The Tzatziki:
Peel, seed and dice fine a hothouse cuke.
Put in middle of a clean dish towel, gather into a ball.  Hold the top of the towel together and twist the ball so it tightens up, continue to twist hard and squeeze out all the water you can from the cuke.
Chop and then smash clove or two of garlic into a paste with the side of a knife, kosher salt as an abrasive.
Plain greek yogurt, garlic, squeezed cuke into a bowl.  Salt, pepper, dill (preferably fresh chopped, but I didn't have any fresh on hand and dried worked fine here).   Drizzle of olive oil, squeeze of fresh lemon juice.
The Rest:
Sliced feta cheese.
Sliced plum tomato.
Brioche roll.
Mint leaves.
Black olive tapenade.  I should have made this myself, but didn't.
Pickled red onion.  I did make this.  I have a tub of these in my fridge at all times.  Michael Symon recipe.
Grill the lamb burgers just a few minutes each side, evacuate and quickly toast the brioche rolls.  Then let your guests assemble their own.
The Pros:
Not your usual slider, a high-class gyro.  When you bite in, it's all like 'hey now'.
The Cons:
I should have made my own tapenade.
The Takeaway:
If you want to get high-end mixologist, save your cucumber water from squeezing the cukes.  Shake it up with ice, Grey Goose, squeeze of lime juice.  Rim a martini glass with kosher salt mixed with ground chipotle.  Strain booze into glass, float a thinly sliced cucumber on top.  Now that's eating your veggies.