Guest Blogger – Chef Duncan's Lamb and Lemony Couscous
Gotham Home Table:
Good friend and fellow cooking dad is taking over this week with a delectable lamb and lemony couscous.  We've had the pleasure of many a meal from Duncan's kitchen, and you can bet this is a winner-winner lamb dinner:
Chef Duncan's Lamb and Lemony Couscous:
This one is a crowd pleaser ideal for entertaining especially if you add your favourite mezze as the appy. It will also serve as a low stress sunday dinner with the leftovers easy to reheat and throw on a sandwich mid week! Enjoy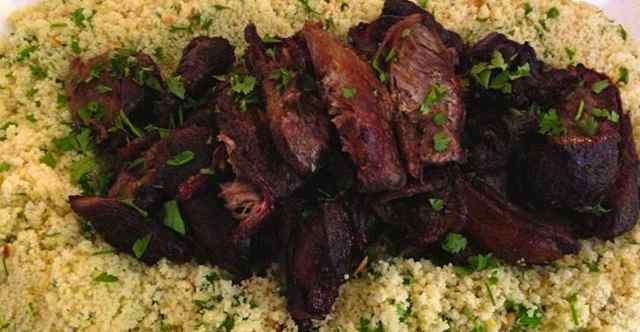 Boneless Lamb shoulder – you will want about 1lb uncooked weight per person
2 and 1/2 heads of garlic
2 handfuls of chopped flat leaf parsley
2 cups ready cook couscous
Small handful of roasted almond slivers
Blend up one handful of the parsley, the zest of 2 of the lemons and half a head of the garlic and rub into the lamb – if possible leave in the fridge to marinate for a couple of hours.
About 5 hours before you want to eat pre-heat the oven to 375º and put the lamb into a roasting pan with the two full heads of garlic – leave the garlic whole but slice off the root to expose the cloves a little. Also add the two lemons you zested for the marinade halved into the pan. Scatter a sprinkle of the paprika over the lamb before you put the lot into the oven.
After 20 mins reduce the heat to 325º and gently use tongs to squeeze some of the juice from the lemon halves over the lamb and remove the lemon and any seeds you've squeezed in. Add about 1L of the stock and put the lamb back in the oven…from here it's basically a waiting game. After about 5 hrs, turning every 30 mins, and topping up the stock if it dries out, you should be good to go. 
10 mins before serving bring 2 cups of the remaining stock to the boil with the chopped zest of the last lemon and a generous splash of EVOO. Once boiling remove from the heat and add the couscous. Let stand as per instructions on the packet and when ready add the juice of the lemon and "fluff" the couscous with a fork. Then mix in the almonds and the remaining parsley.
Slice the lamb into rustic chunks and serve with the couscous and a side of green beans.
GOTHAM HOME TABLE:
Thanks Duncan!  This one will go into the rotation.  Or maybe we'll just come over your place…
p.s.  NO PICTURES AT KARAOKE