Guest Blogger: Chef Pauley Boy's Meatloaf Muffins
GHT: Every so often here at GHT we are going to hand over the spatula to like-minded friends.  I'm pleased to introduce Chef Pauley Boy (of Chow Haul fame).  CPB is a dad who cooks, and like GHT was one of Uncle Sam's Misguided Children in a past life.  Today CPB is bringing us his Meatloaf Muffins. Take it away Pauley!
CPB:
In an attempt to get my daughter to eat meatloaf I decided to disguise it as a cupcake. By baking the meatloaf in a muffin tray and topping it with potato puree and a grape tomato this otherwise ordinary looking comfort food becomes fun. Oh yes and that is a mac and cheese cupcake on the plate as well.
CAJUN MEATLOAF MUFFINS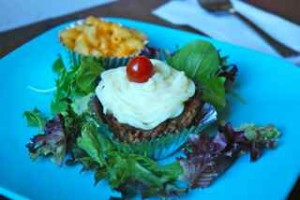 2 teaspoons butter
1/2 large onion
1/2 cup green pepper, chopped
1 tsp salt
3/4 tsp cayenne pepper
1/2 tsp thyme
1/2 tsp freshly ground pepper
1/4 tsp ground cumin
1 lb lean ground beef
1 egg, beaten to blend
1/2 cup fine dry bread crumbs
1/2 cup catsup
1 tsp Worcestershire sauce
Preheat oven to 375°F.
Melt butter in a heavy medium skillet over medium to low heat. Add next 7 ingredients and cook until vegetables are tender, about 10 minutes. Combine meat, egg, breadcrumbs, 1/4 cup catsup and Worcestshire sauce and load into a muffin tray.
Bake for 25 minutes and top with mashed potatoes and a grape tomato.
GHT: Thanks Chef Pauley Boy, from personal experience I know how good those taste.   Now let's leave you all with a pic of me and CPB rockin' the vintage polyester.   Cause that's how we roll.