Mango Salsa for Fish Tacos
Fish tacos taste like summer.  We do them in soft corn tortillas.  Chunks of ripe avocado tossed with cilantro, lime and S&P.   A drizzle of sour cream mixed with plain yogurt or mayo, lime zest and chipotle tabasco.  Some white fish — tilapia, maybe cod.  Thin sliced, lightly battered and quick fried to a nice crunch.   And for that little touch of hot sweet, a good throw of spicy mango salsa: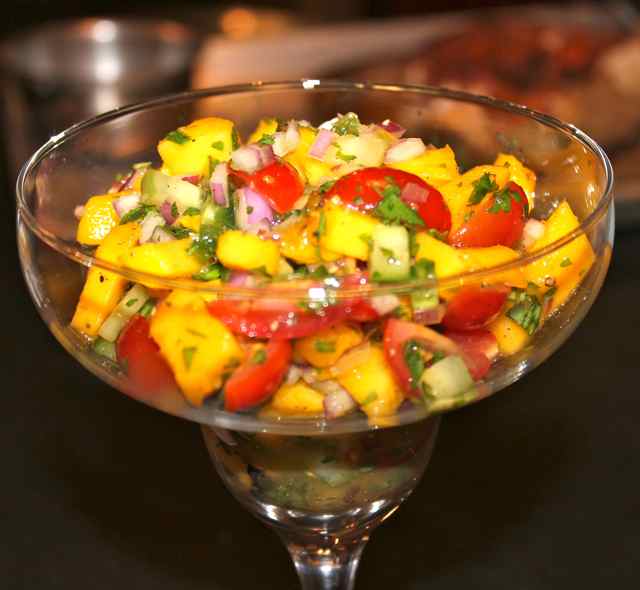 The Goods: 
1 ripe mango, diced.

1 plum tomato, seeded and diced – or a few grape tomatoes, quartered.

1/4 small red onion, small dice (ciseler).

1/2 hothouse cucumber, seeded and diced.

Cilantro, washed well and chopped fine (hacher).

1 jalapeño, ciseler.

Juice of 1 lime, S&P.
The Execution:
Mix it all up.  It's on.  
The Takeaway:  
If I were ever to suddenly be taken by irresponsibility, I imagine fish tacos are what I would be serving from a truck near the ocean somewhere.  That's not really in the master plan, but I'm getting my beach on with some surf lessons.  As the wife and tot will attest (btw thanks for coming, ladies!), it was something of a flail-fest the first time out.  Here's me just barely almost kind of on the way to catching a wave: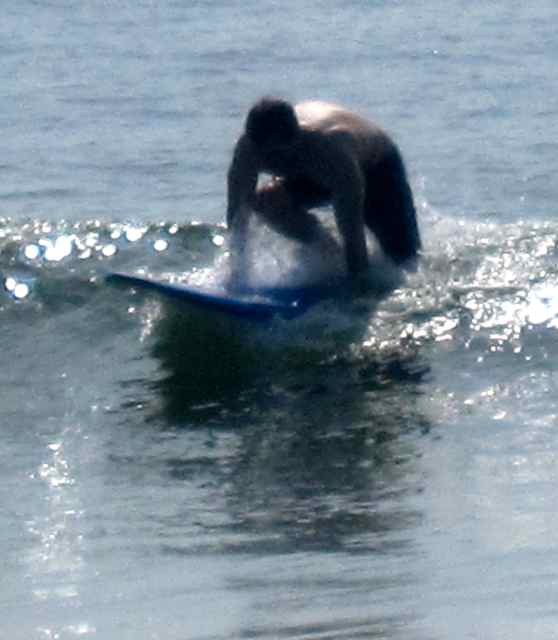 p.s. – oddly, me and the other students before, after and next to me were all 'of a certain age.'  On the other hand, my instructor was like 12 years old.