Molten Lemon Cake
Can't stand baking.  What with the exact measuring/timing and all.  And then there's all the stuff – measuring spoons, cups, little boxes of powder, cannisters of things.  Excavating for baking dishes buried in the far reaches of the cabinet. What a hassle.  
But there's a few things we'll bake now and again, and here's one of them.  An old family recipe, labeled "Lemon Pudding"  —  kind of misleading because the top half actually turns into an airy lemon cake.  The bottom, though, is a thick lemony pudding.  Nice contrast, and easy to put together. This is great after a holiday dinner.  Something light and tart after a leg of lamb or a big ol' standing rib roast.  And for baking, it's not that annoying to prepare.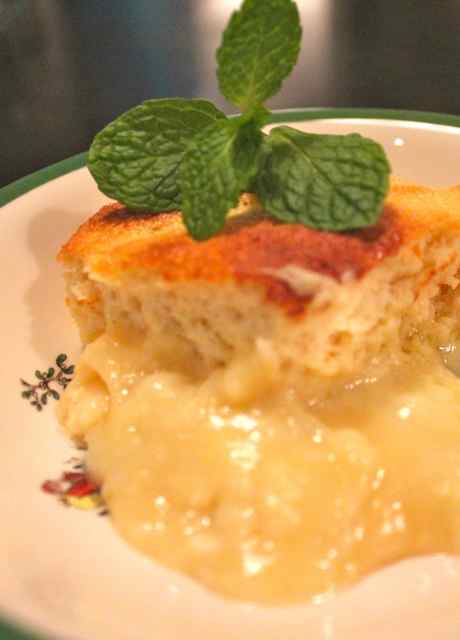 The Goods:
1 C sugar

2 T butter, melted

5 T fresh squeezed lemon juice

Zest from 2 lemons, minced fine

1½ C whole milk

4 T flour

1/8 t salt

3 separated eggs
The Execution:
Oven to 350º. Beat egg yolks into sugar, add in everything else except the egg whites.   Beat whites into stiff peaks, gently fold into mix.  Pour into buttered 1½ quart casserole.  Put in pan of warm water and slide carefully into oven for 45 minutes at most.  Evacuate when top gets browned — like this: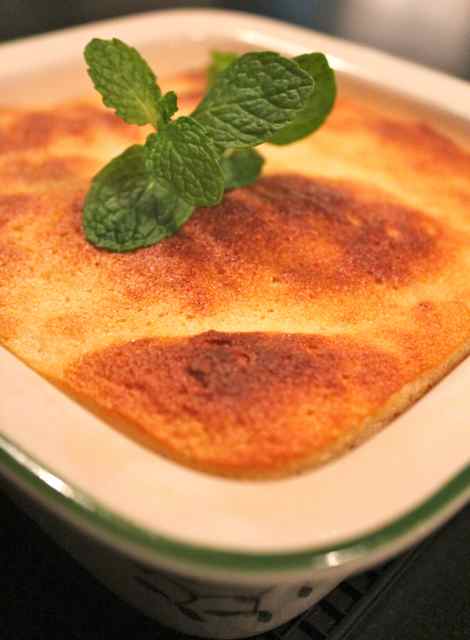 Serve warm with a sprig of mint, maybe a snifter of Grand Marnier mixed with a touch of Cognac on the side…  
p.s. – you can do these in individual ramekins too, just reduce the baking time. We rolled out individual lemon puddings for the tot and her little compadres a while back, was a big hit.