Pickled grapes?  Really?  Stay with me on this, people.
The Prep: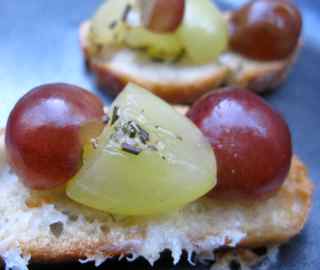 Quarter large grapes, or halve small ones.  Mix up colors. Pop into ziploc.
Pour in a bit of champagne vinegar – lightly coating, not submerging.  S&P and finely diced fresh rosemary.  Let it sit and get all intimate.
Slice baguette thin, brush with olive oil, toast in 350° oven five mins.
When ready for service, top baguette toasts with grated gruyere, pop back into oven just to melt cheese.
Evacuate, add pickled grapes.  Serve.
The Takeaway:
My mother in law suggested this one, I think she had it as a sample at Whole Foods.  Served at our Bar Opening Brunch last weekend, alongside the goat cheese tapenade number.  Nice contrast between the two.   Couldn't put them out fast enough, gone by the time the little one and her friends realized appies were even happening.  Tough luck, kids.  There are the quick, and there are the hungry.
p.s. – as requested, here is a pic of the new bar.  I'll do a close-up of an infinity-glass shelf next week.  Happy holidays everyone!!