Newport Steaks and Twinkie Shame
Haven't had a Twinkie in like 20 years.  But hearing the news, suddenly craved one like never before.  Childhood memories replayed – the white box high atop the fridge, out of reach of small hands.  Chemically un-natural but oddly tasty yellowish cake, tightly hugging post apocalptic-approved cream.  The cream in turn holding itself blankly in a suspended perma-grin animation.  A fabulous abomination, a train wreck of awesome.  I do not endorse the Twinkie or anything it represents.  And yet it calls me after all this time. 
Apparently I'm not alone.  Went to eight stores on Friday — eight.   Three over lunch in midtown and five downtown after work.  The news broke just hours before, but the Hostess shelves were bare.  I desperately emailed family members and old friends — "Stock up!! Send some!!"  Quite the shameful spectacle going down here in Manhattan.  A run on the Twinkies indeed.
But turning our attention a little higher, there is the Florence Meat Market and its vaguely mysterious "Newport Steak" — which appears to be a tri-tip steak cut just so…. My Twinkie mis-adventures brought me to the West Village on Friday evening, and I've been meaning to visit this shop for a while.  Here's the shop: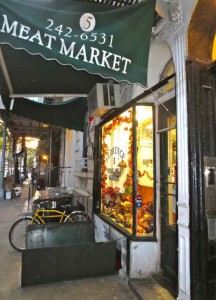 They portioned the steaks right in front of me from a primal cut, which was really cool to watch.  This place is old-school, there's like saws and stuff hanging off the walls (that they actually use), sawdust on the floor (really) and meat meat meat everywhere.  A carnivorous playground.  
(lots of pics this week keep scrolling down)
While the butcher was slicing my Newports, I noticed some nice slab bacon too … here was the haul: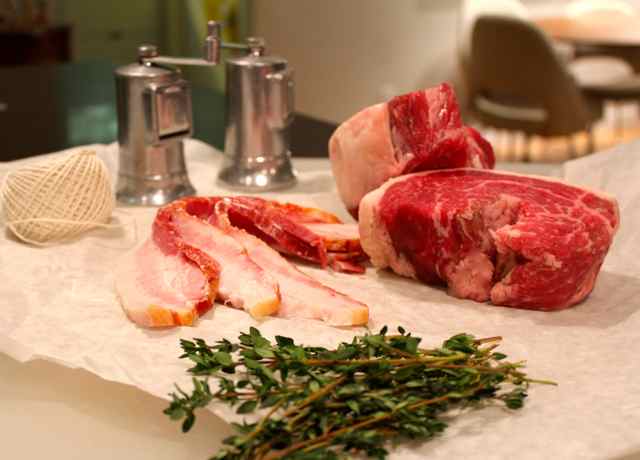 There was a pretty significant fat cap (see above) so I sliced that off with a boning knife and replaced it with BACON, secured with a length of twine.  Salt/pepper/garlic powder and here's how they looked: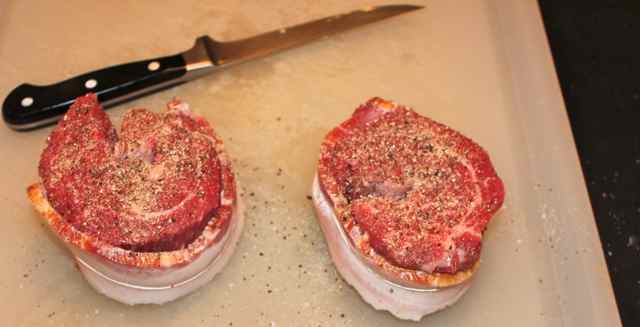 Seared on the stovetop with a splash of oil for 4 mins a side, finished in a 450º oven until internal temp was 125º, about 7 minutes here.  Before evacuating, melted a knob of butter in the pan and basted the steaks.  On to the service: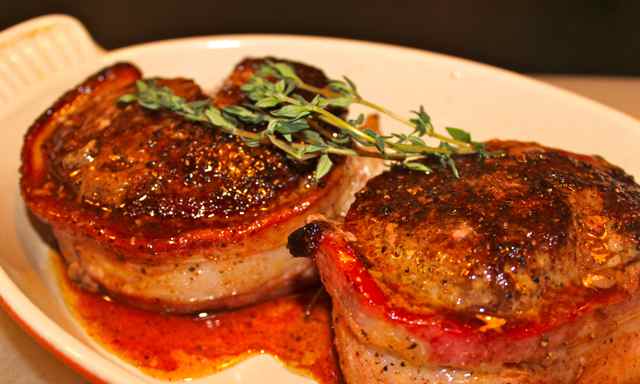 Served this with some roasted mushrooms, asparagus and little tiny potatoes.   I should have done a sauce but that didn't happen.  A nice cabernet-peppercorn reduction would do the trick.  
p.s.  SEND TWINKIES