One more 80's food post? Cue the Man Quiche.
Did you think I might have one more 80's food post?  Well, can I totally kill Home Sweet Home at the 2:00 a.m. after-party karaoke?   That's what I thought.   So pop the Mötley Crüe cassette tape into the yellow plastic Walkman and head bang your way into the kitchen.  It's on.
The Prep:
There was a popular book in the 80's: "Real Men Don't Eat Quiche."  Well, maybe not frilly fancy quiche.  But this, people, is no effeminate luncheon quiche.  Say it with me: "GIVE US THE MAN QUICHE!!"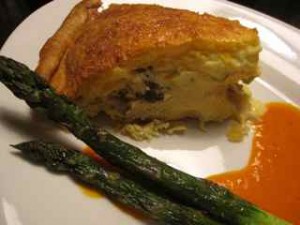 Oven on 400.
Pan on the stove top, medium heat.
Make pie crust dough.  But I won't judge you for buying the refrigerated prepared ones.
Lay the crust into the pie pan, and poke it all over with a fork ("docking"), which will keep it from puffing up to much.
Par bake the crust just until it firms up and takes on a touch of color, maybe 10 minutes.
Chop up some chunks of slab bacon into cubes.  Into the hot pan for a nice brown sear.
When the crust comes out, sprinkle with some grated cheddar/pepper jack.  The cheese will melt a bit and seal up any cracks, and also help keep the bottom crust from getting soggy when we add in the egg mix.
Ok, let's get a leek involved:
Slice a leek.  Wash it good, there's a lot of grit going on.
After you evacuate the bacon, drain off some of the rendered fat, add a knob of butter and drop in the leeks.  No, people, I didn't drain off all the bacon fat.  And yes, then I added butter.  That just happened.  Man Quiche.
Just wilt the leeks a bit, then off.
Now everybody else:
8 to 10 or so eggs.  Not really sure the exact number here, depends on the size of your pie pan and eggs.  Solid pour of cream (and/or crème fraiche, sour cream, greek yogurt, etc.).  Salt, pepper, cayenne pepper.  A touch of dijon.  Whisk.  Stir in leeks.
Pie pan onto a cookie sheet.  Pour in the eggs.  Drop in the bacon.  Shredded cheese all over, and with your fingers lightly press into the egg mixture.
Into the oven until it firms up and a knife inserted in the middle comes out clean.
The Pros:
This is basically a bacon egg n' cheese wrapped in pie crust.  What could possibly go wrong??
The Cons:
Well, some things can go wrong.  Overcooked?  Rubber pie.  Undercooked?  Runny and kind of gross.  So let's keep our eyes on it.  Jiggle it every few minutes after 20 mins or so.  As it gets nearer, the jiggly part gets smaller and smaller.   When the last jiggle tightens up, stick a knife in the middle and if it comes out clean, we are done.
Oh — and the Mrs.'s review of the Man Quiche?  "Needs some vegetables.  And the bacon chunks are too big and fatty."  So next time, I'm going to have to roll out the Femme Quiche.  The ladies outnumber me here.
The Takeaway:
Well, friends, this brings a tasty conclusion to our 80's food segment here at GHT.  And now?  I think we'll work on some appies.  See you all next week.