Roasted Beet Stack
Here's a dish that's dressed to impress.  Hey there, beets – lookin' pretty dapper.
The Goods: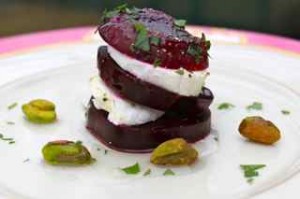 Beets
Fresh thyme and parsley
Goat cheese
Roasted salted pistachios
Olive oil
Champagne vinegar
The Execution:
Oven to 425°.  Wash beets, cut off tops and tails.  Drizzle beets with olive oil, wrap individually in foil with sprigs of fresh thyme.  Roast 1 hour.  Let cool, peel and slice.  The peel kind of slips off, I scrape it gently with a paring knife.  Slice goat cheese log into rounds.  Stack – alternating between beets and cheese.  Drizzle of olive oil and champagne vinegar, hit with some cracked pepper and kosher salt.  Garnish with chopped thyme and parsley.   Throw a few pistachios around for some crunch.
The Takeaway:
Good holiday/company dish.  It's really easy and you can do everything but assembly in advance.  And beets are fun to trot out now and again.
p.s. – Save the greens.  Chop and sauté with some olive oil, butter, sliced garlic and shallot.  Hit with some S&P and nutmeg.   Don't forget to wash the greens really well or  it will be gritty.  Nobody wants gritty.