Roasted Marrow Bones with Herb Salad
This is one of those awesome dishes you only seem to see out at restaurants, but it's pretty easy and quick for home service.  First, soak those bones in some salted water for a few hours.  Prep but don't dress the herb salad – wash your herbs, slice shallots, zest and juice a lemon.  And pick off your herb leaves intact, no need to chop.  Parsley is most traditional here, but you can mix it up.  When you are 2o mins out, pat dry bones and then drop into 425º oven on sizzle platter or cookie sheet lined with foil.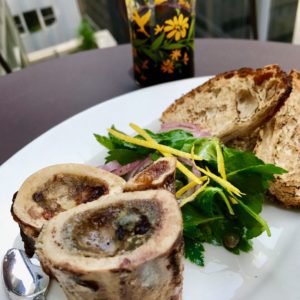 Roast bones 15-20 mins.  Meanwhile, mix and dress your herb salad – herbs, capers, shallots, olive oil, lemon juice and S&P.  Garnish with lemon zest.   Thick slices of bread, toasted – here, I hit them quickly with my new toy – the Bernzomatic blow torch.  Yeehaw!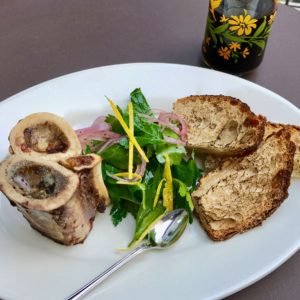 Smear that marrowy goodness over your bread and top with a bit of the salad – hey now.