Salad For Dinner – the NKI?
Ummm, salad for dinner?  Really?  Don't worry, people.  This is no wimpy toss of greens.  We are placing together a hearty (yes, hearty) arranged salad in the style of Nice, France: a Salad Niçoise.  Let's take a few liberties with the traditional bent, but conceptually we'll enjoy our salad along the Côte d'Azur.  Not that I've actually ever been there. But you get it.
The Prep:
The veg and eggs: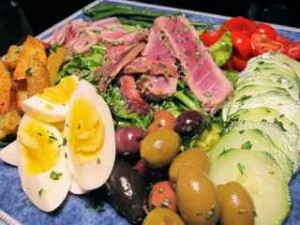 Oven on, pot of salty water to boil.
Veg prep therapy (on a cookie sheet together — see pic below)- slice grape tomatoes, trim green beans, slice red onions, partially peel and slice cukes, quarter fingerling potatoes, chop herbs (chives, parsley, tarragon, your call).  Tear and wash Boston lettuce.
Oven heated, potatoes tossed with olive oil, S&P and in.
Water boiling – green beans in just until crisp tender, shock in ice bath, dry.   Don't pour out the boiling water!
Flame down for a low simmer, a few eggs in for just 8 minutes or so.  I like the yolks creamy, not chalky with the depressing green ring.  Shock in ice water, peel.
Potatoes out when browned.
The tuna:
Pat steaks dry with paper towel.
Coat in a mixture of black and white sesame seeds and S&P.
Touch of oil in hot pan.  Just a lingering kiss on each side.
Slice thin.
The dressing:
In order from most to least:  olive oil, lemon juice, rice wine vinegar, dijon mustard, agave nectar, smashed garlic clove, S&P.    Similar to the steak salad dressing, but with a softer vinegar.
The plating:
Separately toss each veg with dressing.  Plate.
Olives, quartered eggs.
Tuna slices, anchovies.
Sprinkle with chopped herbs.
Mise en Place:
The 'Arranged Salad' differs from the ordinary salad, in that each item is separately dressed and plated (i.e., arranged) rather than everyone getting tossed in a bowl together.  This means there's a lot of activity at the plating stage, and we need that to go smoothly.  The answer? Mise en place.  Everything in its place.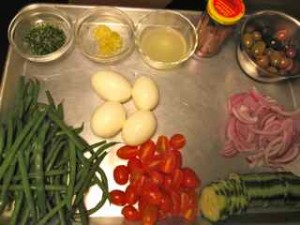 Here's a pic of my veg mis for this dish:
p.s. – Yes, traditionally it's steamed potatoes and canned tuna.  But we are not afraid to annoy French chefs here at GHT.
p.s.s. – "Occupy Wall Street" still going down here.  The Mrs. and the little one got caught in one of the marches on their way to dance class earlier this week.   Wonder if the crowd realizes that most of the banks/funds are actually in Midtown now.  Wall Street has a New York Sports Club I go to every so often.  And a nice Duane Reade (the one with the sushi bar).   Our church is right there too.  But finance professionals?  Other than DB, not so much.