Tex-Mex Sushi.  Let it happen to you.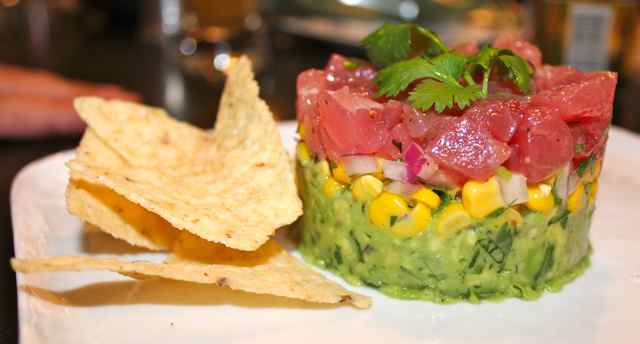 The Goods:
The perfect guac

Corn tossed with cilantro, red onion and jalapeño

Sushi grade tuna, cubed and tossed with a bit of S&P, neutral oil and ponzu

Tortilla chips
The Execution:
To form this tasty little tower I use a 4 inch long piece of PVC pipe.  Guac on the bottom, then the corn salsa, and finally the tuna.  Slide pipe up and off.  Drizzle a bit of ponzu over, garnish with a sprig of cilantro.  Serve with tortilla chips.  
The Takeaway:
We served this dish for friends — a light dinner after a fundraiser for the little one's school on a recent fall Sunday afternoon.  Go Spruce Street P.S. 397! 
And here's the dish getting taken down: