Saturday Greenmarket Brunch – Early March 2011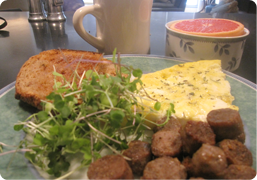 Struggled with the 9:30 Soul Survivor class up in Union Square, but got through it and back out into our chilly city.   Hungry and ready for a stroll through the greenmarket.  No real plan, we'll see what looks good.   Half a skim latte later, here's the haul:
Fresh Eggs
Lamb Sausage
Crusty Wheat Bread
Salted Chevre
Microgreens (cool!)
Back at the Room I've got espresso, some nice European butter and ruby red grapefruit.  So we're all set.
The Prep:
Roll into the Room.  Oven on, butter out of the fridge to soften, espresso maker on, microgreens to soak in the salad spinner.   Hop in the shower, by the time I'm out the ladies have arrived back home from ballet.   Pull a couple shots for some nice warm lattes.   The little one starts setting the table.
Skillet on medium.  Strip casings off lamb sausage (you can keep these on for a little snap if you like) and slice into small chunks, toss in a bit of olive oil with S&P and good bit of rubbed sage.  Onto a sheet pan and into the oven.
Eggs beat with a touch of milk and S&P.  Melt a nut of butter into the skillet, eggs in. The toast goes down.   Goat cheese spooned (it's really fresh = more creamy than crumbly) all around the top of the eggs, and the skillet goes into the oven next to the (now nearly done) sausage.  Drain, spin and pat dry microgreens, halve grapefruits.    Toast pops, buttered.   Eggs in just until the middle is just barely set, and then out.   Plate up, with a sprinkle of Herbes de Provence to finish.
The Pros:
It was a snap to put together, and the goat cheese was nice and tangy and really made it happen.  The microgreens were fun too.   It was a light, tasty and fairly healthy brunch.
The Cons:
The lamb sausage was good, but visually unappealing.  Maybe next time I'd flatten them into patties, which would look less like you-know-what.    And the microgreens would have been better with a touch of olive oil and rice wine vinegar.   Lastly, the plate was a little earth tone-y.  Maybe to brighten it up, some roasted red peppers and olive oil whirled up in the blender for a 'ketchup'.
The Takeaway:
I'd do this meal again, but it won't get heavy rotation.  Would be very nice for when company sleeps over, it's easy breezy and not too heavy.