Seared Venison over Polenta with Wild Mushroom Ragu
Can never pass up venison on a menu, and thanks to S's colleague from work I've landed a loin to cook up at home.  A light slick of olive oil, some S&P, garlic powder and chopped rosemary is all.  It's a lean cut, a quick sear on each side will do the trick.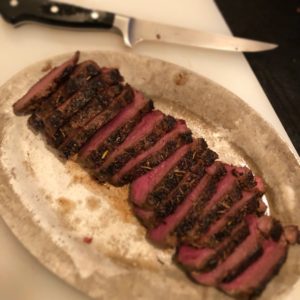 Make a nice creamy polenta – maybe a handful of shredded cheddar beat in at the end.   Sauté some wild mushrooms in a touch of butter and some fresh herbs.  Garnish with some sliced scallions and crispy fried shallot.