Steaks Diane – 80's Night Baby!
So cue up the Night Ranger.  Feather up the hair.  Peg-leg the jeans, and break out the Adidas Sambas.  Let's take it on back, people.   Back when Atari was big, and so were Steaks Diane.  Let's get it on, 80's style!
The Prep:
Prime ribeyes, trimmed and halved.  Pounded out thin.  I let the little one do that, she has a lot of fun with it.  Salt, pepper and set aside.
Shallots diced, parsley minced, mushrooms sliced (I used shitake here, but whatever moves you).  Now the rest of the mis lined up: oil, cognac, dijon mustard, Worcestershire, lemon juice, chicken stock, capers, butter, cream.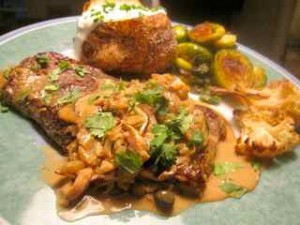 Now this is traditionally a table-side prep and there's an awesome fireball involved.  So wait until the very last minute to make this happen so your guests can enjoy the show.  Just make sure every ingredient is prepped and ready to hit it.
Pan on screaming hot, oil in.  Half of the steaks in, just a long kiss until browned. Flip, another kiss.  And out.  Same gig round two.
Now dial the heat down a bit and the shallots go in.  And now the fun part – off the flame, a hit of cognac.  Then tip the pan back onto the flame to send up the giant fireball!!!!  WOOOOOO!!!  Good times.  This part freaks out the Mrs., but really it's awesome.  I use like twice the amount of cognac generally recommended for this recipe.  So stand back.
Once the congac burns out, add the mushrooms and a bit of butter.  As the mushrooms release their liquid, add a bit of dijon, a couple hits of Worcestershire, the lemon juice and chicken stock and turn the heat up.  Let it all reduce a bit, and when it's lookin' all good then stir in a little pour of cream and half a palmful of capers.
Now return the steaks (and juices) to the pan to warm through, and we are plating.  Steaks on the plate, sauce over, parsley sprinkled atop.
Served this with a baked potato and chive-d sour cream, and a mix of roasted brussels sprouts and roasted cauliflower.  All right all right.  Don't Stop Believin'!!
The Pros:
It's almost as awesome as the 80's were.  Did I tell you I rented Hot Tub Time Machine three times?  And really like steak?
The Cons:
This is tough to do for a lot of people at once.  At 5+ guests you need to get an extra pan going which can turn your kitchen choreography askew.  Do-able, but incrementally more difficult.  Also, the plate came across a bit earth-toney (again), perhaps something red would help.  Maybe some grape tomatoes tossed in oil, garlic and salt and then quickly roasted.
The Takeaway:
There is fire involved.   And my Whitesnake/Poison playlist.   Get it on.