Avocado love transcends chips and guac, people.
Sunny ups, cracked pepper and a bit of fresh thyme.  Crispy bacon, baby. Country bread, slathered with some salty European butter.  Topped with a little something-something to make your day –  ripe avocado, smashed with some lemon juice, kosher salt and cayenne pepper.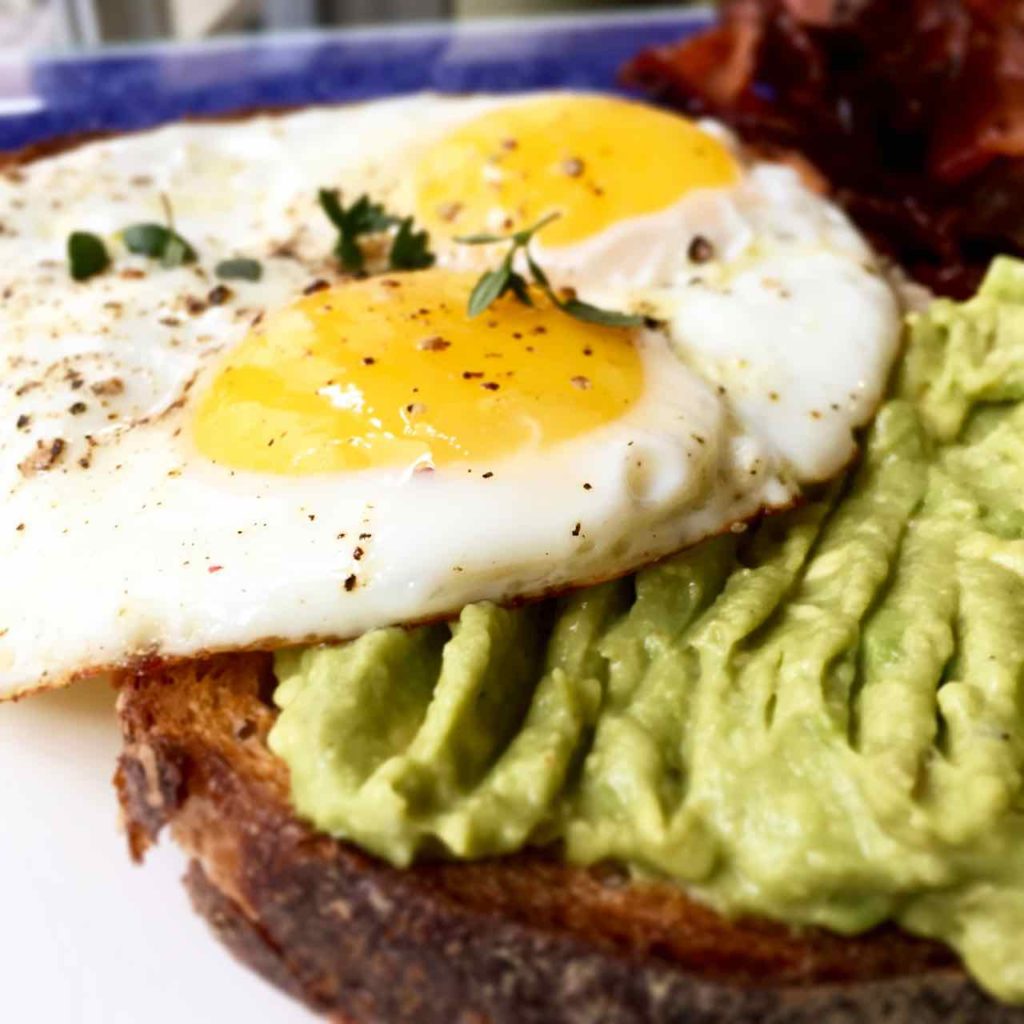 Let's trick out a good ol' BLT with roasted garlic aioli.  You may recall our friend roasted garlic from the Tuscan Bean Dip post.  Hey, there roasted garlic.  Nice to see you again.
The Goods: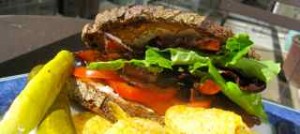 Whole wheat sourdough bread.
Double-smoked slab bacon (or just regular old bacon).
Heirloom tomatoes, sliced not too thin.
Boston lettuce, washed, dried.
Head of garlic, olive oil, mayo, lemon.
The Execution:
Slice the top off the garlic, reserve for another use.  Drop the exposed head into a ramekin, drizzle with olive oil.  Cover with foil, into a 350º oven for an hour or so.  Evacuate (but don't turn off oven).  Let cool and squeeze roasted cloves into about a half cup of mayo. Whip it all up with a bit of lemon zest for some zip, S&P in.  Now the bacon – into the oven on a sheet pan until crisp.  Keep on top of it, timing varies.  I start checking after about 12 mins, but sometimes it just takes forever.  If I'm pressed for time I go with a 425° oven, which is quicker but significantly reduces the margin for error.   Toast bread, smear with the aioli (both top and bottom pieces please!), then tomato, bacon, lettuce.  Enjoy with some spicy dill pickles and vinegar chips.
The Takeaway:
I love me a good BLT.  We had this for lunch last Sunday.  I could have this for lunch every Sunday.  Well, unless we were going for soup dumplings at 456 Shanghai after church.  We go to church in Chinatown now, that's where they have the Sunday school.  The one closest to us, a block north of Wall, is more of a weekday business church so they don't have a kids program.  But the one in Chinatown does, and so we walk over there every week.  My little friend, the only blonde head in the whole congregation.  After church she can put away those soup dumplings, hammering a whole bamboo steamer with ease.  She likes the pork ones.  I go for the pork/crab.  There's also a great fried dumpling place halfway up the little hill that's Mosco, which has to be the shortest street in the city.  For $1 you get five dumplings from a surly lady.  The place is called "Fried Dumpling".  The whole family's somewhat addicted.
p.s. – Not really happy with the BLT picture.  The background's a mess, and you can't really make out the aioli, or the bacon for that matter.  Need to step it up.  And yes, I do know how they get the soup into the soup dumplings.  Interested?
Seriously??  Whiskey Caramel Bacon Candy.  I mean really, come on now. Let's say it again all together: Whiskey Caramel Bacon Candy.  Yes.  Can a Jarhead get an Ooh-Rah please.
The ladies are down in Myrtle beach this week.  So we are trotting out some Man Food to accompany the bad movies I'll rent in their absence (Hot Tub Time Machine?? Again??).  Bacon comes to mind.  And maybe Whiskey. Let's get something going on.  Something smokey.  Something sweet but boozy.  A little something-something:
The Prep: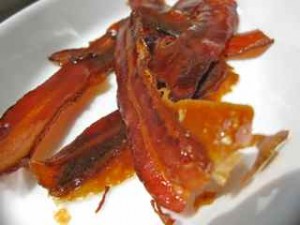 The Whiskey Caramel:
1 cup sugar

1/4 cup water

Little squeeze of agave nectar

Gently boil together until dark amber

Off heat, stir in 1/4 cup heavy cream.  Lots of bubbling.

Add 1/4 cup Maker's Mark

Back on heat for just a minute.   Cool a while and funnel into squeeze bottle.
GHT followers know we're usually not so precise with measurements. But this week is more like baking than cooking, and the ratios need to be pretty close. So forgive the exactitude, we'll get all loosey goosey again next time.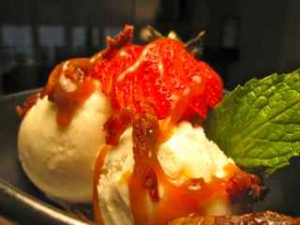 The Bacon Candy:
Oven to 375°

Double-Smoked slab bacon, sliced thin.

Into the oven until the strips threaten to crisp but are still pliable.

Remove, drizzle a bit of Whiskey Caramel on each.

Back in the oven (on some parchment paper this time), a few mins more until crisp.

Drain on a wire rack.
The Takeaway:
Straight off the rack, still warm, fatty, crisp and oozey.  With a snifter of good peaty scotch and some Barry White.  Supporting member of a crazy-good cheese course.  Alongside a ripe summer peach, Barefoot Blue Jean Night playing in the background.  Awesome.  Crumbled over vanilla ice cream with mint, more whiskey caramel and a strawberry (pic above).  Funky dinner-party intermezzo.  Possibilities?  Endless.   Whiskey Caramel Bacon Candy.  Yes.