Comments Off on Blueberry Johnnycakes with Fresh Figs and BACON
Make this happen to your Sunday morning.  Basic blueberry pancake recipe, but substitute in stone-ground cornmeal for about 1/3d of the flour. A nice little bite, a sweet little crunch…  Oh and we had figs.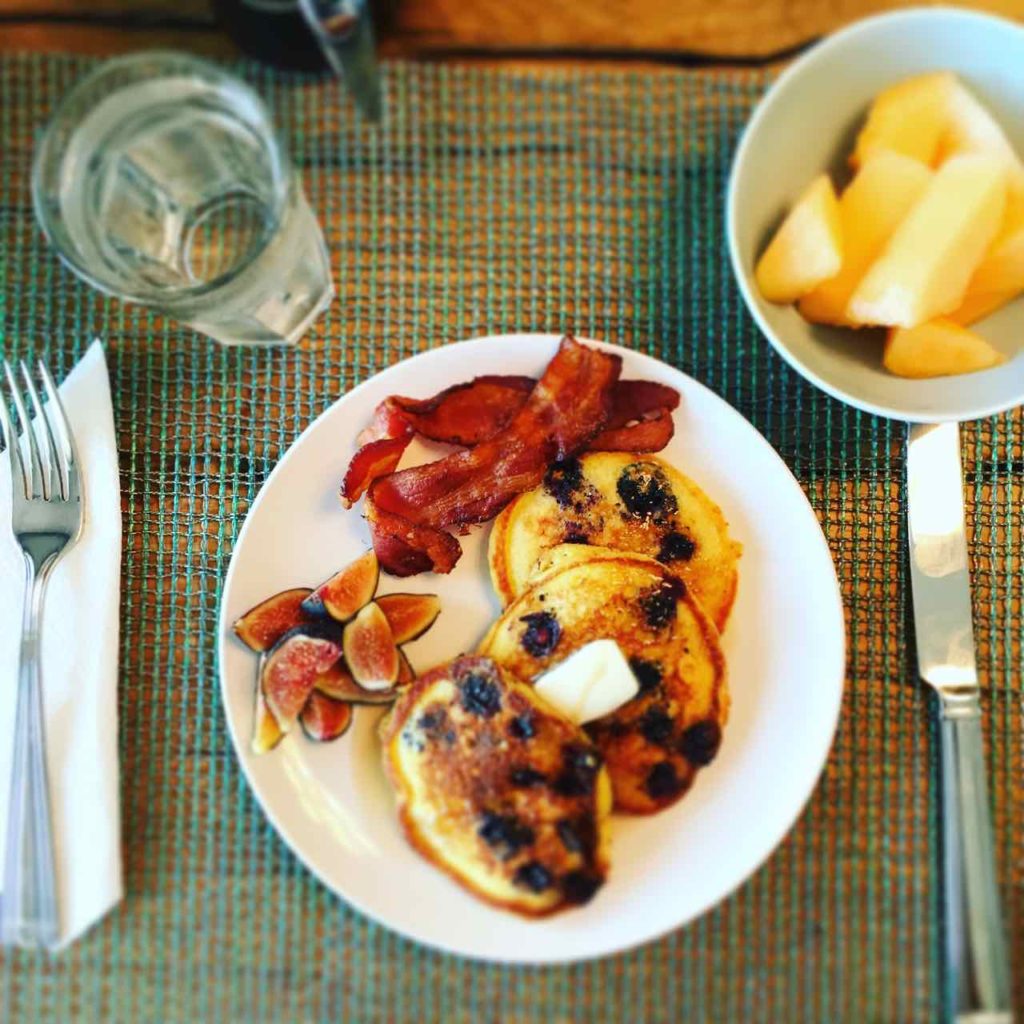 Comments Off on BA Lemon Ricotta Pancakes Review. Winning.
Out this last Father's day for brunch at Beauty and Essex in the gritty LES (pawn shop in front, restaurant hidden in the back).  The little one was all about the lemon pancakes with ricotta.  So let's re-create. I tried this recipe from Bon Appétite.  Yes, occasionally GHT follows a recipe.   Particularly for baking.  It's a chemical reaction, people, I can't wing that.
Thoughts on the Recipe: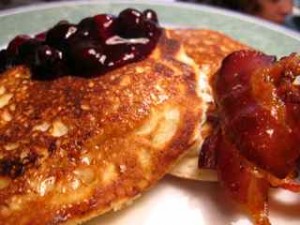 I followed the recipe pretty closely, with a couple exceptions:
Tribeca WF didn't have chestnut flour, I used hazelnut flour.  You could sub in most any nut-flour, but don't omit.  It added that interesting note you couldn't quite identify unless you already knew.
For the berries, instead of sugar I used agave nectar (better for you), and I cooked the berries down to a sauce with a splash of vanilla extract.  At the end I added some fresh berries.  Made for a nice contrast, what the foodies call "layers of flavor."
Some tips/notes:
I strained my ricotta per the recipe, but nothing happened except me creating more dishes to wash.  So if your ricotta looks tight, don't bother (but do break it up with a fork).
The big fail potential here is with the beaten egg whites.  If you over-mix when folding into the batter then all the air will get out, which defeats the whole purpose of folding in the whites.  So be restrained.  I count to ten then make myself stop, even if it doesn't look right.  It's fine to have some white streaks in the batter.  Just keep saying that to yourself.  It will be ok, people.
The ½ cup batter pour was good.  Just the right amount, but it does make for a lot of pancakes.  I used two pans at once to keep things moving.
If you are serving all at once, keep a low oven on, like 200º.  As each set is done, pop into the oven – onto a cooling rack set on a cookie sheet.  If you put them directly on the sheet they may stick and/or the bottom won't stay crisp.
Heat your maple syrup, and make sure your butter is softened.  Nice touch.
The Pros:
Light, lemony, soft tastes of warm riccota.  A nutty crunch on the outside.  And for three people this went a long way – the little one enjoyed for breakfast the next few days, and the lady and I got a second round too.  Popped from the fridge into the toaster, that worked out allright allright.

The Cons:
Didn't come together very quickly, so leave yourself some time.   This also generates lots of clean-up (bowls, whisk, measuring spoons, spatula, flour spills, etc.), which is difficult to stay on top of during the prep = more post-meal washing than I'd prefer.
The Takeaway:
My go-to pancake is a hearty blueberry corncake we had for brunch two hours before the Mrs. went into labor. Not surprisingly, the little one loves those.  But this recipe will definitely get into the rotation, particularly in the summer months.  With the corncakes, you know you just ate pancakes.  But with these flavor-packed but ephemeral whisps, you can allege it was but a light snack…