Can I get a fish taco and a cold Modelo please.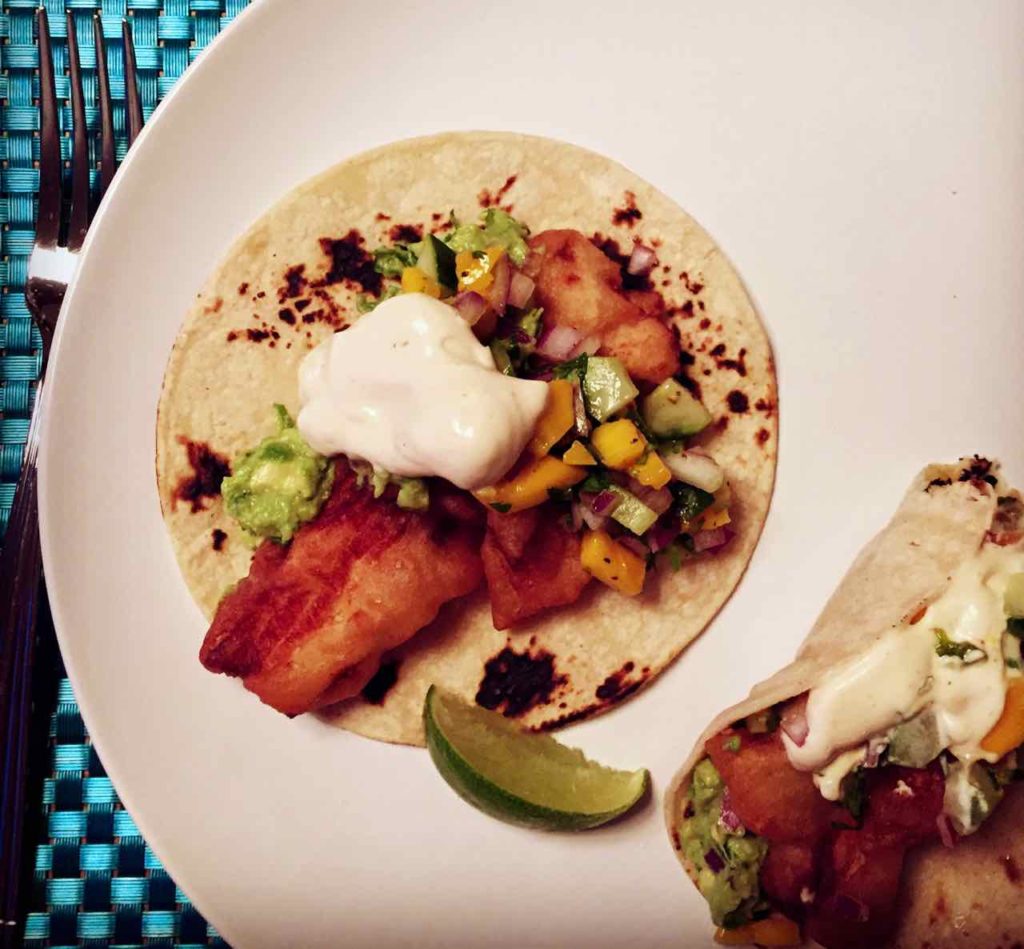 These tacos should happen to you.  The challenge: executing simple things well.  A good quick beer batter fish fry.  Balanced fixins' – spicy guac, rough chopped ripe mango salsa.  Chili citrus crema and a lime slice.  Now hear this – toast your soft tacos directly on the flame. Directly on the flame!  
p.s. You could do some shredded cabbage here too.  But then you are left with 9/10ths of a cabbage that will sit in your fridge guilting you until someone else in the house throws it out.
If you hit the Hottie Hottie Hot Sauce from last week, you'll need a little something-something to drizzle that sweet heat on.   And you remember the Mango Salsa and Perfect Guac.  Let's bring it all together into one bad-ass fish taco.  

The Goods:
2 ice-cold bottles of Modelo Especial, 1 opened

1 C flour minus 2 T

2 T cornstarch

1 T kosher salt

1 T white pepper

1½ pounds firm white fish (like tilapia), sliced into strips

2 to 3 inches peanut oil in a deep pot/pan, 375º (I use my big round Le Cruset) 
From the open beer, measure 1 C and gently mix with the flour, cornstarch and S&P.  Drink remaining beer in can.  Open the next beer and start drinking that one too.  Dip fish into batter, shake off excess.  Lay the fish into the hot oil AWAY from you.  And do this in batches, no crowding like a morning 4/5 dowtown.  Fry until golden brown and evacuate to cookie sheet lined with paper towels.  
Serve with taco shells, mango salsa, guacamole and a spicy crema.  A throw of shredded cabbage and a selection of hot sauces are also nice.   A fun, interactive little ditty.  Everything in serving dishes on the table, make your own.  
We love us some taco night.  Relaxed, universally appealing and accompanied by Mexican beer and strong margaritas.  Nothing wrong with all that.  
p.s. – For the crema – 1/2 C sour cream mixed with 1/2 C mayo, S&P, zest and juice of ½ a lime, hot sauce.  And since your limes and hot sauce are handy, make a michelada with that Modelo – a Mexican beer cocktail.   Rim a tall glass with lime juice, roll in a mix of kosher salt and chili powder.  Into glass: ice, lime juice, hot sauce and a dash of Worcestershire.  Gently pour the Modelo over.  Beer in Mexico.