Thai-Style Spicy Mussels
Last week was "classic" mussels, let's mix it up with a not-so-classic Thai style –  a little One Night in Bangkok after your April in Paris.  A little sweet, a little spicy – coconut milk, pineapple, fresh ginger, lime and hot hot serrano peppers – what's not to love….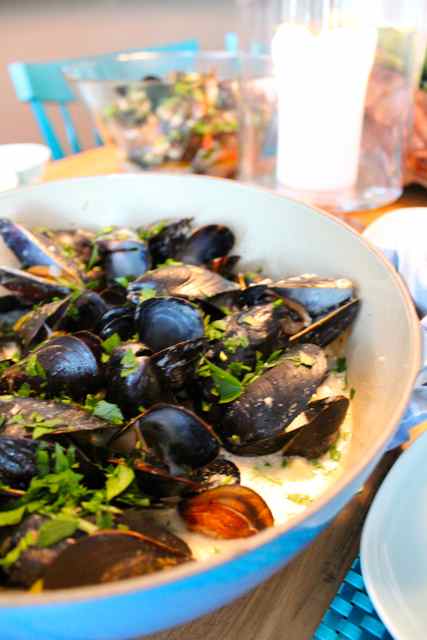 Sauté chopped shallot, fresh ginger and serrano peppers in a bit of oil in a big pot or dutch oven.  Add one can coconut milk and the juice from a can of pineapple chunks.  Chop up the chunks a bit and add to the pot.  Add zest of a couple limes.  De-beard and steam mussels in your broth of awesomeness until just opened.  Turn it all into a dish (or serve in the dutch oven, as above) and garnish with chopped cilantro.
p.s. you can see the "classic" mussels from last week's post in the background – we did a 2fer