The Audition Plate
The recent audition (no word yet….) required a plated savory dish.   I was going for three things — first, there was no kitchen at the studio so I wanted to serve something that was tasty while unheated.  Second –   it had to look pretty.  And third, I was going for a little edge.  So here's the result: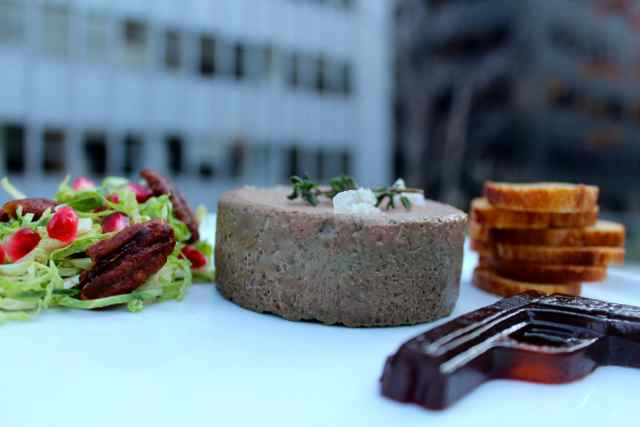 Chicken liver mousse, garnished with crunchy grey sea salt and a fresh thyme sprig.  Raw shaved brussels sprout salad with pomegranate arils and candied spicy pecans, lightly dressed with a mustard vinaigrette. Crisp toasted baguette rounds.  And finally a pomegranate gelée molded into a tiny Glock 9 mil. pistol – a little sour/sweet note to take out those rich livers.  
So yes – I essentially served chicken livers, raw brussels sprouts and an inappropriately-shaped jello.   Risky much?