The. Summer. Salad.
Summer as a bowl.  Peppery arugula, pickled watermelon, limed avocado.  All lightly bathed – a spicy vinaigrette.  Courtesy Scott Conant, via local NYC cable show some years back.  The tot still so small, by the river in Battery Park. Hot days take us to the roof.  Watching the sun disappear on the far side of the Hudson.  A nosh accompanies: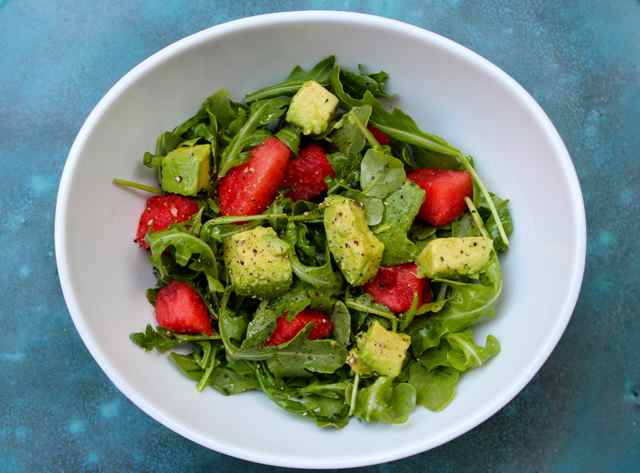 The Goods:
Arugula

Small chunks of watermelon

Rice wine vinegar

Ripe avocado

Lime

Olive oil
The Execution:
Sprinkle watermelon chunks with rice wine vinegar – like you are dressing a salad. Return to fridge and let it pickle as everything else gets together.   Wash arugula well, dry well.  Chunk up the avocado, toss with lime juice, S&P in a separate bowl.  When ready for service, toss arugula in pour of olive oil, a drizzle of rice wine vinegar, a few shakes of the green Tabasco and some S&P.  Toss in the watermelon, and then gently fold in the avocado.  Sea salt and cracked black pepper.  
The Takeaway:
What to say about this salad.  It's just so good.  Pop in a little Summer Breeze, pour the Sancerre.  Lay back and let it all roll out on you.