A few good ingredients and some personal restraint.  Leave it alone! Put in on the table!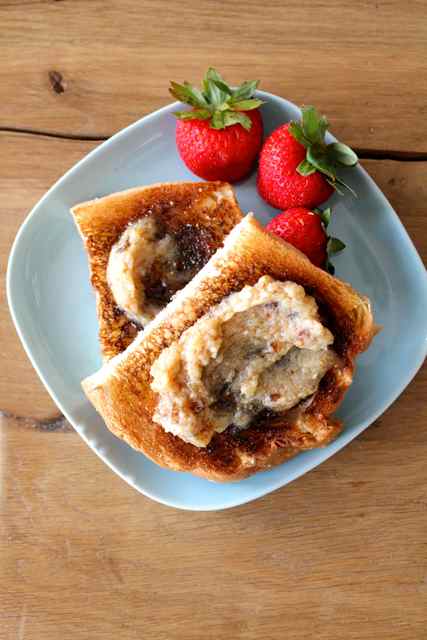 Softened butter whipped with fig jam.  Good brioche, lightly toasted.  A few berries and a strong hot latte.  Good morning!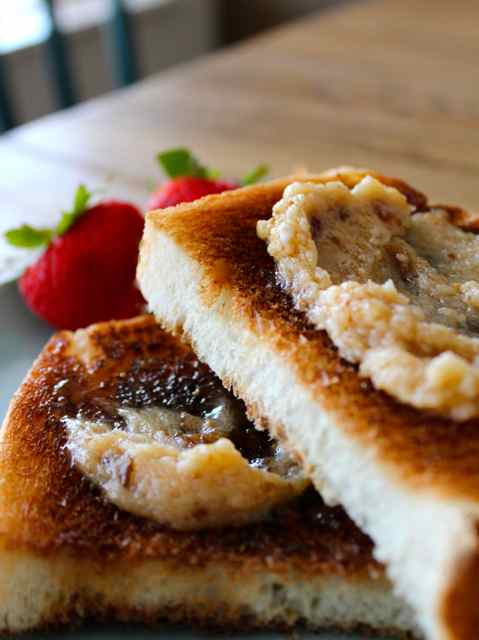 Brandade — a brunch love labor.  Patience rewarded.  Salt cod soaked in three changes of water, lightly poached until gently flaked.  Yukons cooked way soft. Cream, long simmered with smashed garlic cloves and sea salt.  Extra virgin olive oil, warmed with fresh thyme and rosemary, strained.  
Cod, cream and Yukons – beat with my old bent wooden spoon, warm herbed oil drizzled in.  Toasted baguette rounds on the side.  A carb-tastic brunch: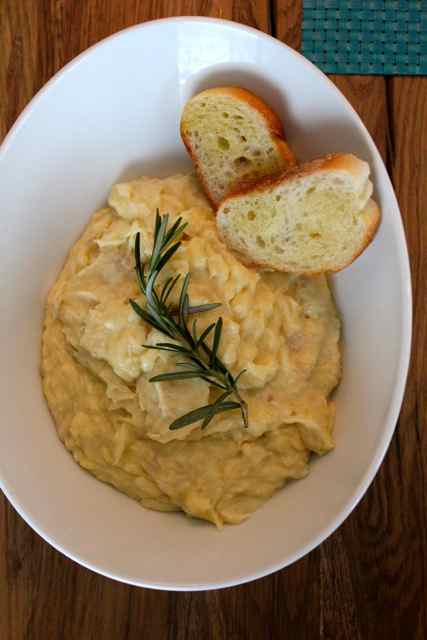 The lead dish for a Sunday Brunch menu…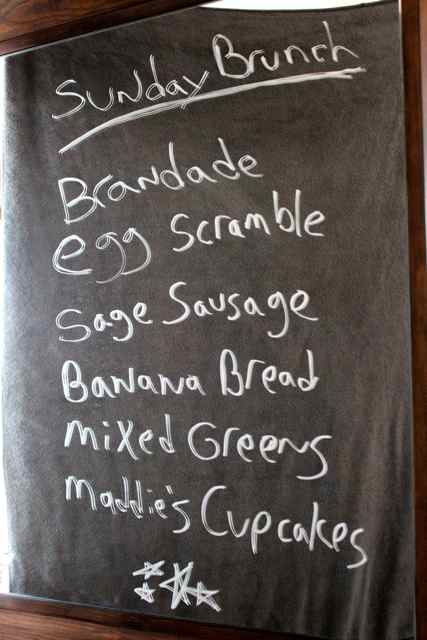 Get it on your table!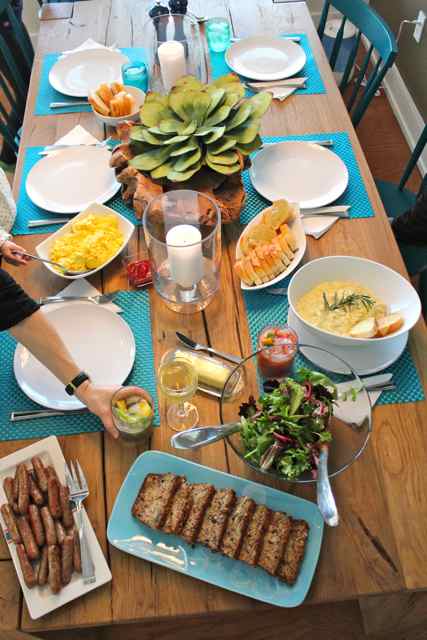 p.s. If you were a Private in Napoleon's Grande Armée circa early 1800's – brandade kept you marching.  The potatoes cut the more expensive salt cod. The troops did not, however, get to enjoy this dish with a stiff bloody (positioned above between the brandade and the mixed greens).
Fresh cut berries on your parfait? Ok.  OR you could soak them in booze…  Your call, but I know which way I'm leaning…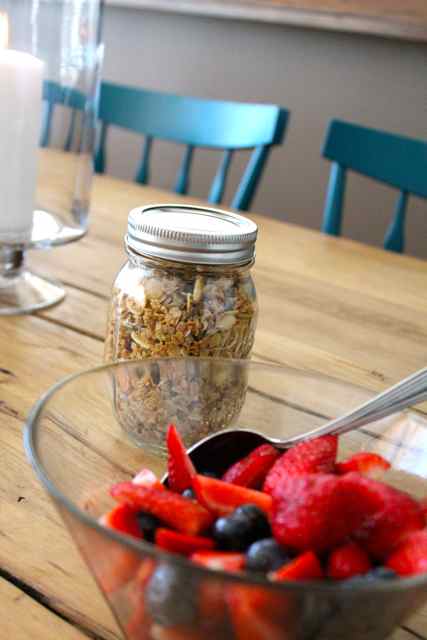 Toss some mixed fresh berries – here: blueberries, raspberries and sliced strawberries – with a spoonful of sugar and the juice (or zest) of half a lime.  And a splash of your favorite booze – right now I'm leaning towards Ron Zacapa 23 aged rum.  Let it sit a while: ("macerate") while everyone in the bowl gets to know each other.  
Serve over a nice thick Greek yogurt with throw of granola and maybe a drizzle of honey.   That's how to start a Sunday morning.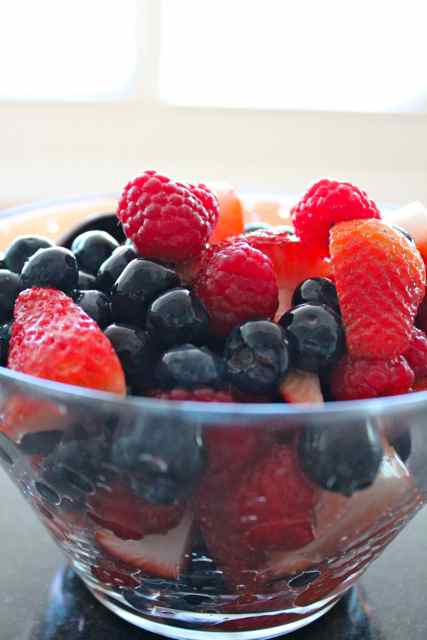 We love us some crispy bacon.  Which takes forever in batches in a pan on the stovetop, snapping and splashing grease all the while.  Here's a better way: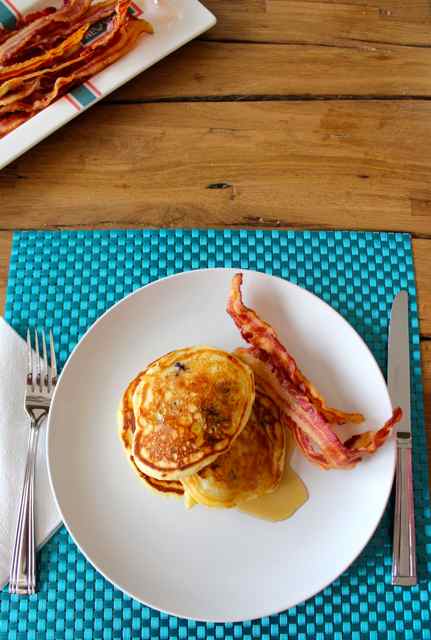 Oven to 375º, lay out bacon in a cookie sheet with a rim.  It's ok if they get scrunched up a bit.  Into the oven for 15 mins or so, and with a couple forks separate the pieces.  Back into the oven, checking every 4 mins or so. Remove once everyone's all nice and crispy.  Pour off melted bacon fat into a mug and chill for later use.  Drain crispy bacon on a few paper towels and serve.  
Yes: crispy goodness, done all at once.  
No: multiple batches, splatter burns, stovetop scrubbing.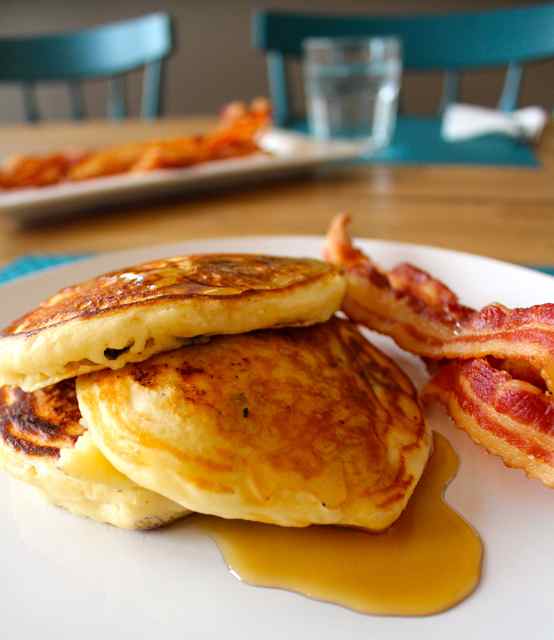 p.s. these are pancakes that the Tot mixed up using Grammy's buttermilk pancake recipe.  Nice!
UPDATE: In response to a few questions, yes I've tried this with the bacon on a cookie rack over the pan.  But it's a real pain to clean the rack afterwards, and I didn't find the final product to be any better.
Here's a solution to a problem you never knew you had.  You buy the "Everything" bagel, but in the shop/cutting board/toaster/plate transition, it's become more of a "Somethings" bagel, or – the horror – a "Nothings."  All those tasty spices fell off somewhere, leaving a blank bagel. A carbohydtrata tabula rasa.  People, don't allow for such fail, this is no way to live.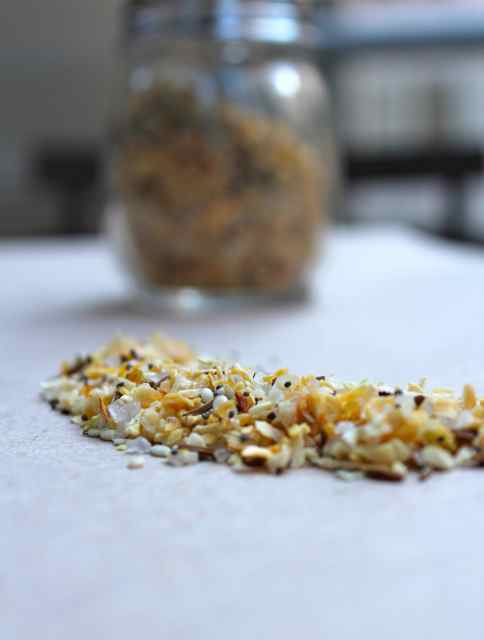 The Goods:
Dried minced onion

Dried flaked garlic

Sesame seeds

Caraway seeds

Poppy seeds

Sea salt – big crystals 

Optional – fennel seeds
The Execution:
In a dry pan, lightly toast the onion, garlic and sesame seeds (fennel seeds too, if using).  This mimics the oven browning they would have taken on.  Cool and toss with everything else.  Apply liberally atop a toasted bagel with a healthy schmear of cream cheese. 
I keep mine in the fridge, housed in one of those shakers you see at pizza places filled with hot pepper or oregano.   And it's not just for bagels — sometimes for appies we have crackers with cream cheese, Everythings sprinkled liberally over.
p.s. – Round bread does not a bagel make.  It has to be boiled and then baked, so there's a toothsome crust with a soft inside.  Otherwise, there's just no point.  Get the muffin instead.   
There's a lot happening in this city.  But I'm confident that a few Saturdays ago I was the only person in the entire NYC transit system smuggling half-risen dough for Bacon Sticky Buns.  This one was a Gotham Home Table / Hoboken Foodie joint production.  I made the dough in The Room, and Chef Pauley did the caramel/bacon topping at his place in Hoboken.  It all came together over a controversial boys vs. girls game of Spades.  The 70s' playlist was going, like Year of the Cat, Rocky Mountain High, Sister Golden Hair.  That's about right.
Thoughts on the Recipe: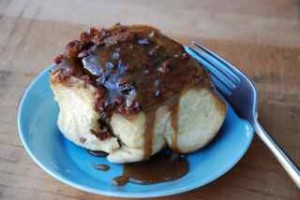 Here's the recipe. The bacon's not just a schtick.  Salty crunchy smokey notes play off the sweet caramel and soft rolls.  Some bell bottoms to trick out those platform shoes.  We're baking, so didn't deviate from the recipe like we would if just cooking.  It's a chemical reaction, people.  The rolls came out as whispy clouds, but Nailed you with the Caramel Bacon Thunder.  This all falls under the heading: "contrast is good."
The Takeaway:
It's tough to criticize this recipe, though I will say from a health perspective it's more of a biennial thing.  Btw, the men won at Spades.  The ladies alleged 'improper communication.'  So there's some dispute.
And we've seen this pic before, but let's have an encore for me and Chef Pauley rockin' the 70's leisure suits!  Go Go Old Jarheads!!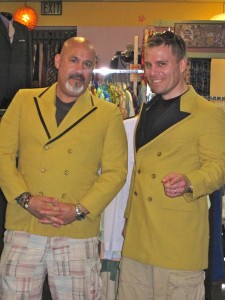 Knocking off dishes we've liked at restaurants is a fun little challenge.  Here's a riff on a dish we had at Pulino's on the Bowery.   Nothing too complicated, but oh so good…
The Goods: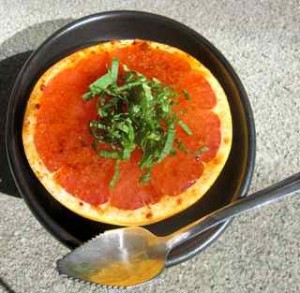 Ruby Red Grapefruit
Unrefined Cane Sugar
Fresh Mint
The Execution:
Stack a few mint leaves on top of each other.  Roll up like a cigar, slice thinly across the roll into little ribbons — "chiffonade".  Slice grapefruit in half, sprinkle liberally with the cane sugar.  Hit it with the kitchen torch to melt and caramelize the sugar into a crisp layer (think brûlée).   Top with chiffonade of mint.
The Takeaway:
This could just as easily be a dessert than a breakfast.  But as a brunch starter it's a real winner.  Sweet, bitter, crunchy, juicy.  Lots of good tension in the contrasts.  The little one loves this dish, she can put away two grapefruit halves before you even know what happened.
p.s. –  If you don't have the kitchen torch, you could do this under the broiler.  But get it real close to the heat so it melts the sugar quickly without cooking the grapefruit.
By roasting in individual buttered gratins, we'll serve perfectly cooked eggs for eight people, ready all at once. Good luck trying that with over-easy. Unless you have a giant flat-top, which I don't.
The Goods: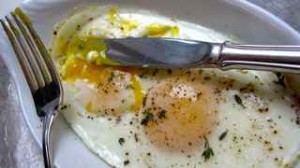 Two eggs per person.
Gratin dishes, buttered or cooking-sprayed.
S&P, a bit of fresh chopped herbs.
The Execution:
Oven to 425º.  Two eggs into each buttered gratin.  Cracked pepper and a throw of kosher salt over.  Gratins onto cookie sheets, into the oven.  Check after 7 mins, jiggle the pans to see if the whites are firming up.  Just before the whites look set (they'll continue carry-over cooking for a bit), evacuate.  In my oven it's usually 8 minutes total.  Throw a small bit of chopped fresh herbs over.  In this pic, I used a touch of thyme.
The Takeaway:
Everyone gets their own dish of eggs so it's personal and feels more 'made to order' than a big egg casserole. And if you wanted to make it more substantial, before cracking the eggs into the dishes you could add some wilted spinach, croutons, seared bacon chunks and shredded fontina…   hey now….
p.s. –  The fam is finally getting around to learning The Dougie.  So next time we are on the town, look out – it's on.
It's pretty obvious how much GHT is about the brunch.  It's kind of hard to overstate.  You are home, it's the weekend, the day is still mostly in front of you.  And there's bacon.  And sometimes booze.   This week, brunch is Challah vanilla french toast:
The Prep: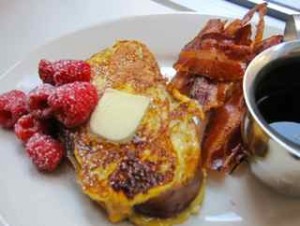 Slice Challah, nice and thick.  You could even do this the night before and leave it out so it stales.  Then it will suck up more of the egg custard.  But no worries if you don't get to that.  It will be fine.
At least 1 egg per slice of bread, beaten with a nice pour of heavy cream.  You may need more eggs depending on the size of your bread slices.  I usually do 4 eggs for every 3 slices.
Whisk in a capful of vanilla extract, squeeze of agave nectar, pinch of salt and a bit of lemon zest.  Fresh scraped vanilla bean? Even better.  But I'm out today so am stuck with extract.
Challah into custard, flip around.  Let the bread soak in all the goodness.
Cooking spray or butter into a mid-hot pan (not screaming hot)*, Challah in.
Flip when browned nicely, evacuate when other side browns up.   Serve with butter, warm maple syrup, bacon and a nice spicy bloody.
The Takeaway:
At dinner this evening friends R&T asked for a post with a 15 minute meal.  This isn't quite that, but it's pretty close.  And it works for a crowd, too.  Just cook off a few slices at a time and pop in a low oven on a wire rack over a cookie sheet until service (the rack helps keep that bit of crispness on the bottom).  And T – good luck at the Tough Mudder tomorrow.  If I'm going to join you next time, I think I'll need to hit Rique Uresti's barf-tastic Soul Cycle class much more.
*But what's "mid-hot" vs. "screaming hot"?  Get your hand wet, flick a bit of water into the hot pan.  If the water sizzles and boils away quickly, that's mid-hot.  If the water hisses, beads up and runs around the pan for a while?  Screaming hot.   There's a time for screaming hot — like searing steaks.  But here, you need to be judicious with the heat or you'll have a burned outside and a depressingly soggy inside.   We want browned and creamy, not black and runny.  So go with the mid-hot, people.   Lastly, if you are serving this to impress, go with the fresh vanilla bean.  It really does make a difference.